I have waited years for this.
When i came to Foothills–nearly 6 years ago–i looked around and saw some things that needed doing. And i saw some things that needed changing. Some of them were tangible, physical things–like the purple and turquoise walls in the sanctuary, the aging carpet, and the website. Other areas of concern had to do with infrastructure–the death-by-committee organization that is killing so many mainline churches, and the hit-or-miss quality of worship (including the preaching. I was pretty green). And then, of course, there were matters of identity to be explored–this church was full of faithful, gifted people who drove for miles and miles to be here on Sunday morning. This is major urban sprawl territory, so the trouble was not the commmute itself. Trouble was, the church's leaders lived everywhere EXCEPT the neighborhood the church actually serves. They had a vague and generalized image of the surrounding area–mostly generated by a demographics service–but the communal relationship was loose and complicated.
For the life of me, I didn't know where to start. Although, I do believe that the outmoded committee structure took care of itself. We simply didn't have enough people to fill the many roles required, so we scrapped it. We took a new approach, developing a creative, organic Ministry Table that better suited our gifts and our needs.
I'm pretty sure the purple and teal walls went earthtone at around the same time. You see, when there's no money in the  bank for a major remodel, the quickest, cheapest, most visible thing you can do is slap on a coat of paint.
Yes, i know that churches have split over less than the pastor choosing a new paint color without a committee vote. But I didn't do it the minute I walked in the door. I waited a year or so, while we got to know each other. I also did it while some other important stuff was happening.
And you know, in hindsight, I realize that we have lived in this same rhythm of physical and spiritual transformation for nearly 6 years. Every time we make some fundamental change in mission or vision, the property comes along with it. Some of this has to do with money in the bank–we take a step of faith, we grow, we have money to spend… it is a simple equation.
But I'd say it has even more to do with outward signs of inward transformation. Change–when it is spirit-filled and discerning–can generate new life of its own. When you let go of that which does not give you life, you find there is room for new stuff to enter. When you've built up your worship leaders, called a gifted musician, given your preacher the grace to learn effective preaching–well, then you want a new sign out front to tell the neighbors about the great worship life inside.
When you let go of a mainline pattern that has become dysfunctional, you free up people and resources to do actual ministry.
When you quit passing the old brass offering plates around as a part of worship, you want a nice, new, important-looking box at the entrance, to receive people's gifts of faith.
When you find the courage to welcome people with a radical hospitality statement, then you want a new website that shouts it from the rooftop–with attractive images, relevant language, and up-to-the-minute information.  [I swear by all that is holy, we had more tension around the new website than we EVER had about the Open and Affirming statement. Mark my word, folks, when it comes to generating conflict, church web design is the new carpet color. You heard it hear first.]
When you've got money in the bank–money that you can actually spend feeding hungry people and not just keeping the doors open– then by God, you want a new sound system so that you can sing happy songs about it on Sunday.  Without static.
When you've added a second worship service, and start to expand your staff, then–and this one is huge–it is time to get rid of the 16-year-old carpet. Because ultimately, at that point the place is alive and breathing, and the house itself has to say so. It's not so much that we CAN afford to do these things…it's that, there comes a time when we can no longer afford not to.
None of these things came quickly, or easily. Nor did they come from me. Something moves and breathes in this desert place that is bigger than any of us. Are we becoming a mega-church? Not by a long shot, and no thank you. Are we ready to build a large, state-of-the-art, multi-purpose building that will house dynamic youth programming and a sports league? Nah. Is the preaching great every single Sunday? Haha.
BUT…if you let go of stuff you don't need, life happens. Neighbors come. Walls get painted and cell phone towers get built and good music comes bursting out at the seems. Hungry people get fed.
The faithful people who held this place up through some lean wilderness years, are still faithful. But now they are joined by others, many of whom live and work and shop and send kids to school in this neighborhood. We are still becoming.  But when I hold this place up to the one I first knew, nearly 6 years ago, I have to catch my breath a little. We waited 5 years to build a new website; to lead an Open and Affirming movement; to call another pastor to the staff; to grow a second worship service…
Now all of a sudden, the new life comes rolling in waves. So with all these things coming to pass, is it possible that i am really this excited about tearing up the daggone floors!?  Yes! Because really, the updated, transformed, lovely and inviting worship space is going to embody all this, and more.
I lovingly called the outgoing stuff "ugly 80s tile," and someone said, "How can it be 80's tile when it wasn't installed until 1996?" I had already thought of that. I'm way ahead of you. And here's the answer:
It occurs to me that some things can be outmoded before they are even born.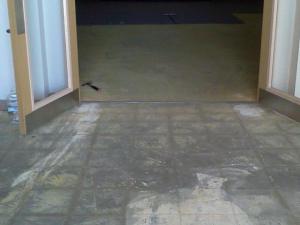 Kind of like how Gaither music from the 70's still counts as contemporary worship music.
We are blessed, in these seasons of life, when the dingy tile is the least of our worries; when we know how to let go the things that don't matter, and make room for the ones that do. When I first got here, some years ago, I wondered…perhaps the faded carpet, the low-energy worship, the aging facilities, the fledgling committees and the scary-looking bank statements were a true reflection of the congregation's soul? Or were those  just symbols of a wilderness place that was ripe for transformation?
Like I said–as of today, that faded tile and carpet are history. Thanks be to God for courageous congregations that know when to hold on, when to let go, and how to open the doors in the meantime.