I know, I know, it's been almost 2 weeks since I've written anything. Nearly a week since I've had any real exercise. Several days since I spent any real time in prayerful meditation. But I am being faithful in at least one discipline this Lenten season–no fast food! Since breakfast is the hardest time of day for me to 'just say no' to the drive thru, i'm doing an installation of The English Major Diet, reminding myself that the best breakfast on the planet does not come in paper wrapping.
The VERY best breakfast on the planet comes out of my Mamaw's kitchen (or your Mamaw's kitchen, i'm sure). It is the kind that you can smell cooking before you even get out of bed; the kind that keeps coming to the table the whole time you're eating; the kind that is 'made to order' in the truest since of the word; the kind that comes with homemade strawberry jam; the kind that you share with cousins and siblings who are also having a religious experience with a side of gravy.
But as we all know, that kind of morning is few and far between once you're a grown up. Next best thing? A morning at The Loveless Cafe just outside of Nashville, TN. You might have to wait awhile, but the atmosphere alone is worth the trip. You can wander the garden or peruse the gift shop. And better than all that is the retro-road-trippy feel of the whole place. Vintage Nashville celeb photos, music city paraphernalia, and yellowing newspaper clippings give you plenty to look at. The off-the-grid location lets you pretend you are on your way to "elsewhere" (my favorite destination) even if you are not. The Loveless is on hwy 100, just off the Natchez Trace Parkway, which used to be pretty much the only way to get to the beach from that part of the country. The spirit of all those ocean-seeking travellers tends to join you for breakfast, when you eventually get a table.
For their company alone, this meal is worth the drive and the wait. And once those family-style biscuits and gravy start coming around, you willreallybe glad you stuck it out. Worth every calorie? You bet your diet-cheatin heart.
(As I write this, the craving for a breakfast burrito with synthetic cheese leaves me like boots that were made for walkin…)
Beyond breakfast, history, and an appetite for wanderlust, the Loveless now offers an event and concert venue. I married my brother there last summer (only in TN, folks) and found dinner to be every bit as sacred as breakfast.
I was about 6 months pregnant (no more brother jokes, thanks), and in one of those baby-growth-spurt phases where i HAD to eat about every 2 hours or bad things would happen (usually to those around me). It was about 15 minutes before the wedding and i was all ready–wearing my cowgirl boots, which is way better than wearing a clergy robe–when i realized that i hadn't eaten in about 2 hours, and it was going to be awhile before bluegrass/ hors d'oeuvres hour.
If you've ever been around a pregnant woman, you know this is not good.
So i went back into kitchen, hoping that somebody would have some sympathy for the pregnant preacher. A very nice event coordinator mustered up some graham crackers. The pastor in me knew that this was lovely hospitality. The pregnant woman in me was thinking, 'what am i, 3?" But, for the moment, it was enough to sustain me through a 30-minute service. Which, by the way, was full of love, laughter, and excellent music, and all around one of the happiest days of my life.
Then came the bluegrass and hors d'oeuvres hour. Followed by the best wedding food in the history of the world. I mean–i have been in the hotel business, i have been married to the hotel business, and i have been to my share of hotel ballroom wedding receptions (including my own). What should be one of the most important meals of your life (i mean, the wedding feast is biblical, people!) is usually processed, over-salted, and sitting around in a chafing dish for a few hours beforehand.
This was not that.
Keeping in mind that I was 6 months pregnant, and had eaten nothing but crackers for 5 hours or so…imagine a table set with fried chicken (the REAL thing); green beans; macaroni and cheese; shrimp n grits; and let me tell you…a whole peach cobbler course. Not to be confused with dessert, which was wedding cake. Several kinds.
Such abundance defies description, even for an English major. I don't know what made me happier, the food, or watching my southeastern KY-born little brother trying to dance the Hora with his new in-laws. In any case, suffice it to say that I have never felt more well-fed, in body or spirit, as i did in that time and place. While I am not one to cry at weddings, that night was different. With all the hormones I was processing, I honestly can't say whether they were tears of joy for the newlyweds, or for the biscuits. But at every moment, from my husband dancing down the aisle with the bridesmaids, to the best best man toast ever, the day was filled with goodness.
Even for the best cooks among us, that kind of meal cannot be recreated, any more than the day itself. These are the meals that continue to sustain us long after we've left the table, and long after we've burned off the calories from dancing. These are meals that feed the whole self; and while they might seem too few and far between, they can set the standard for what we put into our bodies the rest of the time, all the days of our lives.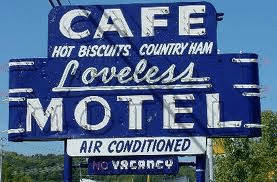 Speaking of the outstanding hospitality of this place…right before the wedding my aunt handed me a card, including a baby gift of $100. I stuck the envelope in my folder, and it never made it home with me. A few weeks later, it came to me in the mail, along with a postcard from the Loveless. Apparently, an employee found it in the parking lot and turned it in. Management opened it, found my aunt's address on the check, and returned them to her with a nice note, which she then forwarded on to me. I can almost promise you that none of this would have happened north of the Mason-Dixon line.