5 years ago, my friends Mark and Kara said their vows on a beautiful beach in Mexico, at sunset. And I got to witness it. On that same trip—stop me if you've heard it—I jumped off of a burning boat, 6 months pregnant, and made a swim for it in the ocean. (If you haven't heard it—post for another day.) Luckily, my peril at sea was not a cosmic sign re: my friends' impending nuptials. Far from perilous, their 5 years of marriage has been blissfully filled with love and laughter. (In fact, they might, on occasion, make some of us old married people want to gag a little).
I am one of many people who gathered to celebrate their new life together that day; I am also one of many who, in the years since, prayed and hoped with them as they waited for a child. Last fall, when they adopted the beautiful newborn Annie, I was overjoyed. I felt that I was part of a village that had helped love this child into being—and into their lives–since long before she was born.
With many layers of this family's story in mind, I wrote that new baby a poem. Among other things, I was thinking of Kara's mother, (for whom Annie is named) who I was blessed to know in life. She was a great minister, and a powerful woman of faith. Even in her illness, she went to serve God's people in the darkest corners of the world; and in those places of suffering and sadness, she sang, she spoke words of comfort, and she read the 139th Psalm. "Before you formed me in the womb, you knew me…I am fearfully, wonderfully made."
I thought of her when Annie landed in Mark and Kara's lives; how she would have been the greatest encouragement through those wilderness, waiting years; and how she would be so glad—but not surprised—to finally welcome this child to the family.
I'm sharing this poem today because I know so many others who wait: some who wait for babies to be born (including Kara and Mark! Annie's baby brother coming soon, to a small Tennessee town near you…); some who wait for children to be gifted to them through adoption; those still hoping to find love, and those waiting for their love to be recognized and legalized; those who wait for healing, and restored relationships; those who wait through painful family changes and uncertain career transitions; those who wait for good news they can't quite see the shape of yet… Every time I see a picture of Annie's sweet face (usually cuddled up with her BFF Romeo) I remember that God is in all these places, working miracles in the darkness. For all who hope, for all who wait, for all who believe:
Annie
When you wonder who you are,
where you came from, how you got here,
then know this:
Before you were shaped into being,
you were loved. You were wanted.
You were hoped for, prayed for, and somebody believed you would be.
Before you were born,
you were named and claimed
you were called and counted.
And then…
you breathed, you cried,
you opened your eyes,
and you were life itself.
Blessing and promise,
joy and benediction;
to us, the very face of God.
This is your song to sing, your story to tell.
So when you wonder, remember this:
that YOU are the wonder;
fearfully, wonderfully made.
Go singing and telling
that you came from faith
you came from hope
you came from love.
Light in the darkness, child of our hearts,
you came from love.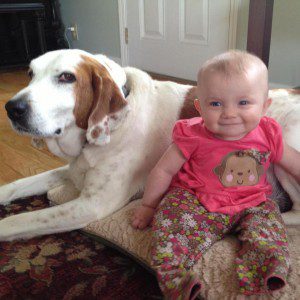 P.s. –Kara's own version of this story will be featured in a guest post in September, when I go off the grid for awhile. Stay tuned!