A guest post from my friend (and Duke Divinity School alum) Chris Furr. 
When I attended orientation as an incoming student at Duke Divinity School in January of 2003, Dr. Willie Jennings, then Dean of Academic Affairs in the Divinity School, entered the room holding a sculpture. The sculpture was of a woman, seated, holding her hands in her lap. She was holding them as if they were in pain, and her knuckles and hands were swollen. She wore an exhausted expression on her face. Dr. Jennings shared with us how Dr. Richard Lischer, then Professor of Homiletics in the Divinity School, had preached a sermon with this woman's story as the central illustration.
He'd made the story up; the details and hardships of her life were a literary device for bringing the gospel to life. One of the people in the pew that day had been inspired by the sermon to make that sculpture, and presented it to Dr. Lischer. Our job, Dr. Jennings told us, sculpture in hand, is to form you as the kind of people who could inspire something like this. 
For me, this was useful clarity about the purpose of my time there and it served as a guide I could return to when I felt overwhelmed by the academic workload. My experience at Duke Divinity School in the classroom, in field education and in community with my fellow students was a formational experience for me that I would tell you today actually made me a Christian.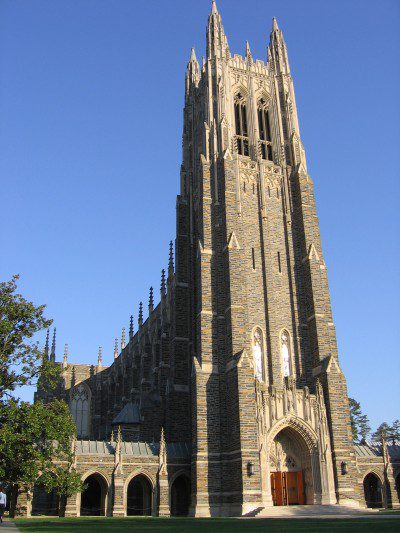 Even in the midst of my time there, however, I could tell that there was some unresolved tension about the mission of the school. The Divinity School exists as a part of a larger institution with a serious academic reputation and it was clear there was (and apparently still is) anxiety about living into that reputation. Yet, there was also the reality that the Divinity School was turning out Methodist pastors (and nearly as many Baptists, Presbyterians, etc), and that the academic mission had to find its place in the broader formation of people who could do the work of making serious theology approachable to the laity that would be in their care.
For example, shortly before I began as a student, the Divinity School had begun requiring that all first year students participate in a spiritual formation group; this seemed to me a recognition that academic formation was not wholly sufficient preparation for ministry to the local church.
I never felt there was resolution to that tension while I was there, nor was there the kind of clarity Dr. Jennings provided in that poignant moment with the sculpture. Increasingly, we heard statistics about the average GPA of incoming classes. I'd entered with a number of second career students who had walked away from careers to answer a call to ministry; they were equipped, both intellectually and spiritually, in profound ways. I wondered what stories there were to tell in a group of mostly 22 year-olds with 3.8s. In the 11 years since I've been gone, almost all of the faculty that formed me have moved on, mostly to retirement: Richard Lischer, Stanley Hauerwas, Peter Storey, James "Mickey" Efird, Willie Jennings (now at Yale), David Steinmetz, Geoffrey Wainwright, Richard Hays and Dean Greg Jones. The turnover has been considerable.
The recent controversy, with Paul Griffiths, Dean Elaine Heath and Anathea Portier-Young at the center, is driven by characters with whom I am wholly unfamiliar. Still, at the heart of the turmoil, there remains the nagging question about the Divinity School's primary mission.
Dr. Griffiths seems to feel that the diversity training (which, to my understanding, was initially requested by students of color who felt there were inequities present in the Divinity School, particularly with regard to grading) is not a worthy academic pursuit, given all the other demands on the faculty's time and his view of the central purpose of their work.
The language used by Dr. Griffiths in his mass email to the faculty is unacceptable at worst, unnecessary at best. More broadly, to this alumnus, they speak to either continued confusion regarding the school's mission, or lack of clarity among those who belong to it about how best to achieve that mission.
There is a certain irony in arguing, as Dr. Griffiths does, that the faculty's focus should be on the academic pursuit of the triune God and that diversity training would be a distraction from that pursuit. Inherent in that doctrine is the belief that in Jesus Christ, God took on human flesh, and became both fully God and fully man. Jesus had a body; it is no great leap, then, to believe that exploring the ways living in a racialized society may lead us all to disregard the sanctity of the body, particularly black and brown bodies, is serious theological work with real human consequences. That work may, in fact, give us a fuller understanding of the Jesus we strive to know.
Whatever academic work happens at Duke is pursued by human beings, all of whom have unavoidable biases and prejudices. That work is shared with, enriched by and passed on to students who are also human beings, also with biases and prejudices. Moreover, some of those students have no doubt been wounded by the prejudices and biases that, as Dr. Hauerwas once told us, are in the air Americans breathe. Why the academy, which is in this case also an extension of the Church, should feel itself above those conversations and unable to humble itself to be educated about them, I cannot understand.
The good news, I think, is that this does not seem to be the prevailing opinion within Duke Divinity School. How it moves forward will surely be of great interest to the wider church and those like myself, who were shaped by it and still hold out hope that it will find peace and clarity about the kind of formation it is called by God to provide. I still think of that sculpture.
What kind of minister would you need to be to inspire something like that? For me, this is still the question that should pervade the halls and classrooms of my alma mater.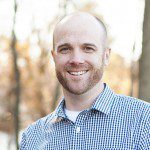 Rev. Chris Furr is Senior Pastor of  Covenant Christian Church in Cary, North Carolina. He and his wife, Katie, have two sons.