If you are a parent, then you know the mixed blessing of summer. On the one hand: more time with your kids; a slower, more unscheduled pace; ice cream, pool time, and lots of trips to the library. What's not to love?
Well: mosquitos, humidity and bad t.v., for starters. Not to mention–what the heck are you supposed to do with these kids every day? While also getting work done?
Between camp days, VBS days, and vacation time, it doesn't make a lot of sense to sign them up for any kind of full-time summer childcare program. And who can afford a nanny? So for us–and, I'm guessing, for many middle class families–summer is an exercise in artfully piecing it together.  A combination of occasional sitters, play-date exchanges, and working from home.
As a vocational minister, I do all of this; evening meetings and hospital visits after my husband gets off work. But the added bonus of my job/life is that I can also haul my kids around WITH me for much of my work. While it can be a hassle, it's pretty cool figuring out ways to  bring my kids along for the ride, so to speak. They get to visit people; or they hang around church and play outside, or help make VBS decorations; or they work at food banks and volunteer for community programs and sort school supplies for the Migrant Farmworkers Project.
And sometimes, they get a hands-on lesson in activism.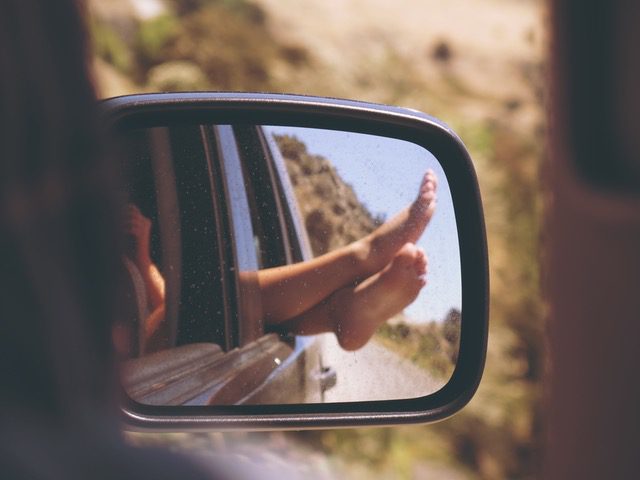 This summer, I'm going to share weekly (ok, mostly weekly) posts sharing some of the ways I bring my kids into my summer ministry work. Here's a 'day in the life' glimpse from yesterday:
I got up early. I mean, stupid early. Believe me, not by choice… I just woke up, and when the dang sun is up by 5:20a.m., it is hard to go back to sleep. But the good news was, I got caught up on email and started on sermon notes, while drinking approximately 38 cups of coffee.
Then my son had a LOOOOONG appointment with an allergist. We're trying to get his symptoms under control because it has been a brutal spring (again), and does not seem to be getting much better with the summer weather. After hours of poking and prodding, (and finding out that he is basically allergic to Kansas) I let him choose where he wanted to go for lunch.
So of course we wound up at Costco. (Which is his favorite place on earth, I'm not even joking. When asked once which he liked best– Costco or Disneyland–he couldn't decide. But I love them both for DIFFERENT REASONS he wailed. How can I choose between them??).
Anyway, I guess it was a win-win, because I got his new prescriptions filled while we ate. Points for multi-tasking.
Then we ran into a church member and discussed plans for her daughter's upcoming wedding in the trail mix/granola bar aisle. Mental note, check off an email I just answered in person…
Alas, my children know too well that I am a sucker for the book section of Costco. So there went another 20 minutes (and a large chunk of my paycheck). After grabbing a memoir I've been wanting to read (50% off cover price) and also a paperback novel (practically free!), I noticed a pile of Donald Trump books. Whether by him or about him, who knows, because I quickly flipped them over so I would not have to see his awful, sneering, orange face. [side note: Does anyone else find it ironic that there are so many books bearing his name and image, when he openly admits to never reading, ever???]
Having saved the next person from having to endure that revolting sneer, I rounded the corner and found my daughter flipping through a copy of She Persisted: 13 American Women Who Changed History. By Chelsea Clinton.
It was like the universe just handed me this moment… I swear, it was beyond my control.
"Here," I said, piling several copies in her hands and grabbing a few myself. "Come with me."
Then we went back to the Donald Trump books and covered up his smug mug with our pile of hardcover woman power. Giggling all the way.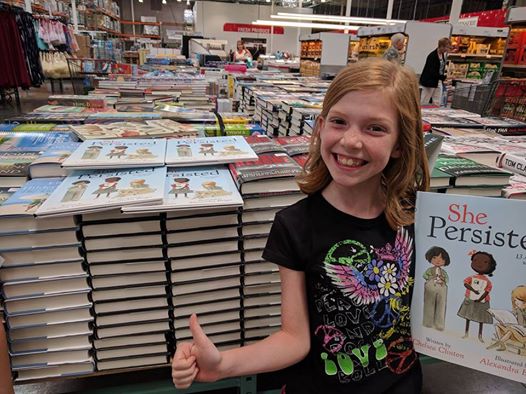 Let this be among her earliest memories of resistance training: that you can always do SOMETHING, no matter how small, to fight the seemingly endless flood of misogyny, racism, greed, and injustice in the world. You can make small statements of hope for those who come behind you. You can learn more about those who went before. And if nothing else, you can laugh about it with your mom.
Then we ran into another church friend; who loved our story of biblio revolt, and promptly went to view our work in person.
You'd better believe I bought my girl child that book. Which she brought home, and promptly read straight through. While I worked on sermon notes some more. Which suddenly did not seem nearly as important and world-changing as the work of arming the next generation of social justice workers with books and a decent sense of humor.
Ministry is where you live, folks. In every season. Thanks be to God.