I love a good scare this time of year. Creeping up on October, I'll re-read Bram Stoker's Dracula, or a favorite Stephen King book. I'll watch The Exorcist or The Omen. You know, for old time's sake, and because I have a sense of occasion. Stranger Things? Here for it, and not just because of the epic fashion flashbacks. It's just the right kind of terrifying.
I like some darkness. I like some edge. But admittedly, I like creepy things that can be closed and put back on the shelf, or just plain old turned off when I am done with it and need to sleep at night.
Today, I watched the new Sandy Hook Promise video. I may never sleep again.
This is not the kind of scare you can turn off. It shows school kids–about the same age as my kids, possibly the same age as your kids, and if not, then the age they once were, or will be soon– sporting back to school gear and saying "this will really come in handy!" But gradually, the scene goes from happy kids jogging through the hallway in new kicks to kids hiding behind closed doors and smashing windows with their skateboard. They're waiting with scissors and pencils wielded.
Because there's a shooter in the hallway, of course.
There are so many brilliant things about this video. For one thing, it moves seamlessly from feeling like an Old Navy or Target commercial, full of every day life and kid fun, to a scene of utter horror. Which is, I can only imagine, exactly how real school shootings play out.
Also, the music somehow shifts from happy dance-y stuff to something low and sinister, and you don't even notice it happening.
Most striking to me was that they managed to convey the terror of the situation without showing the shooter; and without showing a single person actually being shot. They got the message across, loud and clear, without buying into the glorified violence-for-entertainment that permeates every corner of our lives these days.
There's more. There's so much more. But I can't watch it again. Once is enough for now. This is maybe all the scare I need today. For all October. For my life.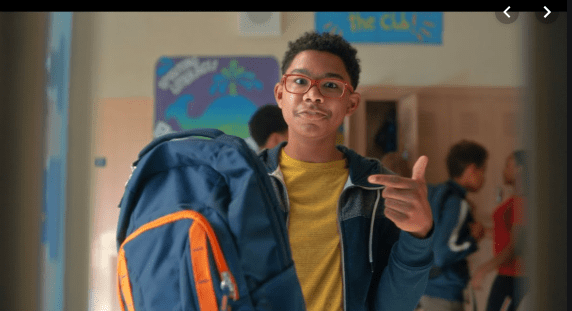 If you've been avoiding it all day, I understand. I do. Or if you watched part and turned it off. I get it. Same. But try to power through. We have to watch this. Choose to sit with the fear. Choose to imagine you are that kid with the scissors, that kid with the socks. Let the kid with the cell phone at the end be your kid. Let yourself embody that reality, even if only for one minute and six seconds, which is how long the video is.
How many rounds can a shooter fire in one minute and six seconds? How many lives taken out in a flash like that? It's too scary to think about. But we have to. Because, while recent vaping deaths inspire swift and urgent action to ban the practice, assault rifles are still everywhere. And anyone can get their hands on them.
We have to, because this utterly revolting fashion company is selling "School shooting hoodies" in their fall line, and as much as it turns my stomach, I guarantee you some damn fool is buying one right now.
We have to, because we send our kids off to school every day, armed with automatic pencils to face an automatic weapon. We send our kids to school every day and hope for the best.
We send them off, and we pray. We are already scared. Might as well watch this thing and bear witness to the lived reality that is still with us, even when we sleep.
Like all the best villains, you might say. I may never sleep again. But maybe we shouldn't.
It's the scariest damn thing you'll see this season. The question is: how scared to we have to get before we change something?