The Chinese know how to do multiplication. Evangelism is a trademark of the Chinese church. One cannot help but be encouraged and spurred on by Chinese brothers and sisters.
It's easy then to forget that even Chinese believers may have certain weaknesses or troubling tendencies. Chinese Christians are famous for their boldness. However, boldness is not the sum total of evangelism.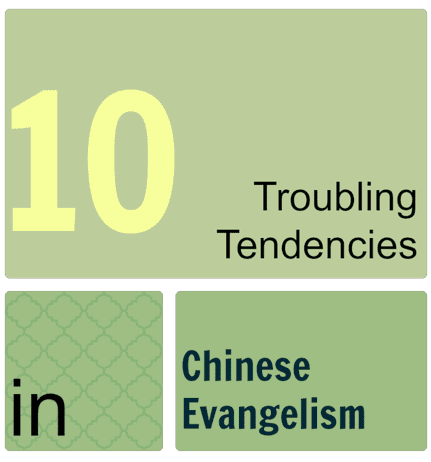 I will list 10 areas of concern that I think we should be aware of when it comes to Chinese evangelism. I'm not ranking them, just listing them in random order.
My purpose is the help us give more concentrated attention to the subject. No one has "perfected" evangelism. But that doesn't mean we should not strive to improve things.
Today, I'll just give the list. In the coming days, I'll offer a few thoughts on each.
Chinese evangelistic presentations tend to . . .
1.  Focus more on the origin of sin than the meaning of sin itself.
2.  Have no awareness that the gospel announces Christ's kingship.
3.  Highlight Jesus' benefits more than Jesus himself.
4.  Emphasize legal metaphors even though they have little connection to Chinese culture.
5.  Lack theological depth.
6.  Lack biblical depth.
7.  Suffer from easy-believism.
8.  Stress Jesus' death over his resurrection
9.  Separate heaven and earth.
10.  Separate this life from the next life
Before leaving angry comments, here are a few quick qualifiers ––
(1) If it made the list, I'm not suggesting that the behavior is entirely wrong. Generally, however, I'm trying to highlight the point that one idea is being emphasized to the loss of a more central idea. The dangers we face are not always between right and wrong. Often, our problem is confusing major and minor points.
(2) These are tendencies as I have seen it.  I'm not suggesting that every Chinese Christian does these things.
(3) I don't suggest for a moment that these are unique to China. Western missionaries remain a major influence among Chinese believers.
What have you seen?
What would you add to the list?
Related articles