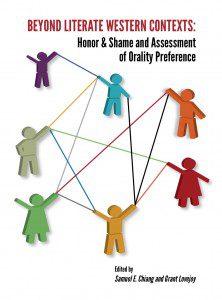 Interested in honor and shame? What about orality? Well, you might be interested in this book.
The International Orality Network (ION) has just released Beyond Literate Western Contexts: Honor & Shame and the Assessment of Orality Preference (edited by Samuel Chiang and Grant Lovejoy).
The book compiles many of the papers discussed at a consultation held last year in Houston's HBU. Samuel and Grant were gracious to invite me and so you'll find my paper included in the book as well.
As a sneak peek into the book, I am making my chapter available here on the blog. Simply click here. My chapter is titled:
Rewriting the Gospel for Oral Cultures:
Why Honor and Shame are Essential to the Gospel Story
Here's a bit from my introduction:
This essay demonstrates the intrinsic relationship between the gospel and an honor-shame worldview. In short, the gospel is framed by honor and shame. This point is important not only for theology but also for missions, particularly in oral cultures. In the first section, I will show how biblical authors explain the gospel in ways that make sense to oral learners, who are often characterized by an honor-shame worldview.
You didn't read that wrong. Some may think this to be an audacious claim. In fact, I suggest that the gospel is already contextualized for honor-shame cultures. In a sense, if we do not to use honor-shame when presenting the gospel, we might be decontextualizing the gospel.
In the second part of the essay,
. . . I will then highlight a few implications for both theological education and contextualization. . . . If an honor-shame worldview is inherent to the gospel, we have reason to rethink certain theological priorities. Accordingly, I will propose a "theological agenda," listing a number of themes that are especially relevant for ministry within oral cultures. We will find that an honor-shame worldview enables us to read Scripture in an integrated fashion.
My central argument is primarily theological in nature. However, the essay also offers a number of practical implications for things like storying, training, etc. I look forward to hearing you feedback regarding my suggested list of theological priorities.
Quick note for those who read the chapter: I speak about "framing the gospel." I only introduce the idea in this essay, but it will be fully unpacked in my forthcoming book (due out any day now) called One Gospel for All Nations: A Practical Approach to Biblical Contextualization.
Honor, Shame, and Orality
The chapter has two readers in mind:
(1) anyone interested in honor/shame
(2) anyone interested in orality.
Although I direct many comments to oral cultures, the truth is that much of what I say equally applies to any honor-shame context.
Here's why––most (maybe all?) contexts that emphasize orality can also be characterized as "honor-shame cultures."
I'm thankful for the great ministry being done by ION. Most "Unreached People Groups" (UPGs) have a strong emphasis on orality (over literate preferences of learning). While many have stressed the importance of storying, ION goes further to help people consider how culture shapes the way we do ministry.
Let me know what you think.