Christians talk about patriarchy far less than those outside the church. Whatever the social forces at play, the justification for such silence is often rooted in theology.
In debates between so-called "complementarians" and "egalitarians," who would even agree on the definition of "patriarchy"? It would seem that patriarchy exists is in the eye of the beholder. What egalitarians condemn as patriarchy is simply reckoned God's good created order by some complementarians. Of course, people vary in their precise views about the role of women in the church as well as the marks of "biblical" masculinity and femininity.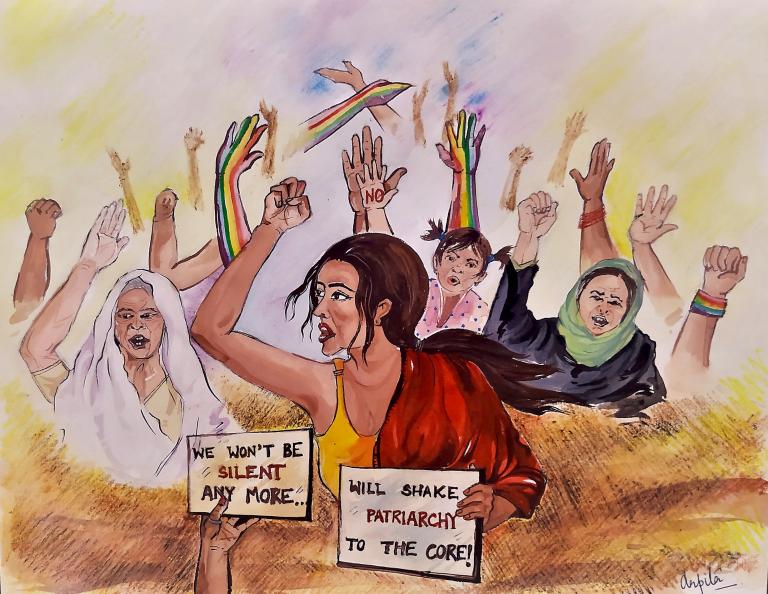 This post focuses on a particular shade of patriarchy, which I'll define in a moment. I want to explore an overlooked dynamic that perpetuates many harmful practices linked to patriarchy.
The Meaning of "Patriarchy"
By "patriarchy," I refer to a system of rules, customs, and assumptions that preserve or prioritize the rights and power of men over those of women. One scholar is more pointed when she says, "patriarchy is a system of social structures and practices in which men dominate, oppress and exploit women."[1] In Ananya Roy's Tedx talk, she notes that patriarchy continues not only through oppression but also through "benevolence and protection." The perpetuation of stereotypes, not merely generalizations, can be as deleterious as formal laws.
Many things are not necessarily patriarchal. Conceptions of masculinity and femininity are not inherently patriarchal. The mere fact that a man has authority over a woman (such as an employer) is patriarchy. The existence of social hierarchy and possession of power is not innately bad. Furthermore, the decision by a husband and wife to assume traditional roles in the household does not necessarily imply the oppression of the women.
People typically think of men as the perpetrators of patriarchy. And certainly, men have and do act in ways that dominate and oppress women. What often goes unnoticed are the ways that women reinforce patriarchal patterns of living. I do not say this to blame shift or excuse men. Rather, I hope to highlight
(1) the extent that patriarchy influences our thinking, and
(2) the underlying dynamic that must be countered if we hope to counter unloving and unfruitful behaviors within the church.
Let's first look at examples in the Bible where women perpetuate patriarchy. Then, in the next post, I'll note instances in contemporary cultures.
Did Martha think "like a man"?
Pastors frequently use the story of Mary and Martha to warn against a tendency to become busybodies. Perhaps, a teacher will rebuke one's desire to "do" for Jesus rather than "being" with Jesus. I think something is also going on just beneath the surface of the text.
Here's the famous passage from Luke 10:38–42.
Now as they went on their way, Jesus entered a village. And a woman named Martha welcomed him into her house. 39 And she had a sister called Mary, who sat at the Lord's feet and listened to his teaching. 40 But Martha was distracted with much serving. And she went up to him and said, "Lord, do you not care that my sister has left me to serve alone? Tell her then to help me." 41 But the Lord answered her, "Martha, Martha, you are anxious and troubled about many things, 42 but one thing is necessary. Mary has chosen the good portion, which will not be taken away from her."
In the ancient Jewish world, men were the ones who became disciples of a rabbi. Kenneth Bailey reminds us that to "sit at the feet" of a rabbi meant becoming a disciple of a teacher. In Acts 22:3, Paul recalls how he was "educated at the feet of Gamaliel." Bailey, therefore, suggests, "Martha is more naturally understood to be upset over the fact that her 'little sister' is seated with the men and has become a disciple of Rabbi Jesus."[2] He adds,
It is not difficult to imagine what is going through Martha's mind. She says to herself: This is disgraceful! What will happen to us! My sister has joined this band of men. What will the neighbors say? What will the family think? After this who will marry her? This is too much to expect!
In effect, Martha echoes the common perspective asserting that men have the right to become disciples, not women.
The Old Testament contains other examples worth studying. For example, Sarah compels Hagar to sleep with Abraham to produce a son (Genesis 16). This forced surrogacy could be understood as a socially sanctioned rape. Likewise, Rachel and Leah engaged in similar behavior with respect to Bilhah and Zilpah in Genesis 30.
In the next post, I'll spotlight instances in contemporary society where women reinforce patriarchal behaviors.
---
[1] Abeda Sultana, "Patriarchy and Women's Subordination: A Theoretical Analysis." The Arts Faculty Journal (July 2010-June 2011): 3.
[2] Kenneth Bailey, "Women in the New Testament: A Middle Eastern Cultural View." Anvil Vol. 11, no. 1 (1994): 8.
Image Credit: Arpita Biswas/iStaunch