Continuing with my vacation narrative:
Day 4: the start of the cruise.
We took our time in the morning, with breakfast and general lazing around until it was checkout time, because the earliest arrival on the cruise ship was 12:30. We then hauled our suitcases back to the train station, took a train to the port, and cast about for a way to get from the port train station to the cruise ship terminal itself; we had figured we could take a taxi for the remainder of the trip, but we saw the city bus headed to the port, bought tickets at the vendor at the train station, and were on our way to the port (though that took a further shuttle bus, too).
Now, one thing that we didn't expect was the complicated process to embark; first, security lines; then, check-in similar to an airport; then, dropping off luggage; then boarding, finding our stateroom, and having lunch and exploring the ship. Annoyingly, my husband and I each had our hiking boots on (due to scant space in luggage) and had to clomp around in them for much of the afternoon while waiting for the suitcases to arrive. But we were pleasantly surprised that even though the cruise departure was 5 pm, everything had already "started" when we arrived, including lunch.
Day 5: sea day.
I said in my prior post that I found the sea days/sea time a bit humdrum. We slept in, explored the ship, napped, watched a movie in the stateroom, played cards in the card room, went to the pool (the only time – it was hot and shadeless), and watched the night's show – and ate.
Day 6: Santorini.
Here's the story with Santorini:
you know that postcard perfect image of white houses set atop a cliff with blue domes on the churches?
That's Santorini.
Except that's not where you dock. In fact, you don't dock at all; you tender, and the tenders (boats more or less the size of what you'd take a boat tour along the Chicago River in) dock at a considerably less-interesting town, Fira. Sure, you could pay a big chunk of change to have the cruise line bring you to your final destination, but that was too rich for my blood. Instead, what I read (and reread, because I kept looking into this) is that it's a multi-step process to get to postcard-perfect Oia: first you have to take a cable car (watch for the lines!) up from Fira Port to Fira Town, or, alternatively, hike up the "donkey trail" alongside the donkeys and their droppings, itself a 30 – 45 hike. Then you find a taxi or the public bus to get yourself to Oia and back. Oh, and on top of that, the warnings were incessant: the small capacity of the cable car makes for lines as long as 2 hours in the high season. I had also read that there existed a ferry-boat option directly from the port but then kept reading conflicting answers on whether it still existed, with the conclusion of one travel forum poster being, "eh, all you can really do is go there and see if there are signs for it or not."
So as it happens, they announced the distribution of the tender tickets would be at 10:00 that morning, since the boat arrived at noon. And the further instructions were, "after the first couple hours, there will be an announcement of "open tender" and you won't need a ticket any longer — which spooked me because I did not want to have to sit around with a high tender boat number for some unknown length of time. So, starting at 9:00, first my husband, then I stood in line, and we were in tender boat #5. What's more, the boat actually moored a bit early, so our tender actually left a hair after noon. And when we got close to the port we could see billboards for two competing "speedboat to Oia companies" and for EUR 15 (free for children) we were on our way — though even so it required a bus from the Oia port to the town itself, but then the tour company that ran the service had buses returning back to Fira every hour. We soaked in the atmosphere, ate lunch (we'd had a late breakfast) at a place with a view of the sea and prices that seemed reasonable so far as we could tell, soaked in more atmosphere, found that postcard view, and took the 4:00 bus back to Fira (the "highlight" of which was when the bus crossed paths with another headed the opposite direction — in the one direction was so little room between the buses that it was a marvel they didn't scrape mirrors, and in the other was virtually no room before a drop-off to the cliff below).
And, yes, there as a lot of atmosphere to be soaked in. This was a former fishing town; my understanding is that it's now pretty much wholly given over to tourism. There were signs everywhere saying "welcome tourists, please respect our home" and the periodic "tourists, go home," but, well, I would be surprised if there was particularly much remaining fishing or other non-tourist industry (I should look this up). I did also read along the way that they're not too pleased with the cruise ship tourists who come in for a day, and at best buy something from a souvenir shop and may or may not even eat a meal; they'd much rather have tourists who stay longer, and, heck, it would have been nice to have had a longer visit but so be it. The town was also apparently rather destroyed after a 1956 earthquake, then rebuilt, and it's not like a medieval town that exudes antiquity, but the white-painted plaster was clearly practical due to the heat (you could simply tell the different in touching such a surface vs. another color).
So far, so good. Exactly what I was hoping for. But then — boom! the heat got to me. We made our way back from the bus stop to the center of the town (or, at least the endless number of souvenir shops, from which my son bought a little something), and then I said, "I need to sit down; the heat is really getting to me." I paid EUR 3 not for a cone of gelato but an ice cream novelty no different than what you'd find in the US, because I was looking for something to recharge me, and then we got onto the cable car and headed back to the boat far earlier than I had anticipated. (On the plus side, there were no lines at all at the cable car, presumably both because most people were staying on the island longer since the departure time was 10 pm, and because there was only our ship in port that day.)
And then I felt stomachache-ey at dinner, and went back to the room to lay down and missed the performer that my son subsequently declared his favorite, a crooner who sang Ed Sheeran and Phantom of the Opera and the like. So, bleh, but it was still a nice day.
At any rate, here are some Santorini pictures.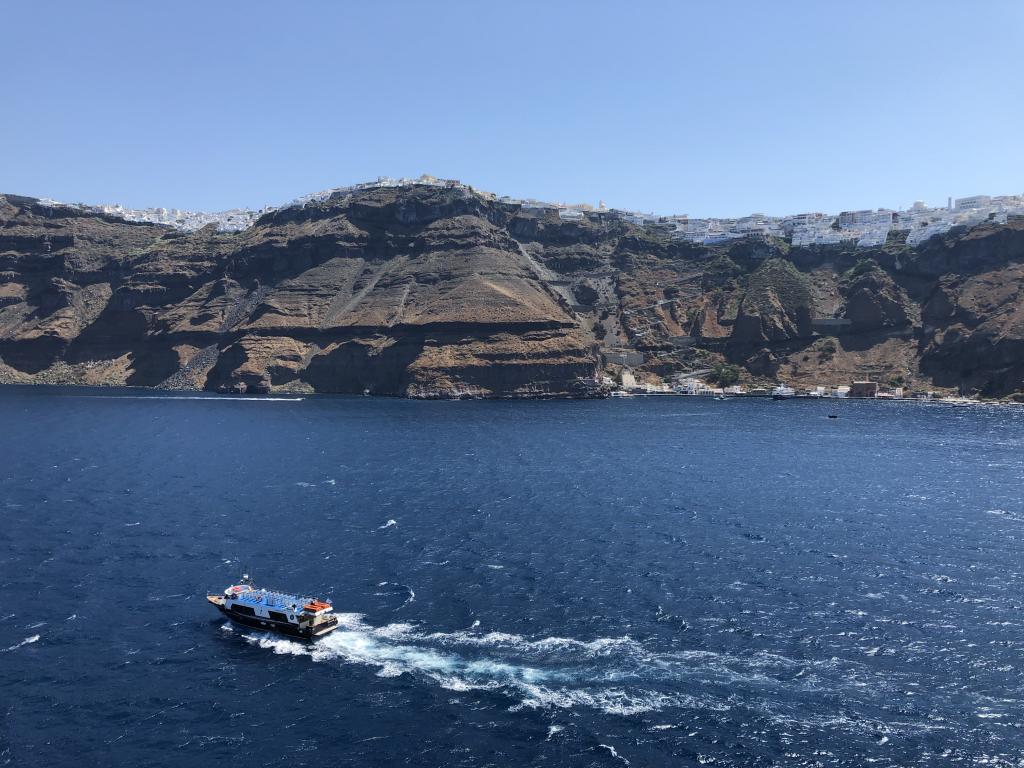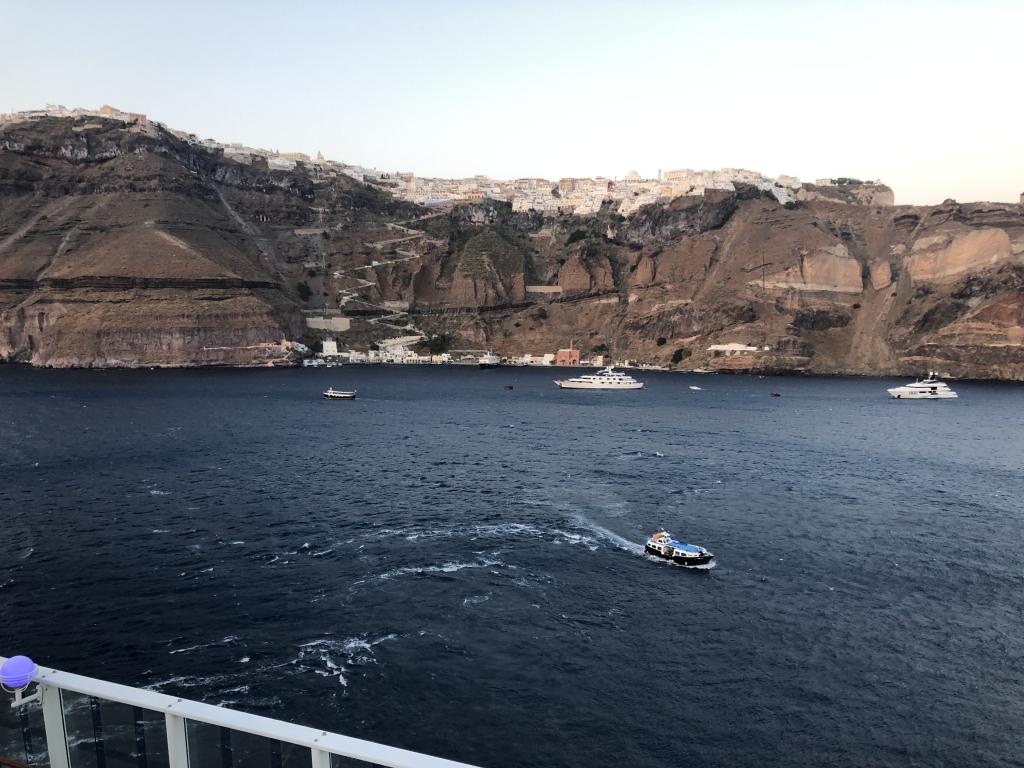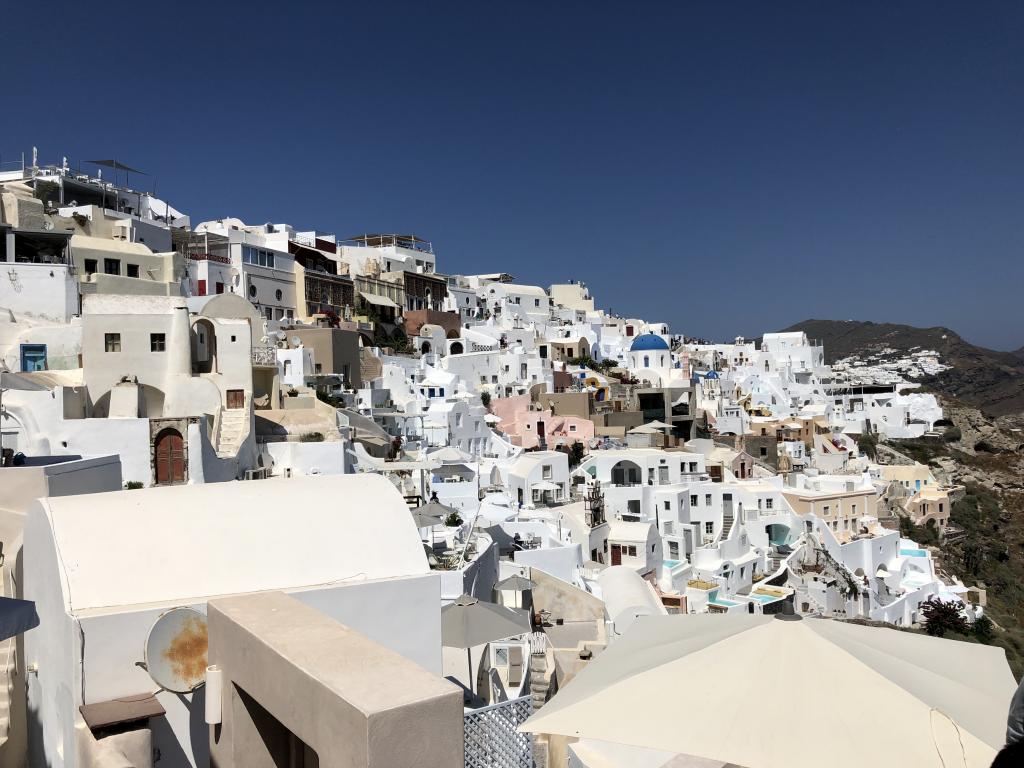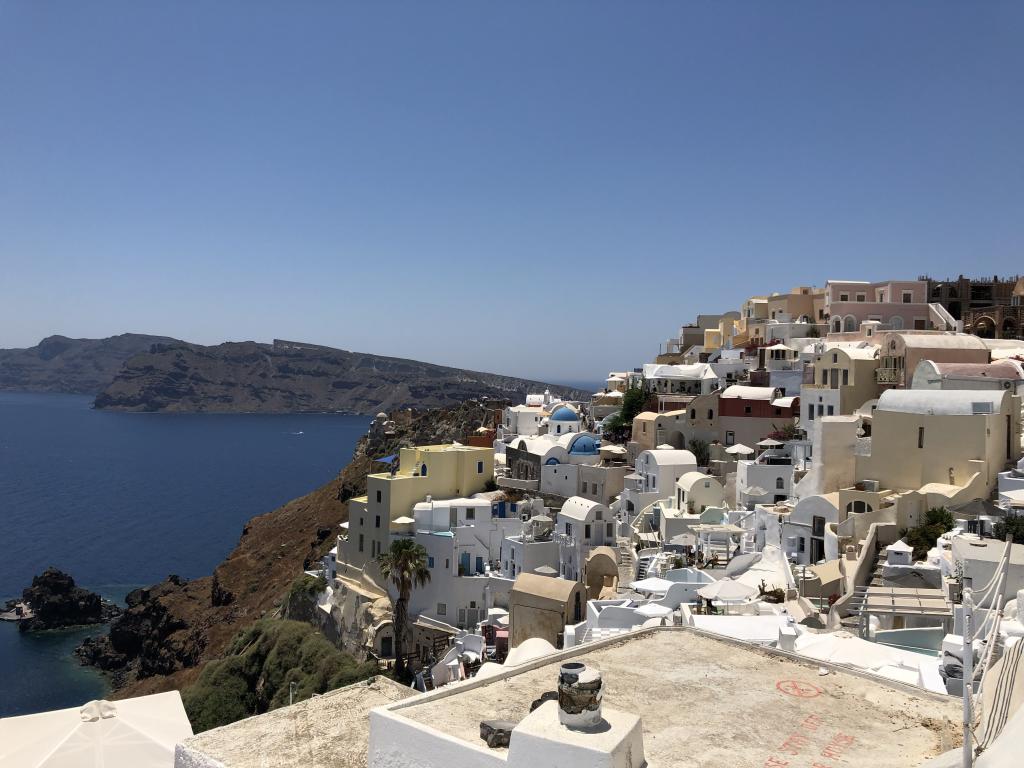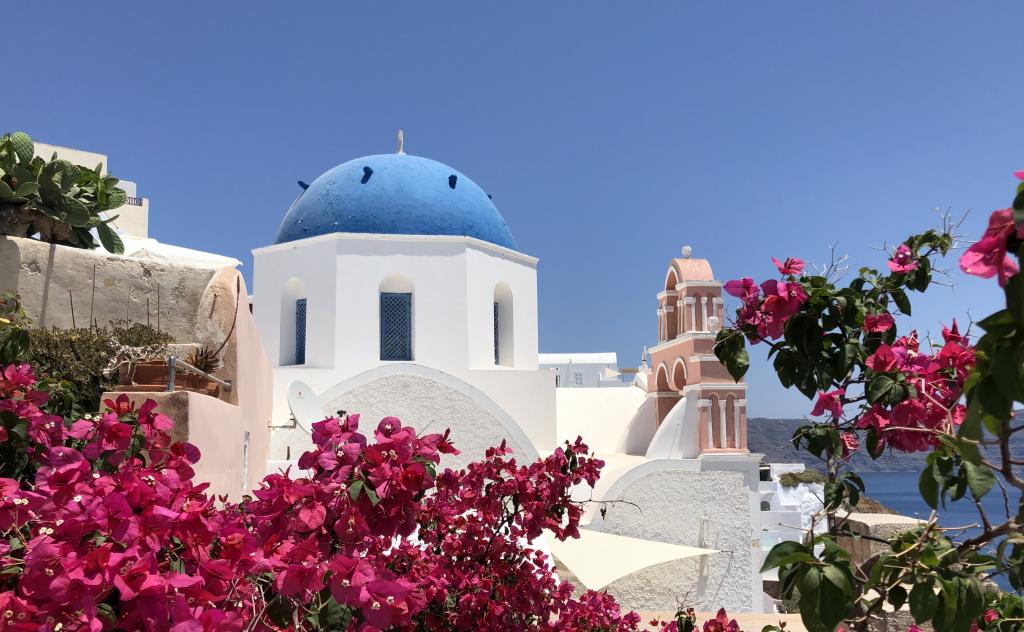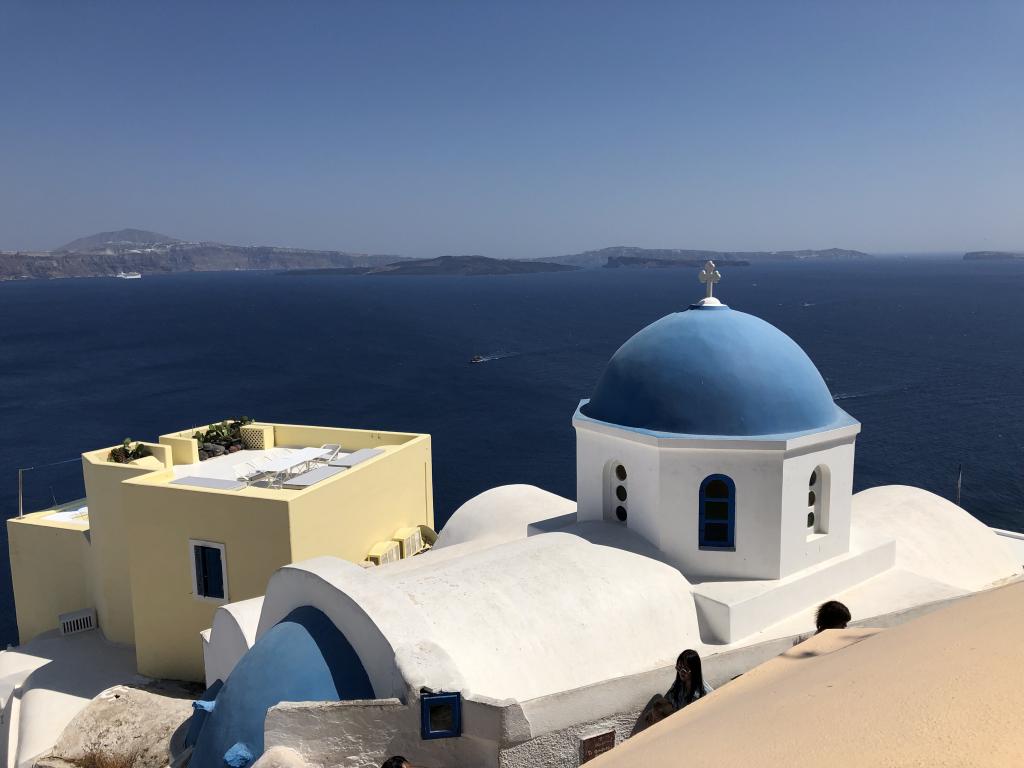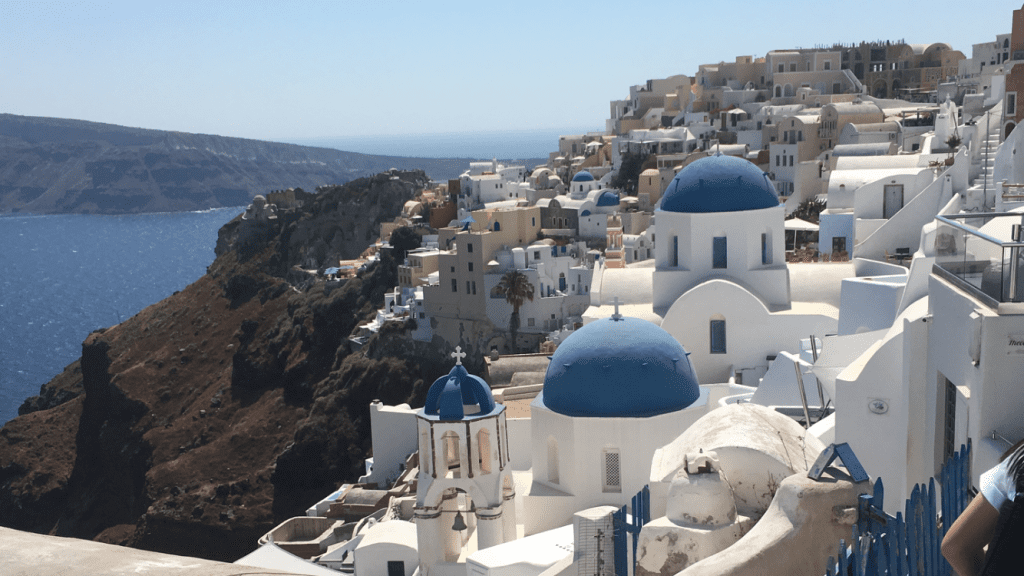 (Yeah, this last one could stand to be cropped.)
All images own work.