Initially, I wrestled with the idea of posting this book review, but now I believe I made the right choice.  I may not understand everything in the political realm, but I believe our President is at least attempting to make choices that will resolve our dilemma with immigrants.  If we refuse to make decisions, then we have decided to allow correlated problems to escalate.  I certainly do not have the answers.  I don't even know all the questions.  I'm not sure any one person does.
In this book review from 2017, I discuss topics that may still be applicable today.[1]  See the first part published yesterday:
Santa Biblia: Justo Gonzalez on Marginality, Poverty, and the Border
Justo Gonzalez, Ph.D. has written one of my favorite church history books.  Here, I am reviewing his book, Santa Biblia: The Bible Through Hispanic Eyes.  You can purchase it through my Amazon link in the footnotes if you like.[2]  Because this is a single book review, I do not use multiple footnote citations, but rather include the page numbers in-line.
As promised, I will offer my critique of some of Gonzalez's views, including his ideas on the border.  Since he relies heavily on his personal experience to justify his views throughout this book, I attempt to do the same.  This is certainly not my preferred form of dialogue, but I lived on the West Coast for nearly half my life, so my experiences may bear some weight.
Please note that Gonzalez is unparalleled in his historical knowledge.  I believe he is also exegetically faithful in his Biblical interpretation.  However, I merely take issue with some of his more political notions.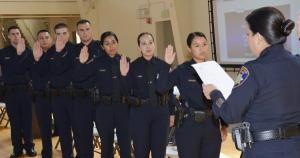 City of Salinas | Salinas P.D. swearing-in | 08.29.17 | Public Domain
Immigrants, Solidarity, & My Critique
Chapter 4: Exiles and Aliens
This chapter relates the alien and exile in Babylon to immigrants and their native born descendants.  A word study is cited of the alien (ger) in the Hebrew Bible (93-95).  Yahweh commands Israel to care for aliens, among others, especially those without property rights.  "Furthermore, the ger even serves a specific religious function in Israel, reminding the people that Israel too was alien in the land of Egypt" (94).  This is applied to the ways America was founded by immigrants.  Lara-Braud says, "I wish I could once again convince North Americans that every time an immigrant reaches this nation, the dream of the birth of an exemplary society gains renewed strength" (95).
Gonzalez retells Joseph's story of saving his people and Israel, with a call for the dominant culture to see the story through the eyes of Pharaoh, who needs the aid of his alien slave for his country to survive (96).  Ruth is re-examined through the eyes of Naomi, Ruth, and Boaz.  "It is the story of a woman who becomes an alien for the sake of her husband, and another woman who becomes an alien for the sake of her mother-in-law" (97).
Gonzalez points to Jewish prophets to Israel during the Babylonian captivity – "seek the welfare of the city . . . for in its welfare you will find your welfare" (Jeremiah 29, p. 99).  Latino subgroups in America live here with a temporal mindset.  Gonzalez compares this to our hymns of eternal mansions.  "This leads to a life between parentheses, as if most of what takes place in the present were of no ultimate significance" (99).
Chapter 5: Solidarity
Gonzalez offers a positive paradigm, Latin solidarity, family, and community.  "The present notion of the nuclear family is a relatively recent phenomenon, mostly the result of the industrial revolution and of developments that took place since then.  During most of human history, the 'normal' family has been the extended family" (105).  Gonzalez points to this as a distinction between Latino and American families.  He links the loss of the extended family to our loss of community.
In another word study on Ephesians 2.9, Gonzalez shares the meaning of citizenship in New Testament times.  Someone like Paul is rare, who holds citizenship in Tarsus and Rome, when most towns are not even authorized to grant citizenship.  Any social status of common people is typically due to their wealthy patron (107).  The New Testament communities take in the homeless aliens, offering citizenship in the Kingdom, and family in the household of God.
Critical Engagement
I enjoyed his autobiography since I have a Hispanic heritage
My grandmother was the first Spaniard in her family born in America.  The journey of Gonzalez at every stage resonates with me for a couple reasons.  I have had similar experiences.  I know from experience and my counseling background, that a personal narrative is highly influential for one's Theology, whether one is aware of it or not.
There are many examples that I have witnessed first hand.  Those who are marginalized are sometimes making space for themselves on the fringes as well (33-34).  Someone like me who spent a lot of time living in California need only recall Hispanic pride on artistic t-shirts in the 1990's that declared "Viva La Raza!" or a quote from "Chavez."  Gonzalez believes the rich and impoverished are the two main audiences of the parables.  His ways of relating these parables to living conditions of Hispanics is very good as well, perspective that I can relate to as one who has ministered among families from real barrios (62-66).
There are also themes in this book that I pull away from.  Gonzalez calls for wide-sweeping reform in favor of Latinos.
At this point in the review, I must diverge.  To truly engage with his politics and Theology that seems like Liberation Theology, I will take some time to offer some counterpoints.
Is poverty in Scripture only about economic poverty?
Who are "the poor in spirit" (Matthew 5.3)?  Are not the rich capable of being impoverished in spirit, gaining the whole world and losing their souls (Matthew 16.26; Mark 8.36)?  As a congregation, do we always direct our resources to those in poverty, or do we give priority to our faithful (Galatians 6.10)?
On the Central Coast in California where we have ministered, the weather permits homelessness year round.  The homeless flock to this area.  There are also far too many illegal immigrants to count.  Not only do the homeless have needs, but at times they assume upon the graces of the church.  We actually had to be wary, and direct our focus to our flock.
Border control
While ethnic groups in America often have particular needs, I do not agree with his assertions about border patrol.  Gonzalez states that border control boils down to American desires, "to have a single language, to make certain that we are pure, to insist on the traditional values of our own particular language" (83-84).  It is not about that, but about safety and civic stability.  Immigrants are fine.  Illegal immigrants are phantoms if they choose to be.
Has Gonzalez offered pastoral counseling for a parishioner, a Latin American immigrant, who as a child saw a man stabbed to death in his own front yard by untouchables that disappeared into the gangs?
Did he counsel my wife and I?  We woke up one morning and read in the news that officials reported finding a murder victim in a front yard in our neighborhood.  We were raising two boys under ten years old.
Has Gonzalez gone to a closed prayer gathering of Pentecostal congregations?  The mayor called us together to pray over him and his city officials.  Gangs had committed nearly twenty homicides in less than two months.
We see where Gonzalez stands on border control, but what about stories like this?  
What about cities that are imploding?
Does he have any answers for whole cities on the Central Coast that are literally imploding?  In agricultural societies, American farmers often hire illegal immigrants and pay them "under-the-table."  While they make less than minimum wage, they make more than a typical day of work South of the border.  In reality, this is somewhat of a slavery situation in our current age.
An American city's civic services cannot refuse to render assistance.  For instance firefighters, police, hospitals, and to a certain extent schools, cannot turn away illegal immigrants.  Cities are no longer surviving because there are a majority of illegal immigrants who cannot be tracked and made to pay taxes!
Are we at the acadamie or on the ground level?
Has Gonzalez served on Pastoral staff at three American churches where the minority was Caucasian – one congregation where there were only two Caucasians?  Or has Gonzalez only touched the American academie?
Although his roots are in the barrios of Cuba, he does not indicate he has served on the ground level, in the tensions of American barrios between the honest hard working immigrants, the illegal immigrants, and the natural born American citizens.
His views seem a little exalted over those I have known: civil servants, social workers, healthcare professionals, educators, and ministers, who are all driven to serve both immigrants and Americans.  I know many good Americans on the ground level, who serve at the margins, and who deserve the attention of scholars like Gonzalez.
---
notes:
[1] Jared V. Ingle, "
Review of Justo L. Gonzalez, Santa Biblia: 
The Bible Through Hispanic Eyes" (paper presented in, 
New Testament Introduction
, Asbury Theological Seminary, March 26, 2017).
pt 1: Santa Biblia: Justo Gonzalez on Marginality, Poverty, and the Border
[2] 
Justo L. Gonzalez,
Santa Biblia: 
The Bible Through Hispanic Eyes
(Nashville, TN: Abingdon Press, 1996).