What follows is a report from a Pastors Roundtable | Live From Washington D.C. This live stream of a virtual pastors roundtable conference was hosted by the Family Research Council: frc.org
The conference emcee was Tony Perkins, President of the Family Research Council. Members of the Administration and Cabinet joined the conference. President Donald Trump also took time to encourage pastors in this live stream.
The following list is a group of Host Pastors: Garrett Booth, Carter Conlon, Jentezen Franklin, Jack Hibbs, Chris Hodges, Guillermo Maldonado, Tom Mullins, Ramiro Pena, and Tony Perkins. These pastors were brought in to ask questions of Cabinet members and to pray for each one as well.
There were over 1,700 pastors in attendance. 46 states were represented, and of course Washington D.C. Pastors were also present from 13 countries.
A note on this report: I'm not a political journalist. I do not know short-hand. Therefore, this is a summary, not necessarily a verbatim report, of the dialogue. Tony Perkins repeatedly asked pastors to share the information freely, so I hope this article serves a greater purpose.
Just for clarification: I don't have half the following that any of these people have. The VIPs don't call me everyday to have coffee with them. I'm not self-seeking. I don't search for these opportunities. I'm just a pastor and supervised therapist who has the privilege of sitting-in from time to time in great meetings, and I'm thankful.
TOC
William Boykin, Exec. V.P., Family Research Council
Mike Pompeo, Sec. of State
Ben Carson, Sec. of HUD
Chad Wolf, Acting Sec. of Homeland Security
Eric Hargan, Dep. Sec. of Health and Human Services
President Donald Trump
William Barr, U.S. Attorney General
Family Research Council Resources
Lieutenant General William Boykin (Retired), Executive Vice President, Family Research Council
William Boykin is one of the founding soldiers of Delta Force. He eventually led Delta Force and later led the Green Berets.
He says that the 2 most difficult times to lead are 1) times of change, and 2) times of chaos. We're facing both now.
To manage the chaos: 1) We cannot over-communicate enough. We have to strengthen and preserve good communications. 2) We should be empowering subordinates. This develops them personally. It also keeps them from the distractions of the crisis. They keep a stronger focus. 3) It's also necessary to maintain a sense of humor.
We need to see beyond the moment. Can we look beyond where we are to the future? We have to look through this. How are we going to recover? How will we gather? We'll be operating differently.
Mike Pompeo, Secretary of State
Secretary Pompeo is the 70th Secretary of State and the former Director of the Central Intelligence Agency.
He states that our rights are God-given, not given to us by government, rights that are ours because of our dignity as humans.
His department spends a lot of time working with other nations for religious freedoms. They've hosted the largest diplomatic gatherings for religious freedoms in history, in Washington D.C. under President Trump's Administration.
The State Department partners with faith-based organizations across the world on the ground level, offering support, and delivering of goods to those in need.
Why is this important for Christians?
The task is a higher priority for Christians, who seek to share the Light with the world.
The State Department knows that religious issues are real worldwide. They seek to open the hearts of foreign dignitaries to offer their people religious freedom. They attempt to teach dignitaries that religious freedom does not mean the downfall of their forms of government.
How can we pray for the State Department?
We can pray for continued wisdom to tackle problems of religious freedom globally.
We can pray for continued support from everyone, and for the grace of Jesus Christ.
Ben Carson, Secretary of Housing and Urban Development
Early on the Coronavirus outbreak, Housing and Urban Development started working to secure a moratorium on foreclosures and evictions. They have also been doing a lot of work with the homeless and with regional shelters.
As a doctor, Secretary Carson has seen families face tremendous medical difficulties. These difficulties have the potential to pull families apart, but they most often seem to pull families together. Then the family provides the strength needed for the member who is facing the crisis. That's what Christians need to do during this time.
Chad Wolf, Acting Secretary of Homeland Security
This is the largest governmental agency other than the military.
Secretary Wolf recognizes the importance of faith-based organizations. During a regional crisis (tornadoes, floods, etc.) houses of worship are where communities gather first.
The Federal Emergency Management Agency (FEMA) makes a point of working with churches and faith-based organizations.
In fact, Homeland Security has established a sub-committee to work specifically with faith-based organizations. They are talking with hundreds of churches about how people have been targeting churches. Recommendations are being reviewed by Assistant Secretary John Hill of Homeland Security.
During the Coronavirus, they are assisting local regions as they name their Essential Workers. They have named Clergy and Pastors as Essential Workers for over 30 days now.
In regional disasters FEMA seeks to strengthen partnerships with local churches. Churches are usually the first ones on the scene and the last ones to leave the scene, before and after FEMA.
Grants are made available to Clergy as Essential Workers. FEMA wants Clergy to be able to get into hospitals and homes for visitation.
Chad Wolf adds, "Let's make sure our restrictions are not worse than COVID-19."
Let's look out for the health of the whole person: physically, mentally, and spiritually.
Eric Hargan, Deputy Secretary of Health and Human Services
In some ways this Department is at the tip of spear for churches and state.
Dep. Secretary Hargan also worked for President George W. Bush, but he says that this is the most Pro-Life Administration we've had, under President Trump.
He focuses on issues of "Conscience and Religious Liberty." In fact, he has made sure that it is now a permanent part of this agency. For instance, he has implemented new Title X laws, separating abortion from family planning. So the American people don't have to subsidize abortion.
He believes that religious freedoms are being jeopardized, so religious liberty really is one of the greatest Civil Rights issues of our day.
If people are being coerced to have an abortion, or even if doctors are being coerced to offer abortion, then they can contact his office. Their medical rights are being infringed upon.
Abortion is one example of an issue of Conscience and Religious Liberty, a Civil Rights issue, that Health and Human Services is addressing.
President Donald Trump
President Trump started with some opening remarks, and mentioned abortion as a dividing factor in our nation right now. Virginia is now allowing for abortion that is, in fact, after birth. The family can decide whether or not they want to keep the baby in that moment. He's surprised, and didn't think it would gain support, but the Democrats are supporting this.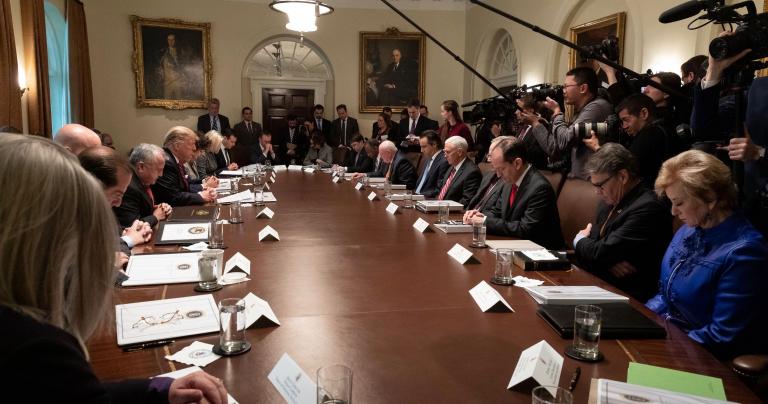 There are a couple contributions of his first term that are not well-known. 1) President Trump will probably nominate close to 280 Federal and Appellate Judges by the end of his first term alone, not including Supreme Court Justices. Many of them are only in their 40's, so the majority of their careers are still ahead of them. 2) He has also rebuilt the military.
During the time of the Coronavirus, his Administration has helped to secure forgivable loans for churches, with paycheck protection loans.
President Trump is predicting a comeback in the 3rd Quarter this year, starting in June. It wasn't in his notes in a recent speech, but he coined the phrase in the middle of his speech, "Transition to Greatness."
He encouraged the pastors, "Talk politics in church!" We're allowed to speak out now because he got rid of the Johnson Amendment that limited preachers.
William Barr, U.S. Attorney General
William Barr was the Attorney General for both President George W. Bush and President Donald Trump.
Religion is the foundation for our entire system. A lot of our pathologies and distractions in the modern age are related to the demise of our outlook on religion.
The Religious Liberty Task Force is working to reshape precedent in the courts. They are protecting the exercise of religious freedom.
He encourages congregations to continue to press locally for the accommodation to gather.
Each state has an Attorney General reporting to the national agency. Each state has someone from his office to connect with. They will influence regional leaders to allow for religious liberty, utilizing the courts if necessary. As they continue to win cases for churches, they will shape legal precedent in America in favor of religious freedom.
Churches show a great deal of responsibility, like any other company or organization. However, people are allowed to gather en masse in grocery stores, but not in churches. In some states, people are assembling at meetings in big groups, but churches are limited to 10.
Family Research Council Resources
The Family Research Council who hosted this Pastors Roundtable | Live From Washington D.C. has plenty of resources available for congregations.
Their main website is: frc.org
For churches, there are FREE resources at: frc.org/church
For an 8 page list of President Trump's accomplishments for life, family, and religious liberty: CLICK HERE
There are also guidelines for Coronavirus and reopening your church.
---
Pastor Jared Ingle
Pastor. Supervised Therapist. Teacher. Writer. I wear all these hats as a Spirit-filled Christian, husband, and dad who is overseeing a nonprofit in the beautiful Grand Traverse Bay Area.