In the previous related piece, I tracked a groundswell of ethics.
First, mores (pronounced like Moray eels) are something like innate ideals, possibly undercurrents of virtue. It is possible humans have mores simply because we're made in God's image, Christian, non-Christian, or becoming Christian.
Second, values develop for individuals and groups as mores are articulated and agreed upon.
Third, ethics are often codes, like a code of ethics or eventually formal law.
Ethics is also the discipline, the field of study, usually considered a sub-discipline of philosophy.
In this piece, I'm not looking at a groundswell of ethics. Furthermore, this article is a longread, necessary for good SEO and also the natural outplay of the study . . . so thanks in advance for reading.
i. Word study through the lens of ethics
I've picked a couple Christian leaders to offer commentary who live in the ages when ethics are in their heyday, the Greco-Roman world.
In Psalm xix.7-14, David rejoices in the Law of Moses and its effects on the heart. The Law is better than gold and sweeter than honey (verse 10)! Then David cries out to God to keep him from sin. He even asks for his thought life to be changed as well (verse 14). Below the surface of the Law, David discovers a transformational relationship with God.
Although I've posted a couple more articles in the realm of ethics, this is actually the second in this series I'm offering.[1]
ethics, group norms, & tattoos CLICK HERE
As we peer into this Word study for guidance with ethics, let us remember that Scripture is alive (Hebrews iv.12). It is the Word of our Lord who transforms our interior life and allows us to become peacemakers, including becoming a people who influence ethics.
The law of the Lord is perfect,
     reviving the soul;
the decrees of the Lord are sure,
     making wise the simple;
the precepts of the Lord are right,
     rejoicing the heart;
the commandment of the Lord is clear,
     enlightening the eyes; Psalm xix.7-8
ii. of these verses Augustine writes:
"The law cannot be fulfilled except by spiritual persons, and there cannot be such save by grace. The more one is assimilated to the spiritual law, the more one attains to a spiritual disposition, and the more one fulfills the law . . . When grace forgives sins and infuses a spirit of charity, righteousness ceases to be hard and becomes even pleasant."[2]
When considering ethics and the law, or the Law of Moses, we often incorrectly think of these things as outside forces keeping us accountable. However, there is another view, well articulated in the Classical Greek literature Augustine is acquainted with.
Ethics are not considered to be an external force, but rather the result of the higher movements of the interior life. In other words, ethics are like outward expression of the virtues.
the fear of the Lord is pure,
     enduring for ever;
the ordinances of the Lord are true
     and righteous altogether. Psalm xix.9
iii. Clement of Alexandria & Augustine both weigh-in
What do Clement and Augustine bring to the table, although there is quite a time lapse between them?[3]
They both point out the fact that the fear of God is real. There are people who turn to God based on their fear of Him, or of eternal punishment. They make no mention of someone developing this fear of God in a traditional Bible study or by reading the Word.
Sometimes there are activating events in our lives.
iv. there may be natural consequences for our actions
Ethics assist us as we try to make sense of what is going on and why it is happening.
For example, this easily occurs in a company setting when some sort of standard is broken, one that requires the loss of work or a demotion. In this day and age, this may not really be a risk anyone wants to take.
Whether a remote job, a desk job, or a hybrid job . . . company culture, company ethics, and even esprit de corps keeps us on track a lot more than we realize.
However in line with the Scripture, a healthy fear of losing face, or of losing a position, or of losing a job because of an ethical breach can actually keep us going over the longhaul.
v. both Clement & Augustine agree
This is the language of verse 9. In effect, some people will not come to Jesus Christ because of His great love and His clarion call of salvation. Some will turn to Christ only after something scares the Hell out of them. Clement and Augustine affirm that this is what David the Psalmist is saying and there is nothing wrong with it. It is healthy to develop an honest fear of God.
Furthermore, they both state that over the longhaul, these people are committed as much as anyone else. The language of the verse does not merely allude to forever . . . but plainly connects this type of commitment to a forever commitment.
This is ethics in action, ideally the law being a virtue that springs forth from the interior life (verses 7-8). However, if it is resisted there is the fear of the Lord, the long arm of the law so to speak, that can arrest our attention (verse 9).
vi. the sweetness of the Word is real (verse 10). Clement declares:
"For just as, had the sun not been in existence, night would have brooded over the universe notwithstanding the other luminaries of heaven, so, had we not known the Word and been illuminated by him."[4]
I've spent 7 years in northwest Michigan. I get it. There are times I'm surviving through the winter. The oft times very beautiful winter sun seems elusively beyond my reach.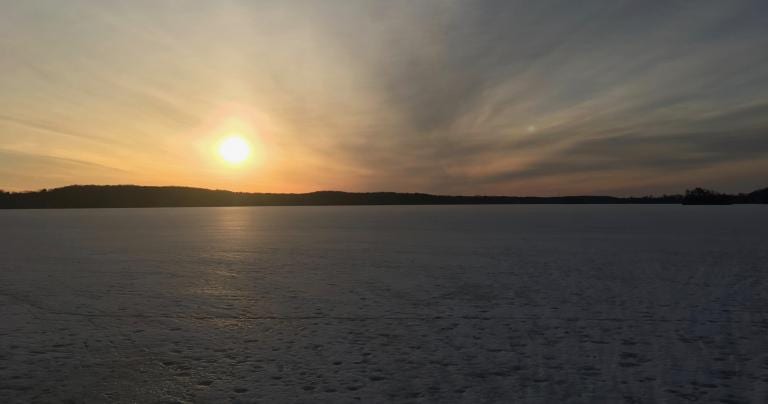 It doesn't quite warm my face that's reddened by the bitter wind, nor does it warm me. It doesn't provide enough light or length of day to entice me to play. I often long for the summer sun to arrive, hoping the short summer will come on a weekend . . .
Now imagine just dropping South from the 45th Parallel, even a little bit in latitude. Everything changes. Yet farther South where I'm at now seems like the tropics in comparison.
This is David's point, as well as Clement's (sweetness of honey after famine . . . warmth of the sun after being away). It's a rich word-picture with many applications.
vii. transformation of the interior life
As stated at the beginning of this piece, the Psalmist asks for his thought life to be changed (verse 14). However, this type of request is not often found in ancient writings of any sort.
Verse 14 serves in a way as an answer to previous lines. There is a previous request (verse 12) followed by a challenge to that request that must be overcome (verse 13.a) followed by a transformed thought life (verses 13.b-14).
The nuances of Hebrew poetry are well above my pay grade at times. However, Augustine picks up on it. In fact he is known globally for picking up on these types of Passages and for writing with insight that is unheard of.
In non-Christian psychology Augustine is heralded as the father of introspection or similar titles, perhaps even as the first "psychologist."[5]
But who can detect their errors?
     Clear me from hidden faults. Psalm xix.12
viii. Augustine has a lot to say about this small verse
Augustine's insights are too many and his quotes too long to include, so I'll humbly try to summarize.[6]
1) He says check the blind spots as you're driving along. Evangelicals are getting a lot more comfortable with Christian Disciplines or Practices these days, as long as the authors of the books really don't connect the dots with the mother church practices which have been around a lot longer. We've only seen a resurgence in the Practices among Evangelicals since the 1970's. To check the blind spots, may I suggest the Prayer of Examen developed by Ignatius? Although this is developed long after Augustine's time, it is extremely helpful for self-reflection and confession, even if only prayed once per week or so. It may be a means to an end for some, the development of a heightened awareness of one's need to confess, and what in particular one needs to confess.
2) Augustine says about this verse that the one who does not see the need to confess may have a more serious issue. Who is free from sin? Perhaps the person is more concerned with saving face. Perhaps the person wants to boast more in his own goodness than in the glorious mercy of our Lord. This is a serious spiritual indictment.
3) He also states that by praying in accordance with verse 12, we submit ourselves to the testing of the Lord. This isn't a test in the way we think of it today, like a trial. It's a test like a doctor's test. We submit to a doctor who is well-qualified to let us know what is wrong with us physically, and this may include a series of tests.
xix. I would add that Augustine should not be so modest
He's a bishop and considered one of the early "Doctors of the Church."
Today, many denominations require Ordained Ministers to have a graduate ministry degree.
This begs the question, if we go to a M.D. for physical issues, who do we go to for issues of the soul and spirit?
Christian therapy is helpful at times. When I was in my first grad school, the average counselor-client relationship was 5 weeks. However, many times there is no better option. Honestly, I truly believe Christian counseling has become a strong sub-ministry of discipleship for countless practitioners. I'm not sure if Augustine would agree with me, but he certainly has influenced psychology, "Christian" or not.
Who influences your interior life?
Remember, the ages of these great Christian leaders who were close to the times of the New Testament have passed. In this age, not everyone wants to go to a counselor (Christian or not). Also, not everyone has access.
However, God has raised up ministers for the people of God throughout the ages.
Despite various types of educational backgrounds, ministers often have many qualifications and experiences working with individuals, with the community of faith, and with influencers in society.
For individuals or the community, perhaps a minister can offer a glimpse into the mirror of the Word (James i.22-25).
Perhaps the Bible and the community of faith can stand in this age as an ethical witness in America.
---
---
Rev. Jared Ingle at LinkedIn
notes:
[1] There are some aspects of this series that are different. I've presented research before, but this is research that was published. I'm going back to my original submission, and also to my source material, to offer a fuller understanding of the ethical issues and the texts. When submitting the original work for publication, I had to be mindful of a word count and limited amount of chapters. On the other hand, I can just slow down and present the material in an ongoing series here.
[2] Augustine,
On Various Questions to Simplician I.I.7

[3] Clement of Alexandria,
Stromateis VII.12
; Augustine,
City of God XIV.9
Clement is more than likely not the Clement mentioned in Philippians iv.3, although he does live pretty early on. Clement of Alexandria is a Greek Father in Alexandria on the seaboard of N. Africa. I personally believe he adopts the "Christian" name Clement based on the Clement in Philippians. I also personally think the Clement in Philippians could be Clement of Rome, who is active very early in the Primitive Church.
Nonetheless, I have read Clement of Alexandria quite a bit. If we adopt his understanding of gnosis, without defaulting to the church history understanding of the gnosticism heresy, then we'll enjoy his readings quite a bit. He speaks of gnosis almost like the Apostle John speaks of logos. He focuses on our transformative reception of wisdom (gnosis) almost like John focuses on the transforming dual nature of Christ (logos). They're not mutually exclusive concepts.
[4] Clement,
Exhortation to the Greeks XI
[5] common knowledge | You'll have no problem tracing this to books or
.edu
website articles
[6] Augustine,
On the Perfection of Human Righteousness XIV.33
;
Sermon II.3