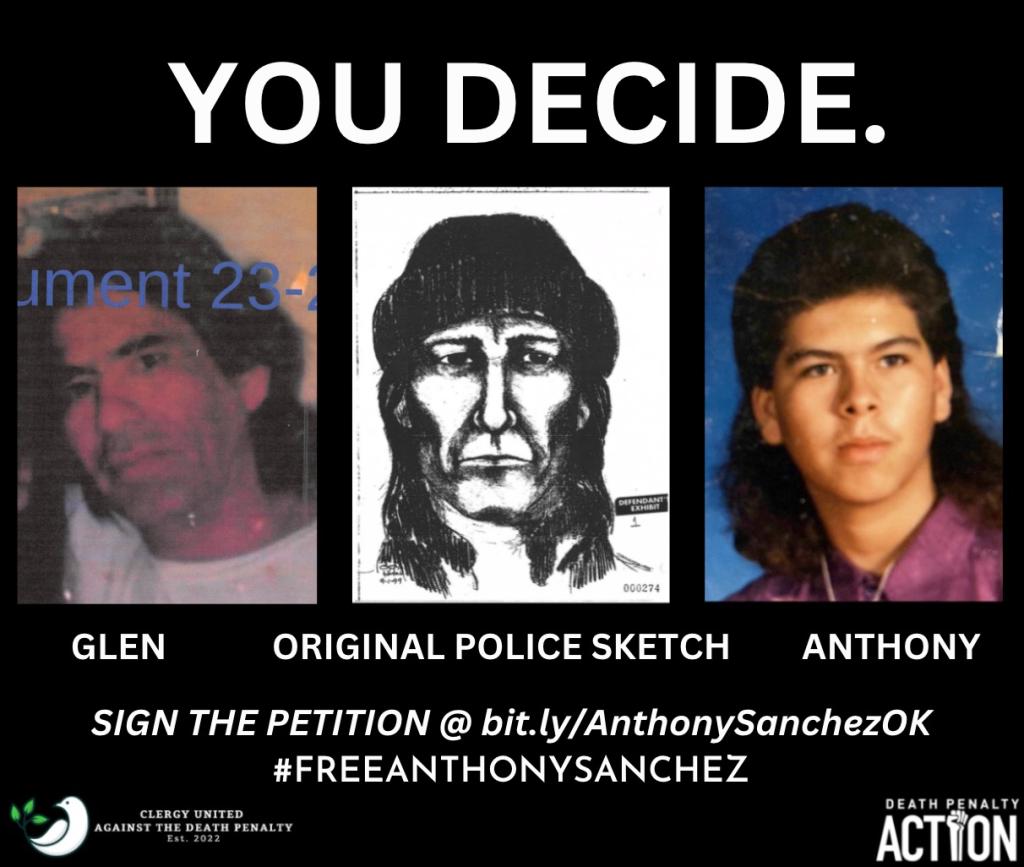 Press Inquiries/Further Information:  Rev. Dr. Jeff Hood (Anthony Sanchez Spiritual Advisor) / jeffrey.k.hood@gmail.com /  404-210-6760
THE DAD DID IT / THE SON IS ABOUT TO BE EXECUTED FOR IT
#FREEANTHONYSANCHEZ
On December 20, 1996, the body of Jewell Busken was found near Lake Stanley Draper in Cleveland County, Oklahoma. There was single gunshot wound to the back of her head. For several years, the offense was considered unsolved by authorities. On July 26, 2004, an Oklahoma State Bureau of Investigation criminalist documented a cold hit, connecting a person in the Combined DNA Index System database with the Busken homicide. That person was identified as Anthony Sanchez.
Apparently, Mr. Sanchez had not been a suspect in the Jewell Busken murder during the seven years and seven months preceding the cold hit. Further, there was no evidence that Petitioner Sanchez and Ms. Busken had known each other or had even known of one another. Aside from the DNA evidence, nothing directly pointed to Anthony Sanchez. In a wall at a former residence of the petitioner, there was a bullet with a rifling pattern like that of the bullet that killed Ms. Busken. However, the State's expert conceded the pattern was not uncommon, and in fact could be found in bullets from six different manufacturers. The State's shoe print witnesses did not claim to have determined the shoe print was the same size as Petitioner Sanchez's shoe, only that the footprint's shoe type was resembled shoes Anthony Sanchez was said to have worn.
But more striking than the dearth of evidence, was the evidence tending to exclude Anthony Sanchez. Ms. Busken's car, which witnesses saw going both to and from the area where the body was found, had not been wiped clean of fingerprints. Forty-nine fingerprints were lifted from the vehicle. No matches were made to Anthony Sanchez, even though eighteen identifiable prints were never matched to anyone.
Even more significantly, there were two eyewitness, neither of whom identified Mr. Sanchez during their testimonies. Kay Merryman, who saw both Ms. Busken and the perpetrator in Ms. Busken's car on the way to the lake, helped with sketches and described a man several years older than Ms. Busken. Ms. Busken was in her early twenties, whereas Mr. Sanchez turned eighteen the month prior to the homicide.
David Kill, who saw the perpetrator leaving the lake area in Ms. Busken's car, was in the courtroom with Mr. Sanchez when he testified he had not seen the man in the car since December 20, 1996.
And of still greater importance, is the appearance of a sketch, developed with the help of Ms. Merryman, seems to match a 1996 photo of Glen Sanchez (Anthony's father).
The state of the evidence until very recently was that there was DNA evidence pitted against some other facts that seemed to be inconsistent with Anthony Sanchez's guilt. Then in December, 2022, Charlotte Beattie, a girlfriend of Glen Sanchez, reported that Glen Sanchez confessed to being the person who committed the homicide. Beginning in July of 2020 and occurring again in later months, Glen Sanchez said that he was the person who killed Jewell Busken.
Charlotte Beattie said she first heard Glen Sanchez confess in July of 2020 and was too scared of Glen Sanchez to discuss the matter with anyone during Glen's lifetime. Glen Sanchez died on April, 24, 2022.  This event substantially changed her willingness to engage this case. In addition to the confession, significant evidence has also been gathered of Glen Sanchez's abusive behavior towards his son growing up and towards a whole host of women.
Thus, Charlotte Beattie's revelation of Glen Sanchez's admission has created a situation where there is strong evidence to suggest that an innocent man named Anthony Sanchez is presently scheduled to be executed in Oklahoma in September. The only question that remains is…. What are we going to do about it?
Sign the petition: https://actionnetwork.org/petitions/stop-the-execution-of-anthony-sanchez-in-oklahoma/
#FREEANTHONYSANCHEZ
*This narrative has been formulated based on the language in Anthony Sanchez's appeal, which can be found here
https://drive.google.com/file/d/1c50Lx5-JnVwcCzoIdUKGSlvu32kFapJl/view?usp=sharing
Press Inquiries/Further Information:  Rev. Dr. Jeff Hood (Anthony Sanchez Spiritual Advisor) / jeffrey.k.hood@gmail.com /  404-210-6760