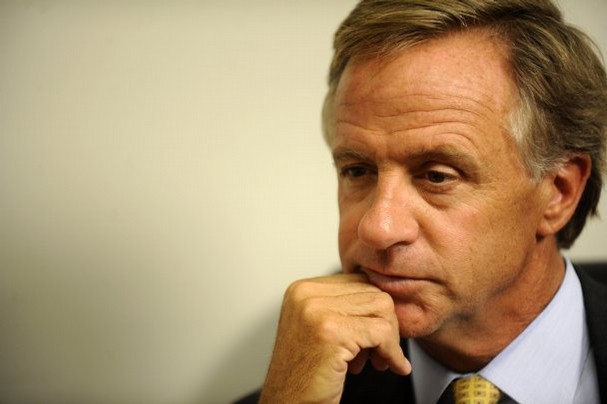 Brother Bill. I bring you greetings in the name of our savior…Jesus the Christ. We both graduated from Emory University…a university that I know gave us both a strong social conscience. I write because I am deeply pained in my spirit by your decision to use the electric chair for executions in Tennessee. I feel like your decision is an outward manifestation of a much deeper struggle going on within you…and all the rest of us who profess faith in the risen Christ…the struggle to follow Jesus when there is so much pressure not to. With regards to your actions on the death penalty, I would like to offer you a quick story that might help you follow Jesus.
Before his own execution, Jesus visited the potential site of an execution one time. I ask your grace in allowing me the liberty to set the circumstances in modern times to better purvey what happened and how it relates to us. The politicians, judges, district attorneys, warden, doctors, nurses and other attendants threw a woman on the chair. Accused of horrible crimes, the woman wept and knew that she had broken the laws of the society. There were witnesses who looked through the windows. The chaplain asked God to have mercy on the soul of the woman. As the switch was about to be flipped, a strange man stood up and used his finger to write in the fog that had gathered on the window. The names on the windows were those who had been affected by the failure of those in power to alleviate the needs of the marginalized, oppressed and suffering. Many had perished because those who had the means didn't help. When confronted with the hypocrisy of the entire situation, those who were called to carry out the execution picked up the phone in the chamber and asked for the governor. The folks in the chamber read out what was written on the window. The governor stopped the execution…because he knew Jesus was calling and had already spoken. This story reminds us of the convicting message of Jesus…we have all sinned and fallen short of the glory of God. There is life when we turn from the death of sin and dedicate our lives to following Jesus in the path of existing to give life to others.
Gov. Haslam…Jesus calls us to be better than this. Jesus calls us to be better than killing people. Jesus calls us to be better than electrocuting those who commit even the heinous of crimes. Jesus calls us to be better.
Jesus is calling from the chamber my brother.
Please pick up.
Rev. Jeff Hood
Southern Baptist Minister and Public Theologian
Board of Directors, Texas Coalition to Abolish the Death Penalty