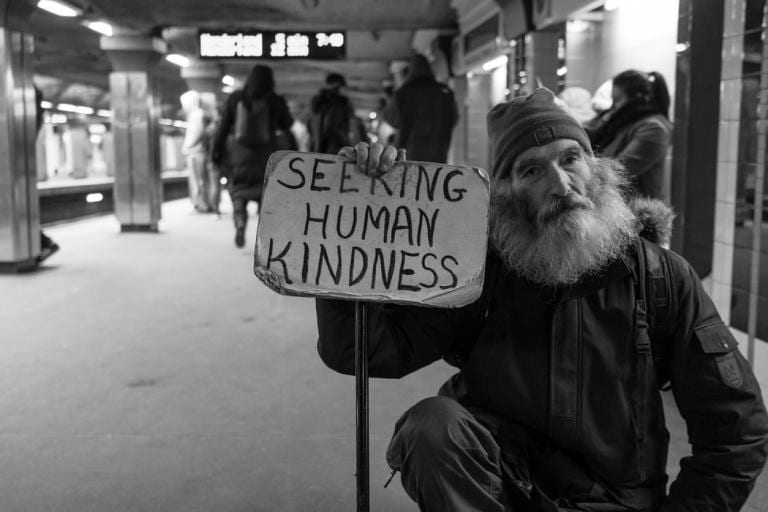 Matthew 19:16-24
Just then a man came up to Jesus and asked, "Teacher, what good thing must I do to get eternal life?"
"Why do you ask me about what is good?" Jesus replied. "There is only One who is good. If you want to enter life, keep the commandments."
"Which ones?" he inquired.
Jesus replied, "'You shall not murder, you shall not commit adultery, you shall not steal, you shall not give false testimony, honor your father and mother,' and 'love your neighbor as yourself.'"
"All these I have kept," the young man said. "What do I still lack?"
Jesus answered, "If you want to be perfect, go, sell your possessions and give to the poor, and you will have treasure in heaven. Then come, follow me."
When the young man heard this, he went away sad, because he had great wealth.
Then Jesus said to his disciples, "Truly I tell you, it is hard for someone who is rich to enter the kingdom of heaven. Again I tell you, it is easier for a camel to go through the eye of a needle than for someone who is rich to enter the kingdom of God."
John 2:13-22
When it was almost time for Passover, Jesus went up to Jerusalem. In the temple courts he found people selling cattle, sheep and doves, and others sitting at tables exchanging money. So he made a whip out of cords, and drove all from the temple courts, both sheep and cattle; he scattered the coins of the moneychangers and overturned their tables. To those who sold doves he said, "Get these out of here! Stop turning my Father's house into a market!" His disciples remembered that it is written: "Zeal for your house will consume me."
The teachers then responded to him, "What sign can you show us to prove your authority to do all this?"
Jesus answered them, "Destroy this temple, and I will raise it again in three days."
They replied, "It has taken forty-six years to build this temple, and you are going to raise it in three days?" But the temple he had spoken of was his body. After he was raised from the dead, his disciples recalled what he had said. Then they believed the words that Jesus had spoken.
Amen.