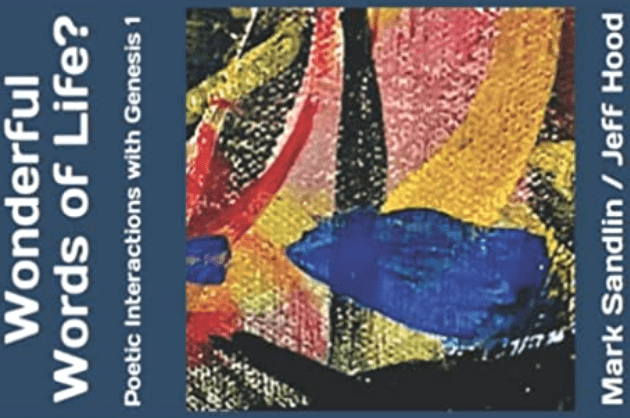 Buy our new book at https://www.amazon.com/Wonderful-Words-Life-Interactions-Genesis/dp/B0B8BJZ92M/ref=sr_1_1?crid=FJXG9939XOAF&keywords=wonderful+words+jeff+hood+mark+sandlin&qid=1660532649&sprefix=wonderful+words+jeff+hood+mark+sandlin%2Caps%2C254&sr=8-1
Wonderful Words of Life?  Poetic Interactions with Genesis 1 is our new book.
Introductory Remarks
God works in mysterious ways…or sometimes God doesn't work at all.  We don't know which best describes our trajectory.  We just know that we've been changed…or something like that.  You see, we are a part of a generation of thinkers and scholars that set out to change the Progressive Christian industrial complex.  In time, it was the Progressive Christian industrial complex that changed us.  For a while, we chased after every opportunity to build our brand.  Then, we realized that we were being chased…by every other person who was doing the exact same thing.  Often, there is nothing more liberating than simply stopping… choosing to quit the game.  Well, that's how we met.  Bewildered but still whole.  Troubled yet undaunted.  Hurt but not dead.  The truth is, if you survive…you survive with so much more than what you started with…your complete self.  We met as competitors and left as dear friends.
In our new book, you will meet more than just words.  You will meet a didactic around Genesis 1 that took place between two thinkers (wannabe poets) with nothing to lose.  That's why we think it's so damn good.  It's the story of a new creation and all the uncertainties that follow.  Honestly, it's a story of you…of us…and the struggle we all share…to be human.  These poems contain beautiful words…wonderful words…maybe even some wonderful words of life?  We hope so.  May the poet in us meet the poet in you and may we all be changed.  This is a poetry of creation in the key of dissension.
Poetic Samples
"Water
in all spaces
above
and
below
Further Defining
Below
Gathering
the waters
Leaving voids
Parched land
Land
in its place
Water"
"I
AM
Thirsty
For so much more
Thoughts
Above
Thoughts
Below
No flood
Of answers here
Only a desert of water"
Buy our new book at https://www.amazon.com/Wonderful-Words-Life-Interactions-Genesis/dp/B0B8BJZ92M/ref=sr_1_1?crid=FJXG9939XOAF&keywords=wonderful+words+jeff+hood+mark+sandlin&qid=1660532649&sprefix=wonderful+words+jeff+hood+mark+sandlin%2Caps%2C254&sr=8-1