Two links for highlights on Bishop Fabre-Jeune's ordination this past Friday the 13th:
Nate Tinner-Williams live-tweeted the event, and he catches all the serious moments, with great photos.  Good straight-up summary of the play-by-play, regular journalism edition.
Meanwhile, view from the back rows, here's my time-stamped guide to some of the fun stuff going on in the liturgy,  which was jam-packed with reverence, devotion, and pure unfettered Jesus-lovin' joy.
–> I'm going to caution some of my readers not to click, because you'll break out in hives and we don't need that.  You'll know who you are because I'm going to use a trigger-phrase to help you self-identify: There were flags.
See? You just move on. Come back to hear me rant about stuff we agree on some other day. You are not made for my low-brow self with my wildly unpopular If Jesus Comes It's a Good Mass measure of Mass-love.  And don't get me wrong, I'm a liturgical critic.  It's just that my standard is: Was it reverent and God-centered?  And this one was.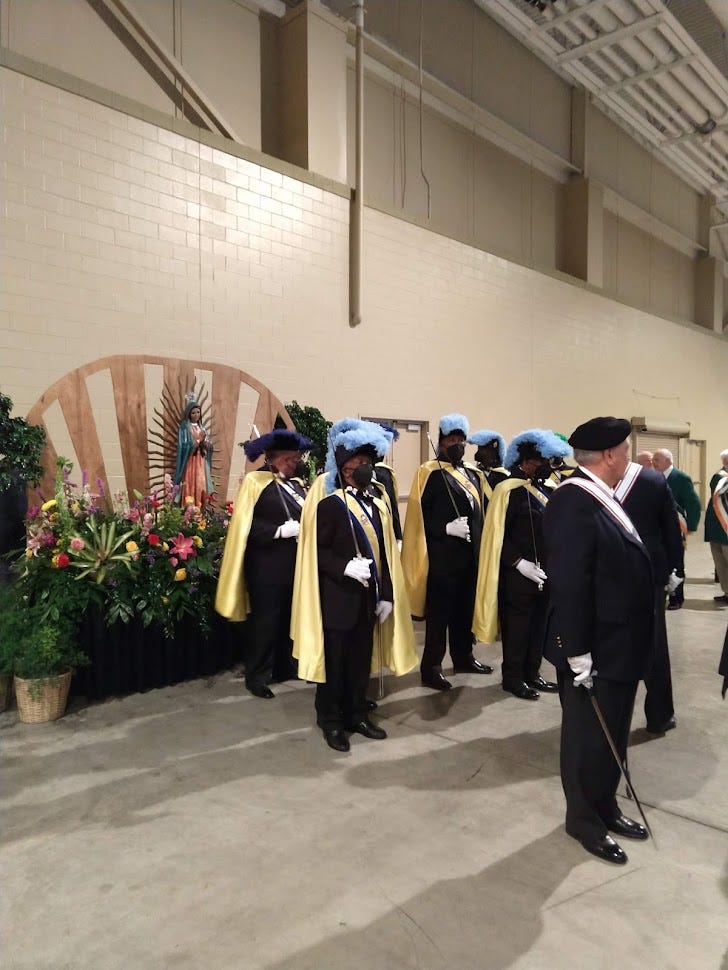 Photo (mine): Knights of Columbus (berets) and Knights of Peter Claver (capes and plumed hats) line up in front of the altar honoring Our Lady of Guadalupe at the back of the Charleston Convention Center, May 13, 2022, preparing to process for the ordination Mass of Bishop Jacques Fabre-Jeune, 14th Bishop of Charleston, SC.