I remember the conversation so clearly — the not-so-subtle pressure, my building resentment, where I was standing in the kitchen, which hand I was holding the phone with. I was exhausted, stressed, near tears — and forced to say "Yes" yet again. And this made me so angry.
I was in an incredibly busy season of my life. I had a full time job, was in school part time, and had just come off a short run with a show at a local community theater company. I was sick — recovering from a really bad cold — and I was at that joyous moment when everything I had been running around doing was coming to it's own glorious end, and a week of absolutely nothing to do stretched out before me like a long, welcoming beach beside crystal blue waters. That's really how luxurious the week of nothing felt, and my relief was palpable. I had, after all, just begun it, having collapsed onto my couch after getting home from The Last Thing, putting my pj's on, and grabbing the appropriate pint of Ben & Jerry's.
But then, my phone rang. A friend from the theater was in a tight spot — their next show was going up that week and their stage manager was suddenly unable to fulfill her duties. Could I do it? Really, he kept saying. It's only for one week! It's not a long run at all!
The only problem was it was my week — the week I had been looking forward to. The week that had honestly gotten me through everything I'd had to do because I knew it was there — that week of Nothing To Do, in which I could collapse and watch reruns all week and sleep in because I'd be off from work and school and theater and everything else that consumed my time and squeezed me tight.
I explained to him I'd never stage managed before. He didn't care — he was desperate. I told him I didn't really have time. He swore it would only be a few hours a week. I told him how exhausted I was. That's when he started pleading with me. I mean, pleading. Please, he kept saying. We're in a real bind. Please.
The pressure! I was young, I was susceptible. I said yes.
I got the reward — he was ecstatic. Oh thank you! He said. And I could tell he was genuinely relieved. That I had made his day. I had really help.
But in my gut was hot fury. Resentment tasted bitter in my mouth. My hands and jaw were both clenched tight. My luscious, glorious week of nothing had been stolen from me. No — I gave it away. I wanted to cry. I wanted to collapse because I was so tired. Something rose up inside me — I'm not sure what it was.
I called him back. I said, "I'm really sorry, but no. I just can't do this."
It was probably the first time in my adult life I'd set a boundary and put myself first. It was my first conscious act of self-care. It was the first time I let someone else's problem be someone else's problem. I felt a little bad about disappointing him — especially after he'd been so happy. But not enough to say yes. The relief I felt at my decision was far greater than any guilt I felt for saying no.
Since then, I've had to learn how to flex my "No" muscle many, many times, and I'm still not always great at it. Especially as a Jesus Freak parent of young children who also owns a small business doing life in church and/or with faith-based organizations. It's so easy to say yes to so many things, you forget which of the things is actually your thing — the thing you care most about.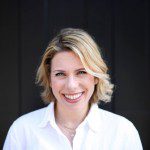 But there's good news! You can train your No muscle and learn how to flex that sucker more! At The Whole Woman Summit, personal strategist Shoshanna Hecht is going to will show you why you say "Yes" when you'd rather say "No," what it truly costs you when you don't set boundaries, and the benefits of flexing your No Muscle. This is a talk for high achieving professional and entrepreneurial women who struggle to balance it all and — as a result — never say No. After this talk, you will have practical tools and knowledge to begin implementing your very own "No Muscle" without feeling like a jerk; instead, you'll feel empowered and confident in setting the boundaries that work for and serve you.
If you're someone who has said yes when you wish you'd said no, you'll want to be there!
See you at the Summit!
---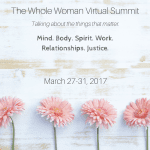 Each Friday for the next few months, I'll be writing about one of the amazing women who are speaking at The Whole Woman Summit in March. These are women who are movers and shakers, Christian and not, who are doing very cool things in the world. The summit is all about the things that matter — MIND. BODY. SPIRIT. WORK. RELATIONSHIPS. JUSTICE. The summit is entirely online, and all registrants will receive video recordings of all sessions, so no worries if you miss any. 
See you at the summit!
JERSEYGIRL, JESUS READERS CAN SAVE $20 OFF THE TICKET PRICE! 
USE COUPON CODE:
JERSEYGIRLWWS17