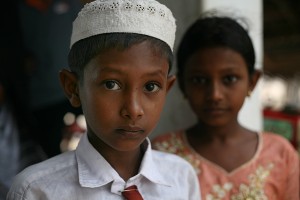 Tony Jones spent last week in Sri Lanka, on a tour for bloggers sponsored by World Vision. You can read all of his posts from Sri Lanka here.
When the World Vision staff briefed us, they explained that Simras was orphaned when he was just seven months old. His mother had died; his father moved on, leaving the boy with his mother's sister. They explained that the aunt and uncle with whom Simras lived had a subsistence existence.
We'd been in the back country of western Sri Lanka for several days already, but this family lived further from civilization than anyone we'd met. A paved road gave way to a dirt road, which gave way to a cart path, which, in turn, gave way to little more than a footpath.
As the World Vision van pulled up to a compound of several houses, we disembarked and were greeted by an assortment of children, women, chicken, and dogs. A circle of plastic chairs was set for us in the shade, and we took our places, ready to hear their story.
Our conversation with Simras's aunt had to be double-translated. From English to Singhala (the primarily language of Sri Lankan Buddhists, Hindus, and Christians) to Tamil (the language of Sri Lankan Muslims), and back. Simras's aunt told us that Simras loves school—he didn't want to miss it today, so her husband had gone to fetch him.
As she continued to speak, I watched the face of our Tamil interpreter drop, then the face of our Singhala interpreter do the same. Then came the translation: "Simras's mother lit herself on fire when she discovered her husband with another woman. She lived for fourteen days in the hospital, then she died. Simras does not know this story."
At this point our World Vision staffer looked stunned. Mundalama is a new Area Development Project for World Vision, just six months old. They're just now registering children for sponsorship. And when he'd visited Simras's house a couple weeks prior, the family had neglected to tell him the circumstances of Simras's mother's death. He was just as shocked as we were.
We learned more from his aunt: her father had acquired this land many years ago, and she and several of her sisters settled here; next door, her sister is raising Simras's sister, Fathima; her husband has a heart condition and can only occasionally work climbing trees to harvest coconuts; when he does get work, he makes about $6 per day; she's raising four of her own children in addition to Simras.
At some point in the conversation, Simras's uncle rode up on his bicycle, with Simras draped across the handlebars. Simras seemed completely overwhelmed by our presence, only able to proffer one word answers to our questions. Finally, we pumped up a soccer ball and I kicked it around with him a bit before his family pulled out a store-bought cake and a liter of Fanta soda that we all shared.
When we asked the aunt and uncle what are the family's needs, they responded simply. They'd like drinking water, which they currently have to buy off a truck that comes by twice a day. They'd like electricity. They'd like Simras and Fathima to stay in school.
Fifteen years from now, when World Vision concludes its work in Mundalama, Simras will be 22. I hope I can go back in 15 years and see the roads, schools, and potable water that World Vision improved. I'd love to talk to Simras and see what World Vision's presence meant in his life and his community.
When you sponsor a child like Simras, World Vision doesn't give money to the child or the family. Instead, World Vision invests in the community, partnering with schools, churches, community organizations, and the government to improve lives in the area.
But World Vision also looks in on the children that are sponsored, seeing that they are progressing in school, that they are healthy, and that they are well-cared-for at home. Because of this, Simras already has a leg up, in spite of the tragedy in his family.
If you sponsor a child, another Sri Lankan child will get this advantage. Please consider it.