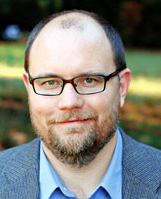 What's the Imitation Question? What is the one thing Paul teaches "everywhere in every church"? Paul teaches his own way of life, his "ways in Christ… everywhere in every church" (1 Cor 4:17). Thus, Jason Hood opens his excellent new book on imitation, Imitating God in Christ: Recapturing a Biblical Pattern.
But that leaves the question: Where you are on the Imitation Question? Jason Hood proposes three basic approaches to the idea that we are to imitate Christ. Or, How central is imitation of Christ to your understanding of the Christian life? And that means what does it mean to imitate Christ?
1. The Left: imitation means embracing the marginalized. Hood suggests this approach misses the gospel in its reduction of imitation to social justice or focusing on the marginalized. Is salvation at work in imitation or is it just an ethic?
2. The Middle: imitation is a more moralistic approach to discipleship and "be like Jesus" sermons and "WWJS" bracelets. Very little emphasis is found on salvation or the deeper perceptions of the gospel as shaping what imitation means.
3. The Right: imitation is something to be suspicious of. Largely overlooked. In fact, for some on the Right, imitation theology means being Catholic and absorbing Thomas a Kempis.
Jason Hood moves in his book through three dimensions of imitation: We imitate God, we imitate Christ, and we imitate the saints. When the fulness of imitation is seen, the gospel — life, death, burial, resurrection, exaltation of Christ — is at the core of what imitation means. So for Hood "imitation… is an essential aspect of Christianity (in fact, it is an essential aspect of being human) that informs our sense of identity, shapes our disciple-making and teaches us about our destiny" (16).
Imitating God
It begins with our being image bearers (Eikons of God): we are called to rule or represent God in this world, and that means being God-like and God-ly, the temptation being to be God instead of God-like. We are God-like, and imitators of God, in creativity, work, vocation, righteousness, participating in redemption of the world, generosity, in wisdom, in love … we are royalty. We are also priests. This is about holiness and worship and purity and advocating before God.
We imitate God in participating in what God is doing on God's behalf and for his glory. It is God's mission but God has chosen to accomplish that mission through us, so we are part of God's work as those who imitate God.