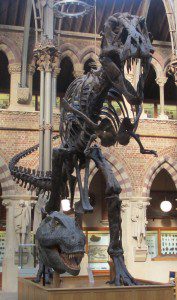 Are you interested in questions of science and Christian faith? Perhaps not quite sure what to think? Want to enter into a conversation and learn some more?
On this blog we've been carrying on a conversation about the relationship between science and Christian  faith for many years. The conversation has wandered over a wide range of topics and I've been grateful for the opportunity to interact with others holding a variety of views. Now the conversation can move from the sometimes impersonal realm of the internet to a more personal interaction over coffee.
BioLogos is organizing a conference for pastors, scholars, and teachers on Evolution and Christian Faith to be held in Grand Rapids MI June 30th to July 2nd 2015. This conference will highlight some of the work that has come out of the Evolution and Christian Faith grants program and will provide some opportunity for presentations by others interested in the intersection between evolution and Christian faith as well. Preliminary information is available on the BioLogos site, with a call for papers deadline Jan. 23. Registration information for those who would simply like to attend will be available soon.
There is a fascinating line-up of speakers including scientists, bible scholars, and others:
Oliver Crisp, Systematic Theologian, Fuller Theological Seminary
Ted Davis, Historian of Science, Messiah College
Ard Louis, Biophysicist, Oxford University
Scot McKnight, New Testament Scholar, Northern Seminary
Jeffrey Schloss, BioLogos Senior Scholar and Biologist, Westmont College
Mary Schweitzer, Paleontologist, North Carolina State University
Leonard Vander Zee, Pastor and Editor, Faith Alive Christian Resources
John Walton, Old Testament Scholar, Wheaton College
We've discussed work by a number of these people in the past. John Walton's work, including his book The Lost World of Genesis One has helped a number of us understand the cultural context of the Old Testament.
and another clip from Walton, this one on Adam as he presented his view in Four Views on the Historical Adam.
Scot, of course, needs no introduction here. He is working on biblical and theological issues at play in the intersection of evolution and Christian faith from the point of view of a New Testament scholar.
I've posted on some of Ard Louis's work in the past. He contributed interviews to the video resource Test of Faith and has interesting insights into the role of randomness in evolution.
And another clip on what he sees as the complement between science and Christian faith.
It has been a privilege to get to know Ard and work with him over the last five years or so, and with John Walton as well.
Mary Schweitzer is a paleontologist who discovered remnants of soft tissue in ancient dinosaur fossils. I posted on her work and experience in Blood From Stone … But Unfortunately He GotEverything Wrong. I'm looking forward to meeting Mary.
Oh yeah. I'm not speaking at the conference, but I expect to be there as well and look forward to meeting and talking with a wide range of people. I've been involved with BioLogos and the ECF program for many years. There will be ample opportunity for informal conversation in addition to the formal presentations.
If you are interested, go to the conference page Evolution and Christian Faith: A BioLogos Conference and sign-up for updates as additional information about registration becomes available.
What could be better than three days in Michigan at the beginning of July?
Good company, Good Conversation, Beautiful Weather.
If you wish to contact me directly you may do so at rjs4mail [at] att.net.
If interested you can subscribe to a full text feed of my posts at Musings on Science and Theology.