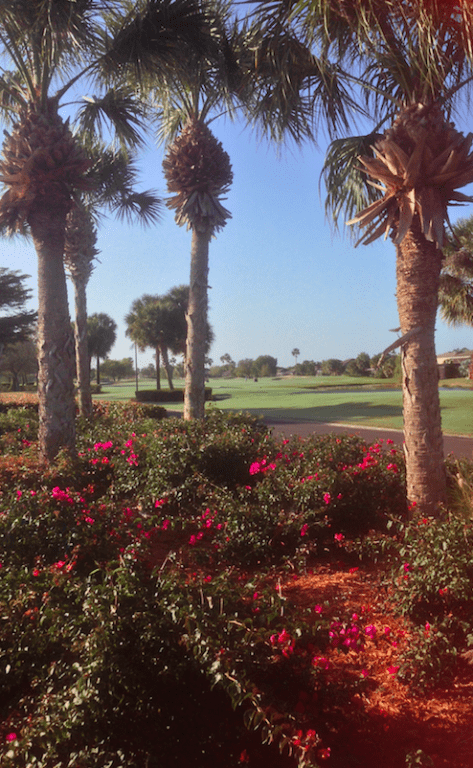 Nice place for a sabbatical morning walk.
Let's kick it off with this: Should NCAA basketball be reduced to a one-semester sport? So says Jamie Zaninovich:
We're at a point in college basketball where the trend lines aren't positive. Attendance is down. So is scoring. The regular season is facing a relevancy issue. The quality of play, which can be traced back to the youth level, has dipped. We're not at a point of desperation, but you don't want to wait to get there in order to put big ideas on the table.

There's no single magic bullet that can fix the issues facing college basketball. But we need to be looking at changes that are more revolutionary than evolutionary. What I'd like to suggest is starting a national conversation about pushing the start date for the season back about a month and making college basketball a one-semester sport.
Derwin Gray's got it right: the gospel we preach determines the congregation we get!
The gospel that is preached in America produces homogenous churches. But the gospel Paul preached in the first-century, Greco-Roman world produced multiethnic, multiclass churches. 
We need more MDs, by Bruce Japsen:
The nation's shortage of doctors will rise to between 46,000 and 90,000 by 2025 as the U.S. population grows, more Americans gain health insurance and new alternative primary care sites proliferate.

A new study announced by the Association of American Medical Colleges(AAMC), a lobby for medical schools and teaching hospitals, said "the doctor shortage is real" with total physician demand projected to grow by up to 17 percent as a population of baby boomers ages and the Affordable Care Act is implemented.

"It's particularly serious for the kind of medical care that our aging population is going to need," said Dr. Darrell Kirch, AAMC's president in a statement accompanying the analysis by research firm IHS.

Primary care doctors, in particular, are in short supply. The report estimates that between 12,500 and 31,000 primary care doctors will be needed even as retail clinics, outpatient centers and other models use more nurse practitioners, physician assistants and other allied health professionals.
K-Cups designer, with gentle regrets:
The inventor of K-Cups regrets that he ever invented them.

"I feel bad sometimes that I ever did it," John Sylvan told The Atlantic in an interview.

Why? Because the K-Cups are bad for the environment — they are disposable and not recyclable.

Sylvan originally envisioned the cup-like pouches that brewed a single serving of coffee for offices, where people want different brews. But the technology caught on, and Keurig Green Mountain(GMCR) brewers are now on kitchen counters everywhere.

That means more and more K-Cups are being used — and thrown in the trash.
McMansions are returning, by Christopher Ingraham:
New American homes were bigger than ever last year, according to data from the U.S. Census Bureau. After a few years of shrinkage in the aftermath of the Great Recession, the median square footage of newly-built homes last year tipped the scales at over 2,400 square feet. That's nearly 1,000 square feet larger than the median home built in 1982. The death of the McMansion has been greatly exaggerated.

Back in 2011, many observers were predicting the end of the McMansion era. But five years into the recovery that barely feels like one, homebuilders have happily returned to the old ways of building bigger homes in ever farther-flung areas. The recession was supposed to usher in a return to the dense, urban and walkable. Instead, the opposite has happened.
Check out Jackson Wu at CT.
Like father, like son. And also like daughter, according to new research.

The University of North Carolina School of Medicine released a study Monday indicating mammals are genetically more like their fathers than their mothers,according to a statement from UNC.

"Specifically, the research shows that although we inherit equal amounts of genetic mutations from our parents – the mutations that make us who we are instead of some other person – we actually 'use' more of the DNA that we inherit from our dads," the statement reads.

Researchers tracked genetic mutations in nine kinds of mice bred from three genetically diverse inbred strains.They found that the offspring's gene expressions were more heavily influenced by the male parent.

"If inherited from the mother, the (bad mutation) wouldn't be expressed as much as it would be if it were inherited from the father," according to UNC.
Abortion and a review of a substantive new book by Gilbert Meilaender.
Ana Marie Cox comes out — as a Christian: What do you hear here?
Who do I need to prove my faith to—and why should I try?

I've lately observed conservatives questioning Obama's faith with more than professional interest. Because if Obama's not Christian, what does that make me?

I have not been public about my faith. I am somewhat tempted to embrace the punk-rockness of being a progressive, feminist, tattooed, pro-choice, graduate-educated believer—and then I have to remind myself that believing in God is about as punk rock as wearing pants, maybe even less so. Almost nine in ten Americans believe in God; in any given moment, how many are wearing pants?

In my personal life, my faith is not something I struggle with or something I take particular pride in. It is just part of who I am.

The only place where my spirituality feels volatile is in my professional life; the only time I've ever felt uncomfortable talking about my faith is when it comes up in conversation with colleagues.
Which needs to be tied to this piece by John Bingham on intolerance of Christians:
Discrimination against Christians is being "ignored" by governments and courts, MPs from across Europe have warned in the wake of a string of cases involving the rights of British workers to wear crosses or discuss their beliefs.

The parliamentary arm of the Council of Europe has issued a formal declaration urging states to recognise the principle of "reasonable accommodation" for the beliefs of traditionalist Christians on issues such as homosexuality for the first time.

The first test of the new call will come as early as this week with the opening of an employment tribunal case involving a London nursery worker who claims she was dismissed for telling a lesbian colleague her beliefs on same-sex marriage.

Sarah Mbuyi denies claims that she harassed the woman, who cannot be named for legal during the conversation in January last year.

She also alleges that she was asked to act against her beliefs by reading stories about same-sex couples to children.
Carl Trueman on linguistic vacuity at Georgetown:
The social and political cost of this simplistic linguistic world is likely to be very high indeed. If our moral vocabulary allows for no distinction in degrees of moral outrage, then a tasteless cartoon becomes as bad as genocide—or, to make the problem more obvious, genocide becomes no worse than a tasteless cartoon. In such a world, intelligent moral discourse and discussion are practically dead. It is a shame that it is the privileged moralizers in the universities who appear to be in the vanguard of killing it.