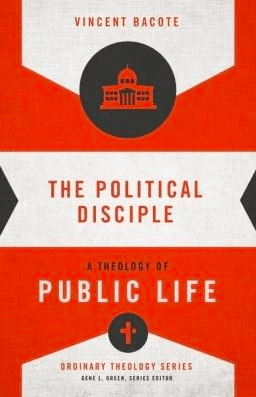 One of the most significant topics in America today, even if rarely talked about intelligently (but often talked about anyway), is political theology. What does it mean to be a "disciple" and to participate "politically"? Is there a "theology of the public life?"
Gene Green at Wheaton is the General Editor of a new series called "Ordinary Theology" and one of the early volumes is that of Wheaton Professor, Vincent Bacote, called The Political Disciple: A Theology of the Public Life. I first met Vince back in his TEDS days when I was a young prof and Vince was the graduate assistant (I think) of my colleague and friend, Jim Speer. They were exploring sociological approaches to church and to theology and to the church-state relations. I was only beginning to explore such topics and have since explored it quite a bit more.
Vince comes out with this theory and approach first: he's Kuyperian. I'm not, and that means I could pick a fight… but won't. I want you to see how he thinks about how we "ought" (my term) to participate in culture, society and politics.
He begins not with the doctrine of redemption or church but with the doctrine of creation, a very Kuyperian thing to do. (He has no discussion of the "spheres of sovereignty," though it bleeds through his book in various ways.)
At the core of a Kuyperian approach is "common grace" (vs. saving or redemptive grace). Here is Kuyper, quoted by Bacote:
by which God, maintaining the life of the world, relaxes the curse which rests upon it, arrests its process of corruption, and thus allows the untrammeled development of our life in which to glorify Himself as Creator (23).
Which raises the role of the church, which Kuyper addresses in the next lines putting all this into the classic Kuyperian and quite often Reformed context:
Thus the Church receded in order to be neither more nor less than the congregation of believers, and in every department the life of the world was not emancipated from God, but from the dominion of the Church. Thus domestic life regained its independence, trade and commerce realized their strength in liberty, art and science were set free from every ecclesiastical bond and restored to their own inspirations, and man began to understand the subjection of all nature with its hidden forces and treasures to himself as a holy duty, imposed upon him by the original ordinances of Paradise: "Have dominion over them." Henceforth the curse should no longer rest upon the world itself, but upon that which is sinful in it, and instead of monastic flight from the world the duty is now emphasized of serving God in the world, in every position in life.  To praise God in the Church and serve Him in the world became the inspiring impulse, and, in the Church, strength was to be gathered by which to resist temptation and sin in the world … the life of the world is to be honored in its independence … we must, in every domain, discover the treasures and develop the potencies hidden by God in nature and in human life.
In Kingdom Conspiracy I fight this kind of Erastian or Constantinian receding of the church, but this is not a response to Bacote so much as a representation of his approach to political theology. Bacote came to this Kuyperian approach as an African American, first, with an instinctual Democratic posture inherited in his family and church context, and then into an evangelical subculture in which he absorbed a more Republican, conservative evangelical approach, to a more eclectic [he doesn't really define his view by political party] Kuyperian moderation in the midst of swirling Christian postures today.
He sees thus two Great Commissions — both Genesis 1:26-27, the first Great Commission, and Matthew 28:16-20, the Great Commission. Make disciples and cultivate creation for flourishing.
Common grace, so he believes, turns the Christian away from exclusive redemptive mission and toward a broader creation mission. The operative word for Kuyperianism is the word influence or transformation. Hence, Bacote:
The expressions of cultural engagement and sociopolitical development may take place more within the confines of the Christian community than within the public realm, but this does not mean that Christians in exilic contexts stop looking for opportunities to penetrate and transform the culture. The Christian community is a place to model and practice our stewardship wherever we are, and when the public opportunity arrives, we should pursue it with both wisdom and vigor (32).
Vince then examines critical terms that factor into a Christian theology of politics — like image of God, follower of Jesus, and the church (where he goes a bit Anabaptist), but his big point is that we have a particular location and a responsibility in that location. He advocates pursuing personal and public holiness — not just in home and church but in the public realm.
[I like that Vince avoids calling all this "kingdom" work. I find most articulate Kuyperians do not diminish the church as much as some do, and Bacote's church-iness in this political theology is evident, though the church as the politic of Jesus could have emerged more forcefully.]