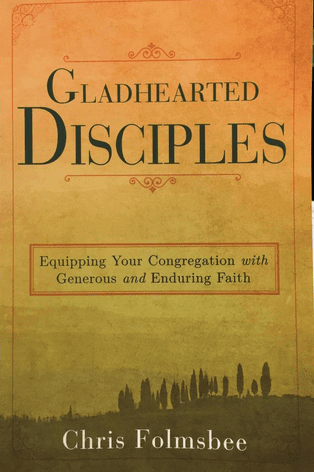 At some point I crossed the line where books about discipleship became redundant. Either they were straightforward expositions of the categories of following Jesus as we find in the Gospels or they were using discipleship for other traditions in the church about the Christian life: the spiritual disciplines, higher life, activism, eucharistic worship, peace and reconciliation, or more Bible study.
But as one who wants to be a disciple and who wants to be refreshed about discipleship it is now becoming more rare to find oneself in fresh light about the topic, but that is what I find in Chris Folmsbee's Gladhearted Disciples: Equipping Your Congregation with Generous and Enduring Faith (Abingdon, 2015). Now I confess that he uses "kingdom" in ways I wouldn't, but overall he offers a Wesleyan approach (holiness as love, perfection, Holy Spirit), one that is also extended into a Wesleyan version of Kuyper's, or perhaps Niebuhr's approach to the church and culture, but one that stays focused on church and holiness and moving from church into the public realm.
A sidenote: for years I've observed Christians engage culture and the state in a more or less Kuyperian model of influence (many unconsciously) or a Niebuhrian model of transformation of culture, but I admit to wondering if Wesleyans are more one than the other. Though I've not read a study on Wesleyan theory of Christ and culture at the level of either Kuyper's seminal essay or H. Richard Niebuhr's famous book, it does seem to me Wesleyans have different nuances from these more Calvinist/Reformed side of the Protestant movement. One way I've heard the Wesleyan approach is to speak of "social holiness." (Over to you for clarification and recommended readings.)
Chris Folmsbee's given us a book then that is not about social justice but more social holiness, or a holiness that influences the social. Holiness that is personal and ecclesial and then also social.
Instead of a rehash of Dietrich Bonhoeffer's vision or an Anabaptist vision of discipleship, we get a fresh set of ideas and categories — one that seeks to be comprehensive (not exhaustive) and church-based.
What are your top five attributes of a disciple of Jesus?
1. Gladhearted disciples are generous.
2. Gladhearted disciples look into the future through a lens of hope.
3. Gladhearted disciples live in such a way that engages the world in Christ-centered mission.
4. Gladhearted disciples are empowered and guided by the Holy Spirit.
5. Gladhearted disciples know their purpose is to bring the redemptive reign of God in Christ into every dimension  of life [there you go, a pleated pants theory of kingdom].
Chris Folmsbee's book is really useful at the local church level. It's brief, clear, categorized and has good study questions at the end. No reason my bundles of pastors ought not consider throwing some fresh light into the church by considering Gladhearted Disciples, and a little gladness is what many of us already need! Eh?