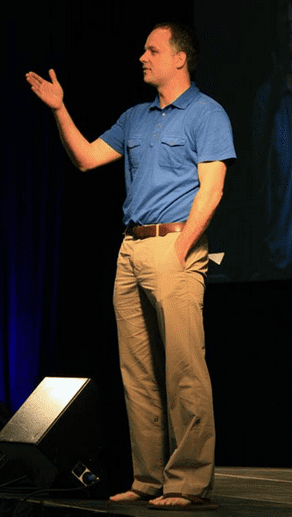 This post is by my friend and preacher at Otter Creek Church of Christ in Nashville/Brentwood, Josh Graves.
When I was a kid, I did not demonstrate a great deal of, shall we say, "academic potential." In fact, I struggled through public school, under performing to such a degree one high school teacher said to me, "Graves, you have to try do this poorly." For the record, I always had a sense I possessed emotional intelligence and my parents pushed me fairly hard . . . I simply wasn't motivated. I showed signs of a high reading level but that rarely translated into the arena of academic performance. In college, all of this changed (mostly because I wanted to keep my basketball scholarship), but man was I a slacker elementary through high school.[1]
Somewhere in middle school, I started to read a great deal. I believe this was the genesis of my rebirth. I began to read sports autobiographies/biographies. As cheesy as it sounds, sports biospaved the way for me to later devour Martin Luther King, Karl Barth, N.T. Wright, Walter Brueggemann, Sarah Coakley, and Michel Foucault. In middle school, I devoured the stories of American iconic sports giants like . . .
Bart Starr.
Babe Ruth.
Wilt Chamberlain.
Dr. J.
Then I read about Sandy Koufax. Koufax's book (aptly titled Koufax) blew my young mind. I was mesmerized by his precise detail and recollection of important moments in his athletic development.
At some point later in time (I was born in 1979 and thus didn't appreciate Koufax until long after he had retired) a friend asked me if I knew about the time Sandy Koufax decided not to pitch in a world series game because said world series game fell on the most important Jewish holiday of the year, Yom Kippur.  I told him I had no idea. This friend proceeded to tell me the story, still aghast, all these years later, that an athlete on the level of Koufax, could value his faith over his craft.[2]
I've heard rumors of parents today who would not dream of allowing their son to skip a little league tournament on a Sunday let alone . . . miss . . .  The. World. Series. I could not get over Koufax's guts and courage.
Barbara Brown Taylor tells a story about a friend (David) growing up in Atlanta and what he taught her about fidelity to God.
When I was a junior in high school, my boyfriend Herb played on the varsity basketball team. He was not the star player however. The star player was a boy named David, who scored so many points during his four-year career that the coach retired his jersey when he graduated. This would have been remarkable under any circumstances, but it was doubly so since David did not play on Friday nights. On Friday nights, David observed the Sabbath with the rest of his family, who generously withdrew when David's gentile friends arrived, sweaty and defeated, after Friday night home games.

Following each Friday night game, David's friends came to his house to describe the game in great detail. "Blow by blow" the Gentiles were allowed to speak and create worlds in David's living room. Someone in the room asked if it bothered him to sit at home while his team "was getting slaughtered in the high school gymnasium."

"No one makes me do this," he said. "I'm a Jew, and Jews observe the Sabbath." Six days a week, he said, he loved nothing more than playing basketball and he gladly gave all he had to the game. On the seventh day, he loved being a Jew more than he loved playing basketball, and he just as gladly gave all he had to the Sabbath. Sure, he felt a tug, but that was the whole point. Sabbath was his chance to remember what was really real. Once three stars were visible in the Friday night sky, his identity as a Jew was more real to him than his identity as the star of our basketball team.[3]
David loved being a Jew more than he loved basketball.
Sandy Koufax loved being a Jew more than being professional baseball's best pitcher.
I have three sons: Lucas, Finn, and Oliver.
I hope they love God more than they love ____________  (sports, art, school, reading). But I also hope their love of God helps them perform better at ____________.  That is, I hope they come to realize that all of these other aspects of life—sports, art, school, reading, etc.—are gifts of God.
Gifts to be honed, and worked at, and nurtured.
And these gifts are sacred.
But the gifts are never more important than the One who gives.
Sandy Koufax's wisdom lives on. It took me longer than some to live this. Drink deeply from good books.
Josh Graves is the lead minister for Otter Creek Church in Nashville. He's author of three books: How NOT to Kill a Muslim (2015), Heaven on Earth (2012), and The Feast (2009). You can follow him on twitter @joshgraves.
[1] My sister recently sent me an article from our high school newspaper in which I discuss my future plans to play basketball in college. Next to my name reads "2.6 GPA" . . . I worked hard to get that 2.6.
[2] http://www.theatlantic.com/entertainment/archive/2010/09/god-vs-the-world-series-sandy-koufaxs-yom-kippur-sacrifice/63094/ A tremendous retelling of these events.
[3] Barbara Brown Taylor in Leaving Church (Boston: Cowley Press, 2005), 136-137, italics mine.