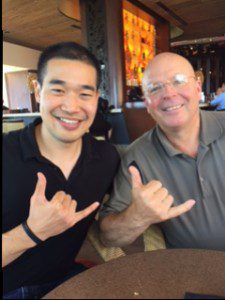 We've had an amazing week here in Honolulu teaching at Pacific Rim Christian University, with a huge big thanks to Stephen Stinton for being my TA while we are here, and here's a picture Kris took when we had lunch in Waikiki at Rum Fire with Daniel Pak. We are looking forward to our second week with the class — we've had some important conversations in class.
Is the Reformation over? Christopher Howse:
It is surely true that "the great majority of Catholics have lived their whole lives never having directly heard preaching on the free gift of justification by faith without too many 'buts' and 'howevers'." Indeed many might say they don't believe in justification by faith.

I was struck by the remark about justification because it came in a meditation by Father Raniero Cantalamesa, a Franciscan, preached to the papal household in the presence of Pope Benedict XVI in 2005. So it was not made in a Lutheran spirit hostile to Catholic orthodoxy.

Fr Cantalamesa notes that the Council of Trent, responding to the reformers, outlined a doctrine "in which there was a place for both faith and good works, each of course, in its right place. One is not saved by good works, but one is not saved without good works". How is it then that even well-informed Catholics do not think much about salvation by faith?

"From the moment the Protestants unilaterally emphasised faith, Catholic preaching and spirituality ended up taking on, almost alone, the thankless task of recalling the necessity of good works and of a human being's personal contribution to salvation."
Jockey Victor Espinoza will no doubt garner fame and a lifetime of opportunities after guiding American Pharoah to the Triple Crown, but he is not necessarily seeing an immediate fortune. That's because the jockey decided to donate his Belmont Stakes winnings to charity.

In an article for the Louisville Courier-Journal, Steve Myrick says that American Pharoah trainer Bob Baffert and wife Jill donated $150,000 spread equally over three racing-related charities after winning the Belmont Stakes. Myrick reports that Espinoza did likewise with his Belmont winnings.

"At the wire I was like, 'I cannot believe I did it,'" Espinoza said, according to Myrick. "I (won) the Triple Crown race now, but I didn't make any money, because I donated my money to the City of Hope (a California cancer treatment facility)."
Say her name.

Say it out loud: DaJerria Becton. A beautiful name, let your voice say it out loud.

Scripture tells us that faith comes by hearing and hearing by the word of God – Jesus gives us ears to hear and then faith comes. I think there's something powerful about our own voices speaking the truth out ahead of ourselves. Our words matter. Our voices matter. What we speak aloud often sinks its way into our soul and our memory and then into our actions.

So here is what we could say today: DaJerria Becton.

I believe that today the crucified and resurrected Christ is saying her name with us: DaJerria Becton.

You are made in the image of God, DaJerria, you are fearfully and wonderfully made. You are valuable. You are beloved.

She is not "Bikini Girl."

Not "that black girl in the bikini in that video."

Not "the McKinney girl."

Not whatever terrible name she was called that day or in the days since as people cast judgment on her and her friends for the way the day ended: a white man's knees pressed into her young back, forcing her face into the grass while she cried out for someone to call her mama.

"Someone call my mama!"

Her name is DaJerria Becton.
Increase of nuns in the UK
:
Misconceptions about life as a modern nun are perpetuated by Hollywood in films like Sister Act, but in reality, the way certain convents are adapting is clearly attracting more women. The number of women choosing to become Catholic nuns in the U.K. has hit a 25-year high, according to 2014 statistics, flying in the face of commonly held beliefs that support for organized religion is dwindling. In the birthplace of the Church of England, the rise is significant for the Catholic minority. From 1991 to 2004 the number of new nuns decreased markedly, according to the British Office for Vocation, hitting all-time low of just seven women. From there, the numbers have risen steadily, with 45 joining convents in 2014. Langlois, 40, is one of them. She was a teacher in Canada before she joined the Faithful Companions of Jesus (FCJ) as a novice. She dated, loved shopping, and tried to attend church every Sunday.
Airline announcement? Yes, probably, but not certainly, but Yes, we'll be shifting our luggage:
It's a happy day for luggage manufacturers. The world's major airlines could soon be changing their requirements for carry-on luggage, potentially forcing people to buy new bags.

Working with airlines and aircraft manufacturers including Boeing and Airbus, the International Air Transport Association (IATA), a trade association, unveiled a new best-size guideline on Tuesday for carry-on bags at 21.5 inches tall by 13.5 inches wide and 7.5 inches deep. That's 21 percent smaller than the size currently permitted by American Airlines, Delta Air Lines and United Airlines.

Eight major international airlines have already decided to adopt the new rules: Air China, Avianca, Azul, Cathay Pacific, China Southern, Emirates, Lufthansa and Qatar. "We'll certainly be announcing more big carriers," said Chris Goater, a spokesman for the transport association.

Still, the guideline is non-binding, and carriers are free to ignore the suggestion or adjust it. Goater stressed that nobody should feel compelled to run out and buy new luggage today.
Greg Goebel, on the church debates about evolution:
Did God create the world instantly ten thousand years ago? Or did he start the process of evolution in order to create the world?

For several years I led a parish book study, and it was one of the most personally fulfilling aspects of ministry for me. But it was also often quite provocative. One such moment came when we were reading Alistair McGrath's book Theology: The Basics.

We were reading his overview of the Apostle's Creed, starting with his discussion of "God the Father, creator of heaven and earth." McGrath discusses five basic ways that Christians have understood how God accomplished the creation of the world, including young earth creationism, intelligent design, and theistic evolution.

When we got to that point, the room seemed to instantly divide into camps. All of us were fellow Christians, fellow parishioners, and we respected one another. We were also all book lovers. Yet we literally divided physically into camps. I'm not sure how it happened, but it seemed like I looked up and people had actually changed places to be near their group.

One group said that the only way to truly and faithfully read the Genesis account was to believe that God created the world about ten thousand years ago. Another said, no, Genesis is obviously poetic and intended to convey a theology of God, not a mechanism of creation itself. This led to the conclusion that God began the process of evolution. Still another group believed that God didn't just start evolution's march, he guided it in a process called Intelligent Design.

The creed was sitting there on the page. It simply read, "God the Father, creator of heaven and earth." That's it.

Think about this for a moment. The undivided church gathered in a series of ecumenical councils (there were no separate denominations then). They knew Genesis, they knew Paul's letter to the Romans. They knew the Gospels. And it may surprise many to know that they knew about evolution too. No, not the modern scientific theory. But they knew about the Greek philosophical schools that had developed a vision of life evolving. And they also knew about Jewish (mostly poetic) readings of the book of Genesis.

So they could have agreed to sacralize one of these views for all time as creed. And yet they didn't. They were content to simply require all Christians to believe that God purposely created the universe. They left the how outside of what is required for salvation.

We might want to try that today.
What Paul McHugh said:
I have not met or examined Jenner, but his behavior resembles that of some of the transgender males we have studied over the years. These men wanted to display themselves in sexy ways, wearing provocative female garb. More often than not, while claiming to be a woman in a man's body, they declared themselves to be "lesbians" (attracted to other women). The photograph of the posed, corseted, breast-boosted Bruce Jenner (a man in his mid-sixties, but flaunting himself as if a "pin-up" girl in her twenties or thirties) on the cover ofVanity Fair suggests that he may fit the behavioral mold that Ray Blanchard has dubbed an expression of "autogynephilia"—from gynephilia (attracted to women) and auto (in the form of oneself)….
The larger issue is the meme itself. The idea that one's sex is fluid and a matter open to choice runs unquestioned through our culture and is reflected everywhere in the media, the theater, the classroom, and in many medical clinics. It has taken on cult-like features: its own special lingo, internet chat rooms providing slick answers to new recruits, and clubs for easy access to dresses and styles supporting the sex change. It is doing much damage to families, adolescents, and children and should be confronted as an opinion without biological foundation wherever it emerges. But gird your loins if you would confront this matter. Hell hath no fury like a vested interest masquerading as a moral principle. HT: CHG
Prisoners doing good by Michael S. Rosenwald:
WESTOVER, Md. — Don Vass, an admitted drug dealer, pulls a cabbage from the ground, then hands it to Walter Labord, a convicted murderer.

They are gardening behind soaring brick walls at Maryland's largest penitentiary, where a group of inmates has transformed the prison yard into a thriving patch of strawberries, squash, eggplant, lettuce and peppers — just no fiery habaneros, which could be used to make pepper spray.

It's planting season behind bars, where officials from San Quentin in California to Rikers Island in New York have turned dusty patches into powerful metaphors for rebirth. The idea: transform society's worst by teaching them how things bloom — heads of cabbage, flowers, inmates themselves.

"These guys have probably never seen something grow out of the ground," says Kathleen Green, the warden at Eastern Correctional Institution, watching her inmates till the soil. "This is powerful stuff for them."

And they are lining up for the privilege of working 10-hour days in the dirt and heat.
How's this for a closing to a book review?
If you like books that celebrate people who have, through choice, pursued lives of crime and who invent justifications for doing so that only just held water in the 18th century, this pile of rubbish is for you: or give it to someone you really dislike for Christmas. I can see no other use for it, and Simon & Schuster should ask themselves whatever possessed them to publish it.