God is not a man, that He should lie,
Nor a son of man, that He should repent;
Has He said, and will He not do it?
Or has He spoken, and will He not make it good?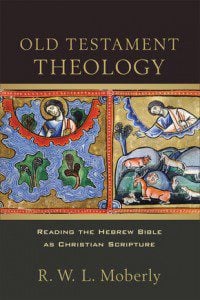 We've been looking at Walter Moberly's book Old Testament Theology: Reading the Hebrew Bible as Christian Scripture. The verse quoted to open this post is Numbers 23:19, part of Balaam's response to Balak when he was asked to look upon Israel and curse them. (I've quoted the NASB, Moberly prefers the NRSV which uses human being instead of man and mortal instead of son of man.) This is a verse that many will take as axiomatic and use as a "proof text" for divine sovereignty and a denial of divine repentance as a theological principle. Moberly also points to 1 Sam 15:29: "Also the Glory of Israel will not deceive or change his mind; for he is not a mortal that he should change his mind."
That God does not lie, deceive, or change is mind is often thrown out as a theological principle. On one level it is something that we all affirm. Certainly God does not lie or deceive. But does he change his mind in response to human action? To address this question Moberly asks what these verses mean in the context of the stories in which they occur.
If to say that God repents implies that God's relationship with humanity in general, and with Israel in particular, is a genuine and responsive relationship, in which what people do and how they relate to God matters to God, does the denial that God repents deny such mutuality of relationship? Such a denial would surely be prima facie unlikely, for the simple reason that it would deny something central, rather than peripheral, to Israel's understanding of God and to much historic Jewish and Christian belief and practice.

Of course, such unlikeliness does not rule out the possibility. … Nonetheless, as with the working assumption that the voices of Balaam and Samuel are reliable, one ought to start with a working assumption that their denial may not be of a central principle, but of something else, and only abandon the assumption if one finds that it does not and indeed cannot do justice to the relevant texts. (p. 129)
In both Numbers and 1 Samuel the word niḥam translated repent or change his mind, is contrasted with lie or deceive and with human behavior. Thus "it follows that unreliable speech is being denied in the denial of divine repentance on the lips of Balaam and Samuel" and "There is a qualitative difference between divine and human repentance." (p. 131)
The concern is to preserve what is said of God – that "God does not repent" – from possible associations to do with the lack of integrity and faithfulness that regularly characterize human speech; God is true and faithful in a way that people are not. Thus it should be apparent that what is being denied here is not the same as what is being affirmed in Jeremiah 18:7-10. It is not mutuality and responsiveness in relationship, but insincerity and faithlessness that are specified for denial. In other words two different topics are in view in what looks like positive and negative statements about one and the same thing. (p. 132)
In the story of Balaam and Balak the context demonstrates that God will not turn his back on Israel. They are his chosen people.
The point here is that God's election of Israel is irrevocable. The idea that God could be false or faithless in His commitment to Israel as His chosen and blessed people – as humans are often false and faithless in their dealings with each other … – is the issue being categorically denied. The location of this within the book of Numbers, in whose other narratives Israel is persistently rebellious and falling under judgment, adds weight to the significance of this denial. (p. 134)
In 1 Samuel 15 God is being faithful to David, the neighbor to whom he has now given the kingdom. The chapter ends "And the Lord regretted that He had made Saul king over Israel." Chapter 16 begins with the Lord sending Samuel to anoint the son of Jesse. Clearly this is not a theological statement against divine response to human actions.
God's faithfulness to Israel and to the house of David is one of the most significant themes in the sweep of the Old Testament story. Of this he does not repent. It is interesting, though, that from a Christian perspective this faithfulness to the house of David is ultimately consummated in the incarnation and in the faithfulness of Jesus, God's Messiah.
New Testament Analogies. Moberly finally turns to two New Testament analogies to look again at the interrelationship between divine and human action. The first is the relationship between divine forgiveness and human forgiveness. The Sermon on the Mount (For if you forgive other people when they sin against you, your heavenly Father will also forgive you. But if you do not forgive others their sins, your Father will not forgive your sins. Mt 6:14-15) and the parable of the unforgiving servant (Mt 18:21-35) are hard to get around. Speaking particularly of the parable Moberly notes:
This makes it clear that the divine forgiveness precedes human forgiveness, but a failure to respond appropriately – to try to treat grace selfishly and complacently as though it could be kept for oneself, rather than transform one's dealings with others so that grace is in effect passed on – can nullify it. Promised good can be lost. The thought of the parable is similar in substance to that in Jeremiah 18:9-10 and Ezekiel 33:13. (p. 140)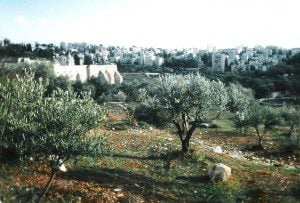 The second New Testament passage is from Paul's letter to the Romans, chapter 11. The image of the olive tree. (The picture to the right is of wild olive trees on a hill in Jerusalem overlooking the Monastery of the Cross.)
You will say then, "Branches were broken off so that I could be grafted in." Granted. But they were broken off because of unbelief, and you stand by faith. Do not be arrogant, but tremble. For if God did not spare the natural branches, he will not spare you either.
Consider therefore the kindness and sternness of God: sternness to those who fell, but kindness to you, provided that you continue in his kindness. Otherwise, you also will be cut off. And if they do not persist in unbelief, they will be grafted in, for God is able to graft them in again. After all, if you were cut out of an olive tree that is wild by nature, and contrary to nature were grafted into a cultivated olive tree, how much more readily will these, the natural branches, be grafted into their own olive tree! (Rom 11:19-24)
Moberly comments:
Paul develops his image of how God works on His olive tree (i.e. Israel). God both breaks off and grafts in. He does so in accord with human responsiveness, a responsiveness expressed in the prime Christian category of faith/unfaith: when people have faith they are brought in; when they display unfaith, they are cut off. … It is possible for those grafted in to forfeit their life in the tree …. . Likewise, those at present cut off can be restored to the tree if they turn from their unfaith and respond rightly to God.

To someone who has just read Jeremiah 18:7-10 and Ezekiel 33:12-16, the similarity of thought is striking. The initiative lies with God, who adds to and takes away from His tree, but He does so according to the responsiveness of people, and there is a contingency dependent upon how people respond both now and in the future. The dynamics of God as the gardner with the olive tree are in essence those of God as the potter with the clay. (p. 141)
And he concludes the chapter:
On the one hand, God acts on his own initiative, calling people with a call that is irrevocable precisely because it depends on God and not on the one called. On the other hand, the relationship thus initiated is a real one in which everything is to be gained or lost according to how people live within that relationship with God. It depends on God, and it depends on human response. The gift is free and unconditional; yet to respond rightly, so as to enter into the gift and appropriate it, remains crucial. This is surely, in essence, the dynamics of love. (p. 143)
The tension is not a contradiction to be resolved, or an accommodation to human perspective. The "relational and responsive nature of God" and "the unswerving faithfulness of God to those he calls" are integral complementary views of God. They are fundamental to both the Old Testament and the Christian understanding of God.
For this tension, – unconditional gift and indispensable responsiveness – is the dynamics of love, definitional of what constitutes life as it should be. It enlarges a vision of what it means to live in God's world. (p. 143)
Altogether a fascinating and though-provoking chapter in Moberly's book.
What does it mean to say that God does not repent?
In what sense is God faithful to his chosen people?
If you wish to contact me directly, you may do so at rjs4mail[at]att.net
If interested you can subscribe to a full text feed of my posts at Musings on Science and Theology.