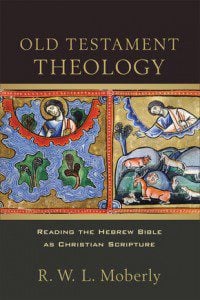 The next passages Walter Moberly considers in his excellent, thought-provoking book Old Testament Theology: Reading the Hebrew Bible as Christian Scripture are two of the Psalms – 44 and 89. Although the Hebrew name for the book of Psalms is translated "praise," but the psalms are not all sweetness and light, Sunday School prayers. Most of the psalms are not songs of praise but rather of lament. The book of Psalms is called the prayer-book of the church, but some are pretty troubling prayers. Psalm 44 and 89 are among these troubling prayers. They are a special kind of lament. Moberly suggests that they should, perhaps, be considered wisdom psalms. They seem designed to provoke thought.  Psalm 44 is substantially shorter than 89, so I will focus on this one. They both have similar structure, although additional elements come out in Psalm 89. Both contemplate the suffering and persecution of the faithful in the context of God's promises to his people.  Why do devastatingly bad things happen to good people, to people who are faithful to God? Does God turn away?
What does it mean to say that these psalms are inspired by God when they accuse God of desertion?
Psalm 44 can be divided into four parts. The first 8 verses describe the covenant faithfulness of God.
O God, we have heard with our ears,
Our fathers have told us
The work that You did in their days,
In the days of old.
You with Your own hand drove out the nations;
Then You planted them;
You afflicted the peoples,
Then You spread them abroad.
For by their own sword they did not possess the land,
And their own arm did not save them,
But Your right hand and Your arm and the light of Your presence,
For You favored them.
You are my King, O God;
Command victories for Jacob.
Through You we will push back our adversaries;
Through Your name we will trample down those who rise up against us.
For I will not trust in my bow,
Nor will my sword save me.
But You have saved us from our adversaries,
And You have put to shame those who hate us.
In God we have boasted all day long,
And we will give thanks to Your name forever. Selah.
This is a creedal declaration that looks first to the past and then to the present. "Thus the Israelites find their identity in joyful praise to their God, who is the focus of their confidence and thanksgiving." (p. 214)  But then the psalm takes a turn.
Yet You have rejected us and brought us to dishonor,
And do not go out with our armies.
You cause us to turn back from the adversary;
And those who hate us have taken spoil for themselves.
You give us as sheep to be eaten
And have scattered us among the nations.
You sell Your people cheaply,
And have not profited by their sale.
You make us a reproach to our neighbors,
A scoffing and a derision to those around us.
You make us a byword among the nations,
A laughingstock among the peoples.
All day long my dishonor is before me
And my humiliation has overwhelmed me,
Because of the voice of him who reproaches and reviles,
Because of the presence of the enemy and the avenger.
The people have been given over as sheep to be slaughtered! They are ridiculed and mocked. This is not what the promises entailed. The good "Christian" answer at this point is that they have sinned against God. But this is not the context of the psalm.
All this has come upon us, but we have not forgotten You,
And we have not dealt falsely with Your covenant.
Our heart has not turned back,
And our steps have not deviated from Your way,
Yet You have crushed us in a place of jackals
And covered us with the shadow of death.
If we had forgotten the name of our God
Or extended our hands to a strange god,
Would not God find this out?
For He knows the secrets of the heart.
But for Your sake we are killed all day long;
We are considered as sheep to be slaughtered.
Despite faithfulness to their God they have been forsaken. The people struggle with the reality of their existence, so different from the covenant promise.  The psalm concludes with a cry out to God.
Arouse Yourself, why do You sleep, O Lord?
Awake, do not reject us forever.
Why do You hide Your face
And forget our affliction and our oppression?
For our soul has sunk down into the dust;
Our body cleaves to the earth.
Rise up, be our help,
And redeem us for the sake of Your lovingkindness [or steadfast love, ḥesed].
Despite their trouble, pain and suffering the response is still to cry out to God. The last two sections seem almost blasphemous and some commentators including Calvin struggled with this. In this prayer (which should be holy and pure) the people appear to accuse God neglect and faithlessness. Walter Moberly suggests that it is precisely the paradoxical conflict between creed and circumstance that the psalm addresses.  "The point is not lament or complaint as such, but rather the conflict between creed and circumstance, a conflict that may regularly occur, may be agonizing, and may not admit of any straightforward or immediate resolution. (p.219)"
Psalm 89 is similar. It starts with a praise of God and of the covenant promise to David, to preserve his line forever. Even if his sons should transgress the way of the Lord, the Lord is faithful and true.  This half of the psalm ends:
But I will not break off My lovingkindness from him,
Nor deal falsely in My faithfulness.
My covenant I will not violate,
Nor will I alter the utterance of My lips.
Once I have sworn by My holiness;
I will not lie to David.
His descendants shall endure forever
And his throne as the sun before Me.
It shall be established forever like the moon,
And the witness in the sky is faithful. (v. 33-37)
The second half of the psalm turns and ponders the fact that the unthinkable has happened.  God has turned against the Davidic line and the throne is gone.  The psalmist laments
But You have cast off and rejected,
You have been full of wrath against Your anointed.
You have spurned the covenant of Your servant;
You have profaned his crown in the dust.
This isn't the just punishment of the previous section, but rather (what appears to be) a complete rejection of the line of David. It doesn't do to try to rationalize this away (as many commentators do).  The psalmist is accusing God of breaking faith. And his only response is an anguished appeal to God to end the psalm.  "How long O Lord? Will you hide yourself forever?"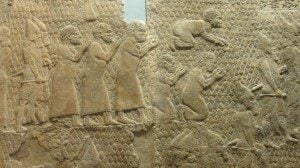 Interpreting these psalms from a Christian perspective. It is helpful to consider them together. The people are struggling with a very real issue, and one that confronts us today. Why does God seem to turn his back on his people? Although we are blessed with freedom, many in the church are and have been persecuted for their faith. God's people can suffer unspeakable tragedy (as when a falling tree crushed a pastor and his family a decade or so ago). God's promise of steadfast love is not exactly what we thought.  Moberly suggests that we need to live with the tension. There are times when the refrain Our God reigns seems a travesty. We need to avoid any too easy rationalization. "One should neither abandon faith nor deny the painful and disappointing circumstances. Moreover, the presence of these psalms as part of the prescribed texts of prayer for Jews and Christians means that the content of worship, at least in part, needs to include recognition and indeed appropriation of pain and perplexity." (p. 233)
As Christians we turn around and look, especially at psalm 89 and realize that God's faithful promise to David was fulfilled in the incarnation. Jesus is the Davidic king who reigns forever, and the faithful Israelite. "Jesus in his ministry is recognized to be the Messiah who fulfills God's promises to David and to Israel." (p. 234) It reshapes, but leaves the question of God's faithfulness to his people on the table. One of the things we learn in the New Testament is that suffering is to be expected and endured.   Moberly quotes Derek Kidner commenting on Psalm 44: "Suffering may be a battle-scar rather than a punishment; the price of loyalty in a world which is at war with God." (p. 236)
Paul quotes Psalm 44:22 in Romans 8:35-39:
Who will separate us from the love of Christ? Will tribulation, or distress, or persecution, or famine, or nakedness, or peril, or sword? Just as it is written,
"For Your sake we are being put to death all day long;
We were considered as sheep to be slaughtered."
But in all these things we overwhelmingly conquer through Him who loved us. For I am convinced that neither death, nor life, … nor any other created thing, will be able to separate us from the love of God, which is in Christ Jesus our Lord.
Moberly comments:
Paul's point is that Christian faith will indeed bring opposition and suffering, in accord with Scripture. But because of Jesus's death and resurrection this should not be puzzling in the way it is within Psalm 44 itself, nor should it be debilitating as though it were simply an evil to be endured. For whatever the possible defeats on one level, on another level God's love in Christ makes Christians "more than conquerors." Opposition and persecution may still defy certain kinds of rationalization, but the Christian vision can contextualize such things within the life of discipleship.  (p. 236)
Moberly isn't a stranger to tragedy. His first wife died of cancer a few months after the birth of their son. (I (Still) Believe p. 205)  There is pointless suffering in this world, and there is persecution – battle scars in a war – but we can still say that Our God reigns and Jesus is Lord.  There is a paradox and we need to avoid glib answers to offer more support to those who are suffering.  But ultimately either you trust or you don't.
I can come up with a number of questions on this one:
What should we expect from the Psalms?
What does it mean to say that they are inspired by God as part of scripture?
Is it blasphemous (as Calvin thought) to accuse God of faithlessness in our prayers?
How should we read the raw emotion in these and other psalms?
How do we deal with pain and suffering that afflicts God's people?
If you wish to contact me directly, you may do so at rjs4mail[at]att.net
If interested you can subscribe to a full text feed of my posts at Musings on Science and Theology.