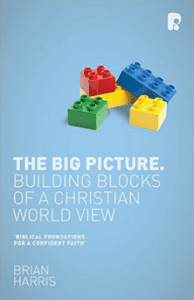 Those who are images of God are summoned to build a world with a better name, so says Brian Harris. This is the 5th of six building blocks in a Christian worldview — all expounded with clarity in The Big Picture: Building Blocks of a Christian World View. In other words, the Christian worldview entails a creation theology.
But why are Christians not the overwhelming leaders in eco-theology, environmentalism, and creation care? There are noble examples, and Brian mentions Operation Noah and Blessed Earth, but the facts are that Christians are either the same as everyone else or even (and this is especially true of American evangelicals) less committed to creation care than the average American. Why?
1. Sometimes the mandate of stewardship of creation becomes exploitation. Dominion and subdue are sometimes not understood as be fruitful and multiply as part of bearing God's image to creation. The degradation of forests, the spoilation of farm lands, the ruining of rivers and lakes, and the extinction of animal species are not image bearing.
The summons is to bless the world not dominate the world.
Why is St Francis' hymn to creation not instinct for Christians? what are you doing to bless the world?
2. Sometimes we excuse ourselves as too fallen to make a difference. The bleakness of the impact of the Fall becomes a reason to walk from the City of Destruction, abandon its renewal, and head for the Celestial City.  Christian theology claims Jesus has ushered in new creation. A new reality is underway already in Christ and the church. We will not build utopia now but can begin to undo the impact of the fall by living out the resurrection's new creation order.
3. Sometimes we secularize the mission. Apart from Christ, the resurrection, forgiveness … the Spirit … we are but spinners of better tales and worker bees. We are not caring for the environment as for creation — that is, what God has made, that God has made us as Eikons of God, and that we are called to rule on God's behalf. Creation was created by Christ and unto Christ. This is not dualism and the mandate overlaps with a secular vision, but it cannot be limited to the secular.
4. Sometimes we simply embrace the status quo. Here Christians equate kingdom and state, Christ and culture, Christianity and Western society. Here we need some critical thinking, some humility and some hope.
Brian concludes that we are called to be stewards of creation. Here are his fine words:
As image-bearers, humans carry great responsibility. We are called to be stewards of creation. We are the voice of the voiceless. God still watches to see what we will name the birds and animals. And while God will ultimately birth a new heaven and a new earth, we should align ourselves with the mission of God by taking seriously our brief to build a world with a better name (162).