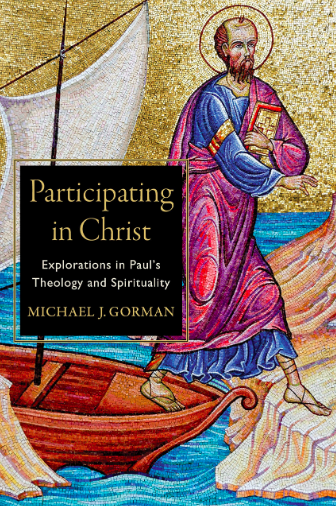 Michael Gorman, in his new and wonderful book, Participating in Christ: Explorations in Paul's Theology and Spirituality, sketches the major claims of a participation-in-Christ theology and spirituality of the apostle Paul.
Gorman is a teacher at heart, which means he wants his ideas to be clear and broken down into manageable units.
Here is a clear summary of it all:
To be "in Christ," to be in the exalted crucified Messiah, is the fundamental reality of Paul's spirituality, what some have called his "mysticism." But this is not an empty mysticism; nor is it a self-centered spiritual journey. Rather, Paul's spirituality is both individual and corporate; his mysticism is missional. To be in Christ is to participate fully in the fullness of God. Father, Son, and Spirit.
The discreet units:
The Cross

1. The cross is "the signature of the one who is risen."

2. The cross is not only a Christophany but also a theophany—the definitive self-revelation of God, which means that God is kenotic (self-emptying) love; the cross is the signature of the Eternal One.

3. The cross is not only the definitive revelation of Christ and of God (i.e., it is both Christophany and theophany) but also the definitive revelation of what humans and the church are to be.

Cruciformity

4. The cross is not only the source but also the shape of our salvation, and cross-shaped living (cruciformity) means that all Christian virtues and practices are cruciform: faith/faithfulness, love, power, hope, justice, and so forth.

5. Cruciformity is also theoformity, or theosis; that is, cross-shaped existence is God-shaped existence, and this existence is for both individuals and communities in the Messiah.

6. Cruciformity/theoformity is a matter not of imitation but of transfermative participation: being in the Messiah/the Spirit and having the Messiah/the Spirit within (mutual indwelling).

Dying and Rising with Christ

7. We enter the Messiah by means of faith/baptism; justification by faith is a participatory event of dying and rising with the Messiah, meaning that justification is resurrection to new life by means of co-crucifixion with the Messiah.

8. To enter the Messiah is to be incorporated into his body and caught up into his story; Pauline spirituality and ethics have a narrative character.

9. Sharing in the Messiah's story is first of all sharing in his death, which means sharing in his covenant faithfulness to God and his covenant love toward others.

10. Paradoxically, cruciform (cross-shaped) existence is also resurrectional (resurrection-suffused); cruciform ministry is life-giving because the death of the Messiah means life for all who share in that death.

Mission

11. The church is called not merely to believe the gospel but also to become the gospel and thereby to advance the gospel; the church is a living exegesis of the gospel.

12. Becoming the gospel means embodying the missional practices of love, peacemaking, reconciliation, restorative justice, forgiveness, nonviolence, and so on that correspond to what God has done in the Messiah.

13. To be in the Messiah is to be in community, to be in mission, and to be in trouble—simultaneously.
Michael Gorman's theses here penetrate deeply into a theology that is spirituality, which means he doesn't make Paul simply a systematician or philosopher. His cruciformity is so deeply personal, after all it is about being "in Christ," that it can also be called Christoformity, which I believe I first read (or began pondering and using) in James D.G. Dunn's theology of Paul. So, one could say that the cross reveals who is Christ — when Gorman says the cross is a Christophany and a theophany, he reveals his Christoformity theme, too.
All in all, this is a beautiful statement of integrating the revelation of God in Christ, that is, who God is and who Christ is, through the theme of participation in Christ.