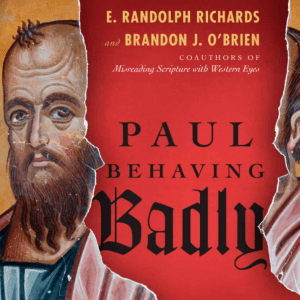 When our children were teenagers they would sometimes say someone was "annoying." When we probed for a little details it was often not forthcoming. It was an existentialist response one person to another, a response in which one person and the other person were unable to dwell in peace. Many respond to the apostle Paul the same way. In fact, in Randy Richards and Brandon O'Brien's book, Paul Behaving Badly, they ask if Paul was not in fact a jerk.
But some get nervous here because they fear that one is getting near irreverence toward Scripture. Again we must say, to affirm Scripture is not to affirm everything said or done by the people in Scripture. To affirm the inspiration of Paul's letters is not to affirm the example of Paul in every instance.
Consider, for example, the following verses, and I offer — following their lead — a brief word of jerkiness-interpretation.
First, who do you know — other than some fairly arrogant megachurch pastors and small church control-freak pastors, small group leaders who think they've now got a group in need of some submission, and cult-like teachers — who go around urging you to follow them?
Phil. 3:17    Join together in following my example, brothers and sisters, and just as you have us as a model, keep your eyes on those who live as we do.
To make the following claim is to contend you have a special place in history:
Gal. 1:15 But when God, who set me apart from my mother's womb and called me by his grace, was pleased
I don't care for those who curse others.
Gal. 1:8 But even if we or an angel from heaven should preach a gospel other than the one we preached to you, let them be under God's curse!
And we all get annoyed when someone brags about how profoundly spiritual and competitively moral they are.
Gal. 1:14 I was advancing in Judaism beyond many of my own age among my people and was extremely zealous for the traditions of my fathers.

1Cor. 14:18    I thank God that I speak in tongues more than all of you.

1Cor. 15:10 But by the grace of God I am what I am, and his grace to me was not without effect. No, I worked harder than all of them—yet not I, but the grace of God that was with me.
Who, seriously, thinks they have a one-and-only revelation from God and that no matter how important the apostles were this man believes he got his message straight from God — and the apostles can confirm it or not, he's still independent of them?
Gal. 1:12 I did not receive it from any man, nor was I taught it; rather, I received it by revelation from Jesus Christ.

Gal. 1:16 to reveal his Son in me so that I might preach him among the Gentiles, my immediate response was not to consult any human being.

Gal. 2:6    As for those who were held in high esteem—whatever they were makes no difference to me; God does not show favoritism—they added nothing to my message.
Peter was there from the beginning with Jesus himself: he was called by Jesus, ate with Jesus, walked on the water a bit with Jesus, suffered for Jesus, heard Jesus, watched Jesus, preached Jesus, preached the Day of Pentecost into a few thousand converts… over and over and this Johnny-come-lately called Paul turns against him in public!
Gal. 2:11    When Cephas came to Antioch, I opposed him to his face, because he stood condemned.

Gal. 2:14    When I saw that they were not acting in line with the truth of the gospel, I said to Cephas in front of them all, "You are a Jew, yet you live like a Gentile and not like a Jew. How is it, then, that you force Gentiles to follow Jewish customs?
Paul thinks we are not to grieve or quench the Spirit; we are to listen to the Spirit; when the Spirit speaks Paul presses on with his plan anyway.
Acts 21:4 We sought out the disciples there and stayed with them seven days. Through the Spirit they urged Paul not to go on to Jerusalem.

Acts 21:14 When he would not be dissuaded, we gave up and said, "The Lord's will be done."
How does all this fit with this?
Eph. 5:21    Submit to one another out of reverence for Christ.
Whew. A complex figure that Paul is. The authors put it this way on the The Spirit: To Listen or Not to Listen?
The moral of the story is if you think the Holy Spirit is saying one thing and everyone else disagrees—particularly if everyone else includes famous prophets, the Twelve, and all the Christians along the Mediterranean coast—you should at least consider the possibility that you might have misunderstood the Spirit. But Paul, it seems, sometimes trusted his own instincts and interpretations more than those of others. Luke had no problem pointing out Paul's stubbornness and misdirected certainty. We shouldn't gloss over it either (31).
Complex is the word. This is the same man who submitted to the wisdom of James in Jerusalem to pay for and take a vow in the temple in order to conform to Jewish expectations. Perhaps most significantly, this is the same man who in a culture that encouraged folks to boast about their accomplishments, which Paul did a bit of in madness, turned it all around and boasted in his sufferings!
2 Cor 12:7 Even if I should choose to boast, I would not be a fool, because I would be speaking the truth. But I refrain, so no one will think more of me than is warranted by what I do or say,  7 or because of these surpassingly great revelations. Therefore, in order to keep me from becoming conceited, I was given a thorn in my flesh, a messenger of Satan, to torment me.  8 Three times I pleaded with the Lord to take it away from me. 9 But he said to me, "My grace is sufficient for you, for my power is made perfect in weakness." Therefore I will boast all the more gladly about my weaknesses, so that Christ's power may rest on me.  10 That is why, for Christ's sake, I delight in weaknesses, in insults, in hardships, in persecutions, in difficulties. For when I am weak, then I am strong.
All those revelations and he speaks of himself in Third Person. Many — still today — are not convinced this is Paul himself. (It is.) He'd rather brag about his sufferings, so he does:
12:21 Whatever anyone else dares to boast about—I am speaking as a fool—I also dare to boast about.

22 Are they Hebrews? So am I. Are they Israelites? So am I. Are they Abraham's descendants? So am I. 23 Are they servants of Christ? (I am out of my mind to talk like this.) I am more. I have worked much harder, been in prison more frequently, been flogged more severely, and been exposed to death again and again. 24 Five times I received from the Jews the forty lashes minus one.  25 Three times I was beaten with rods, once I was pelted with stones, three times I was shipwrecked, I spent a night and a day in the open sea,  26 I have been constantly on the move. I have been in danger from rivers, in danger from bandits, in danger from my fellow Jews, in danger from Gentiles; in danger in the city, in danger in the country, in danger at sea; and in danger from false believers. 27 I have labored and toiled and have often gone without sleep; I have known hunger and thirst and have often gone without food; I have been cold and naked.  28 Besides everything else, I face daily the pressure of my concern for all the churches.29 Who is weak, and I do not feel weak? Who is led into sin, and I do not inwardly burn?
Jerk? No. Complex? Yes. Human? For sure. Inconsistent? Yes.