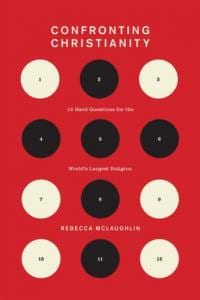 How can you be a Christian?
In my experience there are three big subtexts to this question these days, science, women, and sexuality. Other questions are important as well … but these are the showstoppers.
How can you be a Christian when it is antiscience, oppresses women, and is homophobic?
Rebecca McLaughlin addresses these as seven, eight, and nine in her book Confronting Christianity: 12 Hard Questions for the World's Largest Religion. Last week we looked at the first of these – hasn't science disproved Christianity?
The short answer to the second question doesn't Christianity denigrate women? is a resounding no. Christianity might not go as far as some in our culture today would like, but it certainly does not denigrate women. Women play important roles in many places throughout Scripture. I've highlighted a wide selection of these in several posts – most recently A Look at Biblical Womanhood and Women of the New Testament.
Rebecca emphasizes the way women are portrayed in the Gospels to make the point.
The portrayal of women in the Gospels – particularly in Luke's Gospel – is stunningly countercultural. Luke constantly pairs men with women, and when he compares the two, it is almost always in the woman's favor. Before Jesus' birth, two people are visited by the angel Gabriel and told they are going to become parents. One is Zechariah who becomes John the Baptist's father. The other is Jesus' mother Mary. Both ask Gabriel how this can be. But while Zechariah is punished with months of dumbness for his unbelief, Mary is only commended. (p. 136)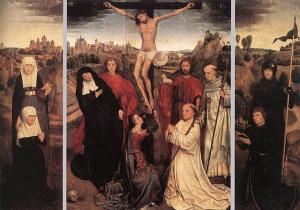 The pairings continue – with Simeon and Anna, the lost coin and the lost sheep, the parable of the persistent widow followed by the pharisee and the tax collector. The Twelve were all male – but for the most part the segregation stops there. Women were with Jesus and involved in his ministry from beginning to end, at the cross, the first at the empty tomb. And turning to Acts, they were with the apostles in Jerusalem where … They all joined together constantly in prayer, along with the women and Mary the mother of Jesus, and with his brothers. (1:14)
Many of the first converts in Acts or mentioned in Paul's letters are women, important for the prominent roles they play … Junia, Lydia, Priscilla among them.
There is a reason why women are heavily represented in the church today and throughout history. For all the human failings that crop up from time to time, women acknowledged as equal before God. "Jesus's valuing of women in unmistakable. In a culture in which women were devalues and often exploited, it underscores their equal status before God and his desire for personal relationship with them." (p. 138)
Paul puts it succinctly in Gal. 3:26-29: So in Christ Jesus you are all children of God through faith, for all of you who were baptized into Christ have clothed yourselves with Christ. There is neither Jew nor Gentile, neither slave nor free, nor is there male and female, for you are all one in Christ Jesus. If you belong to Christ, then you are Abraham's seed, and heirs according to the promise.
This is powerful stuff.
But then we come to marriage. Here Rebecca and I part ways, slightly. This isn't surprising in a book published by Crossway and TGC. She looks at Ephesians 5:21-33 (below) and focuses on the metaphor. "Ultimately, my marriage isn't about me and my husband any more than Romeo and Juliet is about the actors playing the title roles." (p. 140) and later "Ephesians 5 grounds our roles in marriage not on gendered psychology but on Christ-centered theology." (p. 141) Here is the point as I paraphrase it – when we play our proper roles in marriage we are enacting the metaphor and mirroring God to the world. Women submit as to God and husbands love as Christ.
But read the passage below. Is this really about enacting a metaphor? I would suggest that the first line interprets the whole. It is about mutual submission in a partnership before God that revolutionizes relationships. Paul uses a metaphor that illustrates the truly revolutionary nature of our relationships in Christ. Throughout history, husbands have generally been the ones with power and have often exercised it for their own benefit and women have often resorted to nagging and subterfuge (a kind of revolt) to assert and strengthen their own positions. I rather expect that this was as true in the first century Greek and Roman world as at any other time in history. But in the Christian message this should all go out the window along with many other human failings. Positions of power should be exercised on behalf of the others involved, and this includes the husband's role toward the wife. The socially acceptable practice of women gossiping about and undermining their husbands is no better than practice of autocratic authority.
Submit to one another out of reverence for Christ.
Wives, submit yourselves to your own husbands as you do to the Lord. For the husband is the head of the wife as Christ is the head of the church, his body, of which he is the Savior. Now as the church submits to Christ, so also wives should submit to their husbands in everything.
Husbands, love your wives, just as Christ loved the church and gave himself up for her …. In this same way, husbands ought to love their wives as their own bodies. He who loves his wife loves himself. … However, each one of you also must love his wife as he loves himself, and the wife must respect her husband.
No mere human truly stands in the place of Christ. But we are all called to follow his lead. Marriage isn't about authority and submission. When the topper question is "who gets the last word?" the focus is entirely wrong.
But on this Rebecca and I both agree. The command to follow Christ does not denigrate women, in fact it empowers and promotes women in ways that are more often than not revolutionary in the surrounding culture.
Much more could be said. Rebecca has a discussion of abortion and sexual freedom, both issues where Christianity is said to denigrate women. And she does not really touch on the questions surrounding women in ministry. But this is a good start.
Does Christianity denigrate women?
What do you think of the marriage metaphor?
If you wish to contact me directly you may do so at rjs4mail[at]att.net.
If interested you can subscribe to a full text feed of my posts at Musings on Science and Theology.