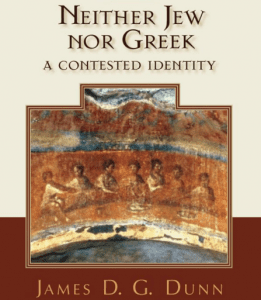 Though it is at times overcooked it is just as often undercooked — the Jesus who was remembered was interpreted in that very act of remembering. We are looking at James D.G. Dunn's Neither Jew nor Greek: A Contested Identity, which builds on Dunn's earlier volumes: Jesus Remembered and Beginning from Jerusalem. This is the major accomplishment of Dunn's academic career, and I am proud to have been one of Jimmy's students.
[Post one, post two, post three.]
In this post I want to sketch what happened to Jesus as he was remembered by Mark when that remembered Jesus got to Matthew and then to Luke. Thus, the christology of Matthew and the christology of Luke. As Dunn emphasizes, there is massive solidarity in the Synoptic Gospels yet there are distinctive emphases in each. Most of what follows is citation from Dunn's NJNG.
Here's what needs to be noted as you read what follows — and read it slowly and you will catch the whole easily: Matthew and Luke carry on Mark's Jesus but they shift emphases and enhance emphases and interpret the tradition they were given. This, in my view, is a model of how to do pastoral ministry and theology. Not revolutionary newness but gentle, discerning adjustments.
Matthew
(1) Somewhat surprisingly for a Gospel of Jesus, Son of God, Matthew breaks Mark's inclusio formed by Mark 1.1 and 15.39. He retains the confession of the centurion (Matt. 27.54/Mark 15.39), but his opening verse designates Jesus Christ as 'son of David, son of Abraham' (Matt. 1.1). Matthew also omits one of Mark's summary accounts of unclean spirits hailing Jesus as 'the Son of God' (Mark 3.11). On the other hand, Matthew significantly heightens the Son of God motif.252
(2) Matthew refers to Jesus as the Messiah (Christ) about as often as Mark, slightly emphasizing the titular significance of 'Christ' (1.16; 27.17, 22), but he has weakened the messianic secret motif so prominent in Mark. As for the 'son of man' motif, its more frequent usage in Matthew (principally due to Matthew's incorporation of Q material) somewhat diminishes the effectiveness of Mark's abrupt juxtaposition of Peter's confession of Jesus' as Messiah with the first of the suffering Son of Man predictions (Mark 8.29-31). 253
(3) In contrast to Mark, Matthew highlights the messianic theme of Jesus as 'son of David. 254
(4) That Jesus was the answer to the hopes and expectations of Israel is one of Matthew's great emphases, indicated particularly by his concern repeatedly to note that Jesus fulfilled various scriptures — scriptures whose messianic significance Jesus had brought to light… 255
(5) More disputed is the influence of a Moses-prophet expectation, rooted in Deut. 18.15, 18; but Matthew does seem to present Jesus as a new Moses, or as the fulfillment of Israel's divinely intended purpose. 256
(6) Matthew, however, goes beyond what might be regarded as the traditional Jewish expectations. The birth of Jesus is not simply symbolical of God's presence with his people (Matt. 1.23), as in Isaiah's prophecy (7.14). Jesus himself expresses or embodies the divine presence — 'Emmanuel, God is with us'. 257
(7) In a similar way, Matthew seems to go beyond the Q material in regarding Jesus not simply as the spokesman of divine Wisdom, but as himself embodying divine Wisdom. 258
(8) One other feature worthy of note confirms the conclusion that Matthew drew on and shaped the Jesus tradition to present a higher christology than his predecessors. This is the fact that Matthew uses the term proskynein far more frequently than either Mark or Luke. 259
Luke
(1) Luke enhances Mark's christology of Jesus as the Son of God by his account of the virginal conception (Luke 1.32,35), and strengthens the tradition of Jesus speaking of God as his Father, but otherwise he simply retains the 'Son/Father' references of Mark and Q. 283
(2) Jesus as Messiah and son of David is also enhanced by the birth narrative (Luke 1.69; 2.11,26) and added at 4.41, but otherwise the Markan emphasis is retained. 284
(3) Distinctively Lukan is the emphasis Luke places on the role of the Holy Spirit in his christology — in Jesus' conception (1.35), at the beginning of Jesus' mission (4.1,14) and in his anointing for mission (4.18; Acts 10.38). 284
(4) This also links into the strand of Moses-prophet christology which Luke retains: provision of food in the wilderness (9.12-17); in the Transfiguration story, Moses and Elijah speak with Jesus about Jesus' 'exodus' (9.31); Jesus casts out demons 'by the finger of God' (11.20; echoing Exod. 8.19). 284-5
(5) Luke takes over most of the Son of Man references in his material, but has some distinctive references, perhaps best explained as performance variations in recitals of Jesus tradition.285
(6) Another feature highlights the transition which Jesus' resurrection formed between his mission and his post-resurrection exalted state, or, as we may say, between volume 1 and volume 2 of Luke's two-volume work. This is Luke's careful use of the title kyrios for Jesus. What is notable is that Luke refrains from having Jesus spoken of as the Lord during his mission by other actors in the drama that Luke unfolds.285
(7) Ironically, this reinforced emphasis on Jesus' resurrection reflects also a shift in emphasis regarding the function of the cross as well as the resurrection in the Gospel according to Luke….In short, a rather remarkable feature of Luke-Acts is that the theology of Jesus' death as atoning sacrifice is almost completely absent. The thought is much more of the wonder of Jesus' resurrection, and (as we shall see) of the resultant power of the Spirit. 286, 287