Great for Amelia Meyer:
On Friday night, Jill Meyer asked her young daughter if she was excited about the next day.

Meyer's daughter, Amelia, said that she was, and so her mother followed up, asking the 8-year-old why she felt that way.

"Because I get to pick up trash," Amelia replied, according to Jill Meyer, who relayed the story to a Fox affiliate in Kansas City.

Amelia Meyer was the recipient of a special day from the Make-a-Wish Foundation in late February, time that she spent picking up trash. Cleanups were held around the Kansas City, Mo., community Saturday when Amelia used her wish to ask to "take care of the world" for a day.

A page about the effort on the Make-a-Wish Missouri website notes that the wish didn't particularly come as a shock to Amelia's parents, "given her love for the outdoors, parks and the Earth." After she receives treatment, it says, Amelia and her grandmother go on walks together in the park, where they pick up litter.

"We hope that others throughout the state of Missouri and beyond will be inspired by Amelia's wish and join in cleanup efforts in their own communities!" the site read.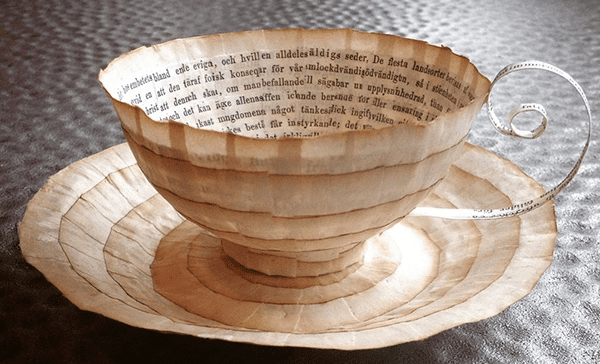 James Gould-Bourn:
Cecilia Levy has found a novel use for old books and comics. Instead of throwing them out, the Swedish artist transforms them into beautiful works of paper art.

Previously a bookbinder, Levy now takes the opposite approach to literature by tearing it up and pasting the pieces back together again. It may sound sacreligious to book-lovers, but when you take a look at the pictures below I'm sure you'll agree that her work is in fact a loving testament to literature.

She first began experimenting with 3D paper objects in 2009. Since then she's created a variety of different objects including cups, saucers, plates and bowls, and she's always on the lookout for old books to transform so that their stories may continue in a new and unique form.

You can't do that with a Kindle. [Image from link.]
Gospel music lies at the root of most forms of American popular music. Originally conceived by American slaves as a synthesis of African tribal rhythms and the Christianity of their captors, gospel music has long stirred souls — and social movements — around the world. Odes to freedom like "We Shall Overcome" and "We Shall Not Be Moved" have been adapted and sung from Selma to Tiananmen Square.

However, gospel music tends to hit a firewall in the institutions that prepare musicians for public careers. It's the one genre that lacks an academic journal, and no university has offered it as a stand-alone professional degree, according to experts in gospel music. Until now.

This fall, Nyack College, a university affiliated with the Christian and Missionary Alliance and among the most ethnically diverse Christian colleges in the country, will launch what scholars and Nyack officials believe is the country's first bachelor's degree in gospel music performance. There are other schools with degrees in gospel music studies.

"I think for a long time gospel music has been viewed as a hobby," says Willana Mack, who sang in the 2008 Oscar-winning movie "August Rush," and is now preparing to launch Nyack's pioneer program.
Both Trump and Sanders are conservatives, so says Steven Horwitz:
Those of us who reject the conventional left-right political spectrum often see things that those working within it cannot. For example, in "Why the Candidates Keep Giving Us Reasons to Use the 'F' Word" (Freeman, Winter 2015), I argue that Donald Trump and Bernie Sanders, seen by many as occupying opposite ends of the ideological spectrum, both embrace the thinking of economic nationalism, if not fascism.

They also share a different political tradition. It may seem to contradict their shared fascist pedigree, but Trump and Sanders are both, in a meaningful sense, conservatives.

Trump, of course, has been lambasted by many self-described conservatives precisely because they believe he is nota conservative. And Sanders, the self-described "democratic socialist," hardly fits our usual conception of a conservative. What exactly am I arguing, then?

They are both conservatives from the perspective of classical liberalism. More specifically, they are conservatives in the sense that F.A. Hayek used the term in 1960 when he wrote the postscript to The Constitution of Liberty titled "Why I Am Not a Conservative." There he said of conservatives,

They typically lack the courage to welcome the same undesigned change from which new tools of human endeavors will emerge.… This fear of trusting uncontrolled social forces is closely related to two other characteristics of conservatism: its fondness for authority and its lack of understanding of economic forces.… The conservative does not object to coercion or arbitrary power so long as it is used for what he regards as the right purposes. He believes that if government is in the hands of decent men, it ought not to be too much restricted by rigid rules.

That description would seem to apply to both Trump and Sanders. [HT: MK]
The invasion of the
bald eagle
:
If there's a time of year to see a bald eagle, this is it. But those who spot one during the current nesting season won't be observing quite the same national bird as in decades past.

"The main thing is they just don't really care as much about people anymore" and now can be found nesting in residential areas, said Kevin McGowan of the Cornell Lab of Ornithology, based in Ithaca, N.Y.

According to scientists, changes in the behavior of the bald eagle — from a bird once found only deep in the wild to one willing to cohabitate with humans — are the result of laws that protect the bird and have helped the species recover after nearly dying out in the early 1960s. The government is empowered to go after those responsible for the death of bald eagles — even if it's unintentional (such as in the case of a New York farmer who received a fine and probation last year after several eagles died from poisoned meat he had set out to kill coyotes). Federal and state officials are investigating what happened to 13 bald eagles found dead recently near a farm on Maryland's Eastern Shore.
Whoever said, "Don't cry over spilled milk" couldn't possibly have been talking about breast milk. As reproductive psychiatrists who specialize in treating women who suffer from depression and anxiety during pregnancy and the postpartum, we see far too many tearful new mothers for whom breastfeeding is a source of self-recrimination.

Doggedly determined to provide breast milk exclusively for their babies, these moms endure breast and nipple pain, around the clock pumping, sleep deprivation, anxiety, and chronic feelings of inadequacy—all for the sake of doing what's "best" for their babies. As physicians, we think we know better, but as mothers, we too bought into the dogma that breast is best at all costs. We would never have taken our own advice: when it comes to breastfeeding, your health and happiness matter as much as your baby's.
My grandmother once told me this little story that stuck with me. One afternoon at a doctor's appointment, her doctor moved her large purse to another chair and remarked how heavy it was. "You must be very rich," he said to her. "I am," she said affirmatively.

My grandparents lived modestly, still in the narrow two-bedroom rowhouse where she'd raised her family since her husband returned from World War II. They didn't travel, eat lavish meals or shop at the finest department stores. Neither had careers that followed their passions. (She would have been an amazing teacher, he an exquisite artist.) Yet, she genuinely considered herself rich because she had a husband, children and grandchildren whom she adored.

My grandmother knew what Harvard researchers have since confirmed: Relationships are the key to a happy life.

Robert Waldinger, a Harvard psychiatrist, took over the more than 75-year-long Grant Study in 2003, becoming the fourth person to run it. He recently gave a TedTalk on it that has been viewed more than 6.5 million times since November 2015.

Waldinger felt it was important to do it. The federal government had spent millions on the study for decades, but everyday taxpayers didn't really know what was discovered.

And there's certainly an appetite for knowing what makes a good life….

Waldinger there's one clear takeaway: The happiest and healthiest participants in both groups were the ones who maintained close, intimate relationships.
Andrea Peterson, on changing passwords:
Most office drones have had to deal with a job that requires them to keep changing their passwords like clockwork, maybe every six months or so. The longstanding IT security practice is based on the idea that flushing out old passwords will cut off access for bad guys who may have figured them out.

But according to the Federal Trade Commission's chief technologist, Lorrie Cranor, the strategy has some major holes.

"Unless there is reason to believe a password has been compromised or shared, requiring regular password changes may actually do more harm than good in some cases," Cranor wrote Wednesday in a blog post entitled "Time to rethink mandatory password changes."
Malnourished sea pups, by Elahe Izadi:
California's sea lion population has dramatically increased since the 1970s, going from just 50,000 to 340,000. But another, more troubling, trend has taken hold in recent years: record numbers of starving pups.

Researchers with the National Oceanic and Atmospheric Administration believe they've found "compelling evidence" that explains the spike in malnourished pups, which they published Wednesday in the journal Royal Society Open Science.

To make a long story short, mama sea lions in southern and central California have terrible food options, and their babies are suffering as a result.

Researchers analyzed data from 2004 to 2014 on sea lion pup strandings as well as surveys of fish populations in likely hunting waters for pregnant and nursing sea lions. They found that pups weighed less when sardine and anchovy levels dropped – even if there was an abundance of squid and rockfish. The reverse was also true.

Sardines and anchovies have more calories and higher fat content than squid and rockfish, which makes the latter the equivalent of sea lion junk food.

This "shift from high to poor quality" food for breeding female sea lions means pups aren't getting enough to eat, "ultimately flooding animal rescue centers with starving sea lion pups," the study authors write. They weren't able to collect data that shows how low-quality food affected the quantity and quality of the sea lion mothers' milk.