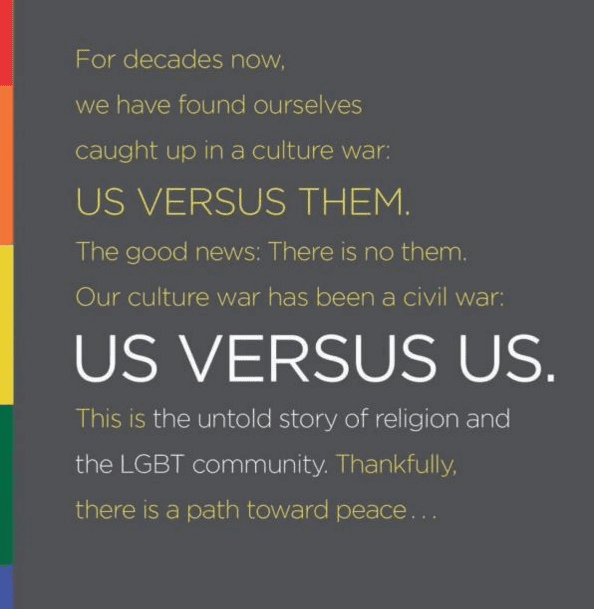 Long ago, at a school before Northern Seminary, Andrew Marin scheduled an appointment with and we had a long conversation, animated to the top of the ceiling by Andrew's enthusiasm. Not long after he sent a ms into IVP and Andrew Marin became the go-to person for dialogue between the progressive LGBT voices and the conservative voices. His book hit a nerve, he went on the road, and he got himself into the middle of some very heated conversations. I have always believed Andrew's intent has been to generate opportunities for reconciliation and peace even when I disagree with him at times. (I have a sketch of my interpretation of the NT texts in A Fellowship of Differents.]
In the long ago conversation, however, Andrew told me about research at the empirical level he had done that was not a little revealing. So, to his new endeavor in this topic: Us Versus Us: The Untold Story of Religion and the LGBT Community (NavPress, June 2016). I am grateful to the publicist for an advance reader copy. Whether you agree with where he takes these discussions or not, the evidence is here for the following important conclusions:
The idea for this research study began after I moved into Boystown, the predominantly LGBT neighborhood of Chicago, shortly after my three best friends came out to me. As a straight, cisgender, Christian male in the early 2000s, I had a steep learning curve living in Boystown. But I quickly observed a major recurring theme throughout my new surrounding: Many of my LGBT friends, neighbors, and acquaintances were brought up in religious environments. Not only that, but in one way or another, for good or for bad, whether they liked the outcome or hated it, they had been irrevocably shaped by the faith of their youth into the people they are today (xv, my italics).
86% of LGBTs were raised in a faith community from ages 0-18. [77% in conservative faith communities; 75% of Americans are raised in faith communities.] Why are LGBT folks 11% higher?
19% Catholic
17% Evangelical non denominational
9% Baptist

61% Protestant vs. 51% general American population
26% Catholic vs. 24%
2.5% Judaism vs. 2%
0.2% Islam vs. 0.6%
54% of LGBTs leave their faith community after the age of 18.
76% of LGBTs are open to returning to faith and its practices.
36% of LGBTs continue their faith practices after the age of 18.
80% of LGBTs regularly pray regardless of faith identification or affiliation.
The point: Age Matters in the Culture War.