A well-known NT scholar recently asked me what "missional" meant and he said he had not seen the word until it was in the title to a book Joe Modica and I recently co-edited. Ah, so clear: "missional" is a buzz word for a specific group, mostly the "missional" people. But what does "missional" mean then?
Is it the churches of Christendom sending missionaries to nations and people groups who are not part of Christendom in order to convert and establish churches? For many this is little more than imperialism or colonialism. Is "misional" part of the Great Commission? Or is it evangelism? Or is missional a kind of social justice-cum-evangelism (if there's space for the latter) by becoming "incarnate" in our own communities and neighborhoods? If it means to enter into the missio dei, the mission of God in this world, what is that missio of God? Many think they've defined missional by saying it is about God's mission and not our mission — which to me is lame theology claiming grand insights. The issue here is what is God's mission and what is the church's mission in light of God's mission? Until "mission" is defined one can't define "missional."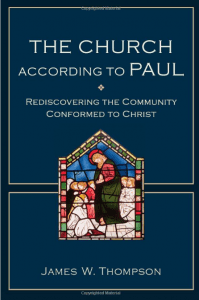 James Thompson, in his The Church according to Paul, rightly says we ought to be asking Paul what "missional" means for the label he sticks to his forehead all the time is apostolos, apostle, which means "the one sent on mission." Let's give Thompson space to teach us what Paul meant by mission/missional. (I examined the meaning of "missional" in Kingdom Conspiracy, examining the term more from the angle of what Jesus meant by "kingdom." My conclusions and Thompson's stand next to one another and complement one another.)
First, notice Rom 15:14-21:
  I myself am convinced, my brothers and sisters, that you yourselves are full of goodness, filled with knowledge and competent to instruct one another.  Yet I have written you quite boldly on some points to remind you of them again, because of the grace God gave me to be a minister of Christ Jesus to the Gentiles. He gave me the priestly duty of proclaiming the gospel of God, so that the Gentiles might become an offering acceptable to God, sanctified by the Holy Spirit.

  Therefore I glory in Christ Jesus in my service to God. I will not venture to speak of anything except what Christ has accomplished through me in leading the Gentiles to obey God by what I have said and done—  by the power of signs and wonders, through the power of the Spirit of God. So from Jerusalem all the way around to Illyricum, I have fully proclaimed the gospel of Christ. It has always been my ambition to preach the gospel where Christ was not known, so that I would not be building on someone else's foundation. Rather, as it is written:

  "Those who were not told about him will see, and those who have not heard will understand."
Here Paul states his mission, and surely the man thinks he's doing God's mission: "proclaiming the gospel of God" with the purpose of "Gentiles" becoming "an offering acceptable to God, sanctified by the Holy Spirit." This is his "service to God." He does it attendant with signs of God's power … and he's got a geographical plan (this is quite an issue among some) but it entails going where others have not gone.
Second, there is some dispute today about the mission of the churches, though I think this is overcooked at times: Paul doesn't emphasize telling people in his churches to be evangelistic (John Dickson) while others think there's more evangelism than some think (James Ware) — yes, yes, but they were evangelistic and they did evangelize and those gifted to be "evangelists" were evangelizing. The church grew over the centuries because of evangelism, yet it is clear: Paul does not calls the churches to evangelize or to send missionaries into villages surrounding the cities. Yet, yet, yet: Epaphras is the example: he planted the churches of Colosse, Laodicea and Hierapolis, and he did so as an extension of Paul's ministry in Ephesus. Evangelism occurred through Paul's co-workers gifted to be evangelists.
Third, Thompson focuses on the church and the world in Paul: the church as an evangelistic witness through mixed marriages and the Christian assembly (e.g., 1 Cor 14:20-25) and Christian morality.
Did Paul have a social ethic? Paul's focus — to recall this week's post about John Nugent — is to love one another. Yes, for Thompson Paul also had a social consciousness of doing good for the common good. E.g, Gal 6:10, which perfectly expresses Paul's ordering:
Therefore, as we have opportunity, let us do good to all people, especially to those who belong to the family of believers.