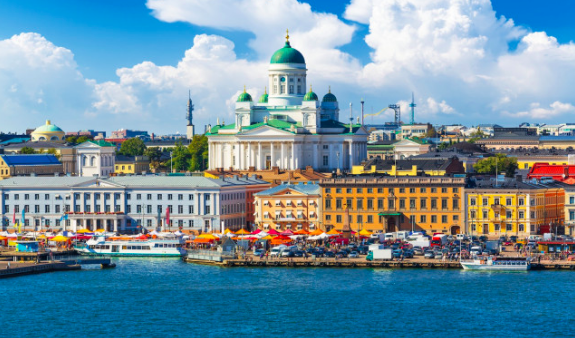 Greetings to you from Kris and me from Helsinki. I'm here to speak at a conference on the gospel. Image
Many young couples spend their summer camping, or kayaking, or relaxing or vacationing. But Kristin and Adam Polhemus did none of these things.

Instead, the married couple from Hamilton Township, New Jersey spent their summer fixing up the run-down house next door. The house belongs to an older woman who, for years, lived in social isolation.

Anne Glancey, a retired teacher who grew up in that house, couldn't afford to erase her mounting code violations. If she didn't make the necessary repairs to her property, she faced up to $3000 per day in fines.

Notoriously reclusive, Anne had no friends or family to help her.

The paint on her house was peeling off, her grass and shrubs were growing out of control, and a rusty old car sat abandoned on her lawn.

Anne was so worried, yet she didn't know what to do — until, one day, she walked outside and saw Kristin and Adam doing the unthinkable…
What in the world? Title to an article at USA Today: "Take your pick: Michigan football's Jim Harbaugh denies eating booger." Really?
"I have never eaten a booger in my entire life," Harbaugh said. "It might have looked like that was happening. But if you rub your nose and then you bite your fingernail, that's not eating a booger. There was no booger eaten.

"For clarity here, for the record, I have never eaten a booger in my entire life."
There's no way of knowing how long it would've taken Fidencio Sanchez to sell 90,000 paletas, or Mexican ice pops, for $1.50 each from the paleteria he pushes around Little Village.

But online donors saved the 89-year-old man the trouble of finding out. Through $5 to $2,000 donations, 6,300-plus people collectively raised more than $135,000 – the equivalent of 90,000 paleta sales – for Sanchez in a GoFundMe campaign started by a stranger wanting to offer the older man a little relief from pushing his cart.

Crediting friend Joe Loera with coming up with the idea to start an online fundraiser, Joel Cervantes said in this case it took a village – Little Village – to make all the difference to Sanchez and his wife, Eladia.

Eladia Sanchez also used to sell paletas but now sells Mexican candies because pushing the heavy cart became too physically demanding and hurt her arm, according to the Sanchez' granddaughter, Dulce Perez. Fidencio Sanchez has been pushing his cart in the area about 23 years, Perez said.

"A lot of people knew him," Cervantes said of Sanchez. "After I put it on Facebook, people started inboxing me and they were like, 'I know that gentleman, he's always around town.' I should've expected it because he sells all across the 26th Street area. If it touches me, I should've known it touches everybody else who sees him."

Cervantes first met Sanchez Thursday, while the older man was pushing his cart and appeared to be struggling a bit. According to his post on GoFundMe, Cervantes bought 20 paletas and intentionally overpaid, giving Sanchez a $50. He also snapped a photo of the man, and said he thinks those 6,000 people were moved to donate because their imaginations were stirred by the photo.
We were all deeply moved and inspired by the brave passengers of Flight 93 who stormed the cockpit, attempting to wrest the plane from the evil terrorists who had killed the crew and were headed toward an unknown destination on September 11, 2001. By crashing the plane into a field in Pennsylvania, it's likely they spared a high-value target like the White House or the capitol, saving the lives of thousands and preserving a national landmark.

Todd Beamer was one of those passengers, a hero whose voice was seared in our memories as he made a call to a GTE airphone operator, asking her to say the Lord's Prayer with him before he and others tried to take the cockpit. His final recorded words were "Let's roll!" Thirty-seven passengers, including Beamer, and seven crew members lost their lives in the attack on Flight 93.

As the country tried to come to grips with the horror of the 9/11 attacks, Todd's widow, Lisa Beamer, was a model of grace and courage. Pregnant with their third child at the time, she spoke bravely about her grief and the Christian faith that enabled her to endure the unthinkable nightmare. She also confidently testified to husband's faith and her certainty that she would be reunited with him again in heaven.

Now, their eldest son, David, is playing football at his parents' alma mater, Wheaton College in Illinois. CBS Sports featured the team in the video below, describing how, 15 years ago, the Wheaton Thunder football team adopted "Let's Roll" as their motto, and how the words—and Todd Beamer's courage—have inspired the young men who have played for Wheaton over the years.
New research reveals that a dangerous cornerstone of American nutrition in the 20th century was funded by the sugar industry.

The sugar industry worked with scientists in the 1950s and 1960s to downplay sucrose's role in causing coronary heart disease and other nutritional risks, according to a paper by UC San Francisco researchers published in JAMA Internal Medicine on Monday.

In other words, the move to single out fat and cholesterol as the biggest problems in American diets was a coordinated effort by trade association Sugar Research Foundation, intended to increase the consumption of sucrose.

The crux of the new research is a 1965 paper that played a major role in making low-fat diets the nutritional norm in the US. The Sugar Research Foundation paid the modern equivalent of $50,000 to fund the project, which argued cholesterol — not sucrose — was the sole relevant factor in studying and preventing coronary heart disease.

However, this funding was not disclosed when the literature review was published in 1967, despite the fact that the sugar industry set the review's objective, contributed articles, and read drafts prior to publication.
Yes, this fierce reaction on the part of the ESS crowd is about identity — who you are is about where you are in the circle of power:
Is it money? Well, I guess some have certainly made good royalties from advocating EFS but not as many as have furiously attacked Todd and others. Is it platform? This probably plays into it more, as so many high-profile leaders either bought into it or have important links with those who do. But even so, the violence of the reaction has been extreme. Is it some theologian's concern for his legacy? I have been told that is the case but, if so, that is really rather sad. A legacy is only worth preserving to the extent it is true. Who wants a legacy of error? And to the extent a legacy is true, it is not really the property of any one person. The truth pre-existed him after all. I do not think that any of these things account for all of the widespread anger at the whistleblowers.

I would suggest another angle: that the reaction is so strong because, unlike some other theological disputes, this one is an issue of identity. When groups root their identity in a specific narrative, then a serious challenge to that narrative will be greeted with real hostility, for such a challenge is not simply a disagreement over details. It is a denial of personal legitimacy. Those being critiqued will interpret their critics in very negative moral terms, and the normal rules of decent procedure and public debate will not apply.
Ben Ellis is a beloved a high school Latin teacher at Christ Presbyterian Academy (CPA) in Nashville, Tennessee. In December 2015, Ellis was diagnosed with esophageal cancer that has recently spread to his lungs.

Mr. Ellis is described as the "definition of a teacher, a role model, a servant." Despite his devastating diagnosis, Mr. Ellis remains joyful and peaceful at heart — and the student body at CPA has wanted nothing more than toreturn the love he has given to them on a daily basis.

Recently, the principal at CPA says he was approached by three different people who all saw a vision of the high school students and faculty singing words of prayer to Mr. Ellis on his front lawn. The principal was struck by the similar stories, and decided to turn those visions into a reality.

400 students and staff members loaded up their buses and cars and drove to Mr. Ellis' home.

What happened next was recorded on camera, and a few days later, country superstar Tim McGraw shared the video on his Facebook page.
Truth be told, I'm a fan of Roger Scruton:
To Edinburgh for the book festival, where I am to explain Fools, Frauds and Firebrands to respectable middle-class Scots, who have an endearing way of suggesting to me that I, like them, am a thing of the past. They queue to buy the book, which is nice of them; however, the publisher has failed to deliver any copies, so the need to part with a few quid for politeness' sake slips painlessly over the horizon. Only the students in the queue awaken me from my complacency. Where do we turn for comfort, they ask, when our reading lists are gibberish about which we can understand only that it is all left-wing? Is there no network, no secret society, no alternative reading list to get us through the next three years? Is there, in a modern university, no 'safe space' for conservatives?

I know of only one solution to leftist takeovers, and that is to start again. The decent parliamentarians in the Labour party should take note of this. When we set up the underground university in Prague, we composed a curriculum entirely of classics on a budget of £50,000 a year. We the teachers, and they the students, were volunteers; our shared concern was knowledge, not ideology; conversation, not conscription. Once the state takes over, however, and its vast resources are made available to people otherwise incapable of earning a penny, the fakes and the frauds muscle in. Chanting gobbledegook from Deleuze confers an air of erudition on even the most second-rate intellect, and since in most humanities departments teaching is no longer required and the only tests are political, there is no answer to those desperate students except to start something new. That is what we are doing at the University of Buckingham.
When seemingly perfectly healthy but overparented kids get to college and have trouble coping with the various new situations they might encounter—a roommate who has a different sense of "clean," a professor who wants a revision to the paper but won't say specifically what is "wrong," a friend who isn't being so friendly anymore, a choice between doing a summer seminar or service project but not both—they can have real difficulty knowing how to handle the disagreement, the uncertainty, the hurt feelings, or the decision-making process. This inability to cope—to sit with some discomfort, think about options, talk it through with someone, make a decision—can become a problem unto itself.

Madeline Levine, psychologist and author of The Price of Privilege, says that there are three ways we might be overparenting and unwittingly causing psychological harm:

When we do for our kids what they can already do for themselves;
When we do for our kids what they can almost do for themselves; and
When our parenting behavior is motivated by our own egos.

Levine said that when we parent this way we deprive our kids of the opportunity to be creative, to problem solve, to develop coping skills, to build resilience, to figure out what makes them happy, to figure out who they are. In short, it deprives them of the chance to be, well, human. Although we overinvolve ourselves to protect our kids and it may in fact lead to short-term gains, our behavior actually delivers the rather soul-crushing news: Kid, you can't actually do any of this without me.

When children aren't given the space to struggle through things on their own, they don't learn to problem solve very well. They don't learn to be confident in their own abilities, and it can affect their self-esteem. The other problem with never having to struggle is that you never experience failure and can develop an overwhelming fear of failure and of disappointing others. Both the low self-confidence and the fear of failure can lead to depression or anxiety.

Neither Karen Able nor I is suggesting that grown kids should never call their parents. The devil is in the details of the conversation. If they call with a problem or a decision to be made, do we tell them what to do? Or do we listen thoughtfully, ask some questions based on our own sense of the situation, then say, "OK. So how do you think you're going to handle that?"
In northwest Pennsylvania, along the edge of Lake Erie, you'll find the city of Erie.

There, the superintendent of the more than 12,000-student district has forwarded a plan that's causing a stir — calling for leaders to consider shutting down all of the district's high schools and sending students to the wealthier, whiter, suburban districts.

Why?

Superintendent Jay Badams says it's a "matter of fairness."

Erie's schools have been pushed to the brink after six years of deep budget cuts, and he believes the children in the city's district — which predominantly serves students of color — are being systematically shortchanged.

That's in part because urban school districts in Pennsylvania face a particularly brutal logic.

They serve the poorest, most needy students. Yet, when it comes to state funding per pupil, most of them don't make the top of the list.

Even though Erie is one of the most impoverished districts in the state, and has one of the highest percentages of English language learners, the district currently receives less per-pupil funding from the state than hundreds of other districts.