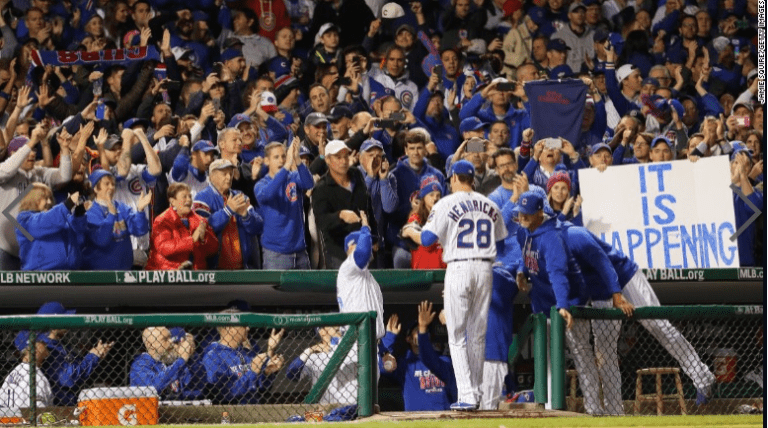 Many of you know our son works for the Cubs as a professional scout (he's Assistant Scouting Director), and he's been talking about last night for five years. Theo Epstein's plan was to take the Cubs down to the floor joists and rebuild on the basis of draft choices. Which they have done, most notably players like Kris Bryant, Javier Baez, Willson Contreras, Albert Almora, and Jorge Soler. Alongside that was expert training and some great trades — Kyle Hendricks, Jake Arrieta, and Addison Russell come to mind.
So, for four years I've announced in my classes that the Day of the Cubs was coming, and not a few times — until this year — folks jawed back or laughed or wondered how anyone could believe in the Cubs.
Until last night.
Last night, and Kris and I were with Lukas and Annika as well as Laura and Mark, we watched Wrigley's long exile from the World Series end. The Cubs beat the Dodgers on a masterful performance on the mound by Hendricks and one confident at bat after another against nothing less than a great Dodger pitcher, Klayton Kershaw.
Tuesday night the World Series begins and we expect to win. That's the way Chicago fans have become in the Ricketts Family and Theo Era.
Wait til next year now reads Wait Til This Year!