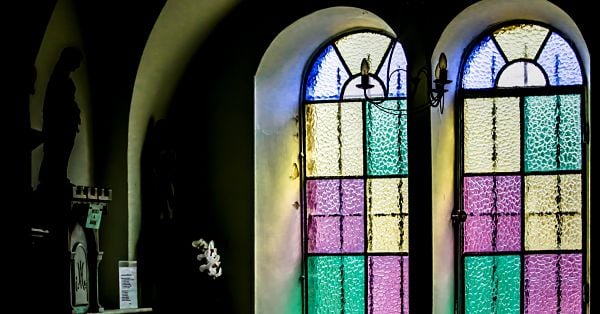 The garden of FLOTUS will be kept:
There are certain to be many changes with the incoming administration. But one thing we don't have to worry about is Michelle Obama's White House vegetable garden. The First Lady's garden was planted in March 2009 on the South Lawn. She hadn't yet launched her campaign to improve nutrition in schools. Therefore, it's easy to see the garden as a precursor to her future endeavors. As you might know, the produce from the garden is used in the White House kitchen. (A portion goes to food banks, too.)

We're heartbroken to see our fav FLOTUS of all time leave, but we love that her garden will remain as her legacy.

She has secured $2.5 million in private funding to make sure the garden is maintained.
I deeply appreciated the words of Ernie Johnson, sports commentator, but the follow up has been just as good of a witness to a changed life, I begin with his original words:
Said Johnson, "I know you're not supposed to talk about politics and religion but we're already talking about politics so I'm gonna go the 'R' direction, too: I never know from one election to the next who's gonna be in the Oval Office, but I always know who's on the throne. And I'm on this earth because God created me, and that's who I answer to. I'm a Christian. I follow a guy named Jesus, you might have heard of him. And the greatest commandment he gave me was to love others. And scripture also tells us to pray for our leaders, and that's what I'm gonna do: I'm gonna pray for Donald Trump, I'm gonna pray for all those people right now who feel like they're on the outside looking in, who are afraid at this point. I'll pray for them, too. In short, I'm praying for America, and I'm praying that one day we're gonna look back and we're gonna say: 'You know what? That Donald Trump presidency? That was all right.' But I'm praying."…

[Some responses:] I note this only because it was interesting to watch the mentions on social media regarding Johnson's segment. The majority of those who commented were positive toward Johnson (let's mention here that no social media feed is representative of the entire U.S.). But there was also a group that found Johnson's words naive at best, and dangerous at worst. The two that stayed with me were broadcaster Keith Olbermann, who responded directly to my praise of Johnson: "Well, @TurnerSportsEJ is a lovely man and I'm sure he means this sincerely. But this is as naive as it comes. Prayer does not stop fascism." Also, there was Greg Howard, a writer for The New York Times: "Homie spends his nights squeezed in between three black men and came with 'trust issues,' 'I voted for Kasich,' and 'I'm praying for the USA.' The Klan is literally dancing in the streets, Mike Pence is in the White House and Ernie's out here still waiting for that Donald Trump pivot."

[Ernie's response back:] "Here's the deal: If Keith feels that thinking that prayer makes a difference is a naive thought, that's his opinion and that's fine," Johnson said. "That's not where I come from. I wasn't on there trying to say I am going to have an altar call here. This is me, Kenny and Shaq talking about how we processed the election and this is how I processed mine. If someone wants to think that is naive, fine. There was a time in my life that I thought prayer did not matter either. There was a time earlier in my life where I did not give God a second thought. Those things all changed for me when I was 41 years old. And I'm 60 years old now. It comes down to people's belief system."
PHOENIX — File this under random, hilarious and adorable: After accidentally being included in a grandmother's group text, a Phoenix teen is invited to her family's Thanksgiving.

Jamal Hinton, a 17-year-old from Phoenix, posted screenshots of the text conversation to Twitter. After his best friend shared them, too, the story went viral.

On Tuesday, Hinton received a text from an unknown number inviting him to Thanksgiving dinner at the sender's house. When Hinton asked who it was, she replied, "Your grandma" with the grandmother emoji.

"I actually did think it was my grandma," Hinton told The Arizona Republic, so he asked the texter to send a photo.

When she sent a selfie of herself at work, he realized she most definitely was not his grandmother. "You not my grandma," he replied, with a surprised emoji, crying-laughing emoji, dead emoji and a selfie of his own.

"Can I still get a plate tho?" he added.

"Of course you can, that's what grandmas do … feed everyone," she replied, with a cake emoji.

Surprised by the funny situation and the sender's sweet response, he tweeted screenshots with the caption, "Somebody grandma is coming in clutch this year!! Ayee!!!"
Griff White et al.,
LONDON — Not long before Americans shocked the world by selecting Donald Trump to be their next president, a wealthy Brazilian businessman who played a reality-star boss on television became mayor of South America's largest city.

On the other side of the globe, in Southeast Asia, a gun-slinging vigilante who vowed to kill all criminals and dump their bodies until the "fish will grow fat" was elected to lead a nation of 100 million.

And in Britain, voters with a centuries-long streak of moderation and pragmatism opted to ignore the overwhelming advice of experts by leaping into the abyss of life outside the European Union.

The populist wave of 2016 that carried Trump to the pinnacle of international power and influence didn't start in the United States. And it certainly won't end there.

Instead, the biggest prize yet for a global movement built on a seemingly bottomless reserve of political, economic and cultural grievance is likely to be an accelerant to even more victories for people and causes bent on upending the existing world order.
Kosher food laws and archaeology:
Jews don't eat pork. Every kid knows that.

Much fewer people know that the abstinence from swine's flesh is rooted in the Biblical prohibitionin Leviticus 11:7 and Deuteronomy 14:8, which means that for the ancient Israelites, pork was also off the menu.

Only specialists, however, are aware of the fact that the Biblical ban on pork consumption from the Israelite diet can be interpreted from the archaeological or (more specifically) zooarchaeological record. In short: If people didn't eat pork, they likely didn't raise pigs—hence the expected absence in archaeologically excavated contexts of pig bones.

Indeed, modern excavations in the southern Levant (today's Israel, Jordan and Palestine) show remarkable scarcity or total absence of pig bones at Iron Age (1130–586 B.C.E.) sites. The only apparent exception to this pattern is the sites occupied by the Philistines, one of the Sea Peoples who migrated to the southwestern Levant sometime at the dawn of the Iron Age.

This archaeological observation—supported by the Biblical prohibition—eventually led in modern scholarship to the establishment of the presence or absence of pig bones as an ethnic marker, one that would distinguish between ancient Israelites and Philistines….

Just like with the clues listed here for early Christians, there has been a growing suspicion toward the equation between pig remains and the Philistines—or, looking on the flip side, between no pigs and Israelites. As so often in scholarship, more recent research calls the long-established "truths" into question, adding to the mix new factors, such as rural vs. urban, Israel vs. Judah, nomadic vs. sedentary or even survival strategies of immigrant societies. Correlation between religious restrictions and the archaeological evidence during the Iron Age I and II appears to be far more complex an issue than we originally thought.

You can learn more about the Israelite diet, the archaeological record and ethnic diagnosis in ancient Israel by reading the full article "Pigs as an Ethnic Marker? You Are What You Eat" by Lidar Sapir-Hen in the November/December 2016 issue of Biblical Archaeology Review.
Conservative columnist and Oberlin alum Michelle Malkin, who called for Karega's ouster in March, said she was glad to see her alma mater take action.

"Good riddance to Joy Karega," Malkin said. "She was an untenured and unhinged loon whose anti-Semitic diatribes and barely literate social media rantings shamed Oberlin and all of American higher education."

Malkin told FoxNews.com that during her studies at Oberlin, she witnessed similar Israel-bashing and anti-Semitism, and a "stubborn intolerance of diverse political viewpoints."

Karega vowed not to accept the ruling without a fight.

"I will challenge the college's decision and assault on my substantive rights through all the avenues I have available to me," Karega said in her email. "The Oberlin community doesn't deserve this racist, arbitrary attack which has damaged the name and reputation of 'Oberlin.'"
Many of her followers are understandably devastated. Some of her one-time detractors are likewise at a loss. But how will Clinton herself move on from this shattering defeat?

Her concession speech last Wednesday gave us an initial glimpse: with grace and fortitude. She apologized for her loss. She called for a peaceful transfer of power. And she called on Americans to defend "the rule of law, the principle that we are all equal in rights and dignity, freedom of worship and expression." And then she concluded by drawing on her Christian faith: "You know, scripture tells us, 'Let us not grow weary in doing good, for in due season, we shall reap if we do not lose heart" (Galatians 6: 9).

Perhaps for the first time in her life she couldn't be accused of playing politics when publicly testifying to her faith. And now that she was no longer vying for the nation's highest office, her words seemed to resonate, even with those who just days before had harbored deep misgivings about her character and motivations: "If she would have spoken like that on the campaign trail, I think I would have voted for her," I heard from one disaffected conservative Christian voter who, unlike the vast majority of his co-religionists, couldn't bring himself to vote for Trump, but also couldn't cast the only genuine #nevertrump vote, a vote for Clinton.

Having written extensively over the past several months on Clinton's faith, I couldn't resist pointing out that she had in fact spoken that way. Dozens of times. Indeed, she quoted that very verse on the campaign trail, and on several occasions she spoke at length about the centrality of her Methodist faith to her vision and values.

It should come as no surprise, then, that when all is said and done, she continues to draw on that faith. And if history is a guide, it's quite possible that she'll turn to one book in particular as she comes to terms with the outcome of the election: Henri Nouwen's The Return of the Prodigal Son. [HT: JS]
James Pilcher's story on the IRS is disturbing in that the IRS is not to engage in politics like this:
CINCINNATI — A federal judge ruled this month in a lawsuit in the ongoing IRS-Tea Party saga that there was "a strong showing" that the agency had discriminated against conservative groups because of their political stances.

And U.S. District Court Judge Michael R. Barrett wrote in a decision that a particular group suing the IRS "has made a strong showing of a likelihood of success" on its claim that its free speech rights were violated by the delay in processing the application.

He ordered the IRS to continue processing the application from the group, called the Texas Patriots Tea Party, even as the IRS fights the group's lawsuit.

"The Government appears not to see the forest through the trees when it uses the existence of this lawsuit as grounds to continue the delay that is the subject of this lawsuit," Barrett wrote in his Nov. 4 decision. "The evidence strongly suggests that the IRS initiated the delay" because the Texas group was affiliated with the tea party.