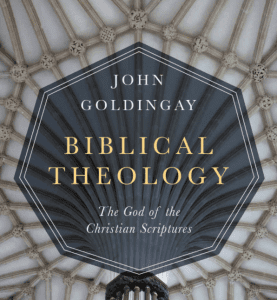 The question is What is God like in the Bible? Let's ask John Goldingay, whose new book Biblical Theology: The God of the Christian Scriptures, presents a "biblical" theology. The topics of his book are all shaped first by God, hence:
God's person,
God's insight,
God's creation,
God's reign,
God's anointed,
God's children,
God's expectations, and
God's triumph.
We could take far more "story" or "narrative" to Goldingay's biblical theology for, as it is, the book is a topical exposition that is not driven by a narrative arc. But his expertise in the Old Testament, his wit (if not at times a little naughty), and his courageous "I tell it as I see it" approach give to this book a singularity worthy of a reading (though few will be able to digest it quickly as it is too dense in information). I like to read Goldingay; I always learn from him; he's almost never an easy read, however.
He begins with God, and not just God, but God's Person, and here are few of the highlights of the opening chapter, which is organized around the following four topics: God's character, One God, God's Spirit, wind and fire, and God's mind and message.
One of his big themes is God's sovereignty and John does not seem to take sides, though he does (and every Calvinist hears it and so does every Arminian, and the open theists are also listening in on his way of saying things):
It is as Yahweh that God is the one who created the cosmos, is ultimately sovereign over everything in the heavens and on the earth, has been revealingly, persistently and self-sacrificially involved with Israel in a way that embodies love but also toughness, is committed to bringing Israel and the world to their destiny in the acknowledgment of him, has embodied himself in Jesus, makes himself known in the Holy Spirit and will be God to eternity as he was God from eternity. 19-20
One of his sub topics is the flexibility of God, and I like that term and category for describing the Bible, which comes clean in the next two clips from his book:
It means God is reliably faithful—loving, compassionate and gracious. Gods life does not change, God's character does not change, God's truth does not change, God's ways do not change, God's purpose does not change and God's Son does not change. But precisely in order to maintain that consistent integrity, God does sometimes say one thing but then do another as a result of the response his declarations receive. 31

Sometimes, then, God simply says what is going to happen and it happens. Sometimes God acts in interaction with human decisions. Sometimes the sequence is broken without any indication that anyone repented. Yahweh declares that Nebuchadnezzar will destroy Tyre but later notes that Nebuchadnezzar has been unable to do so, and therefore tells him he can have Egypt instead (Ezek 26-28; 29:17-20). There have been occasions when Yahweh could use Assyria, Babylon and Persia as his agent in bringing trouble or deliverance to Judah, but in Isaiah 63:1-6 he laments the fact that lately there has been no one available, so he is being driven to act himself. And further, within the time period to which the book of Isaiah belongs there was no subsequent action that could count as the implementation of that undertaking. There were even occasions when God wrestled with Jacob and Jacob won (Gen 32:25-31) and when God tried to kill Moses and didn't succeed (Ex 4:24). 31
Not a new God, but something fresh — the ambivalence is clear:
It is thus possible both to declare that the New Testament simply reaffirms the understanding of God that emerges from the First Testament and reveals nothing new about God, and also that it radically redefines God. 35

Christians ended up believing in the complicated, mysterious and apparently illogical doctrine of the Trinity because for all its disadvantages, it was the best way of making sense of the account of God in the Scriptures. 37
He touches on next to everything, including God and gender:
To say that God is Father is not to say that God is male rather than female. Fatherhood is a metaphor, and metaphor involves overlap, not identity between one thing and another. We have to let other metaphors guide us in seeing how far a metaphor can be taken. The First Testament gives God more or less all body parts, but not genitals, though it does attribute to God breasts and a womb. Describing God as Father and giving God motherly characteristics ascribe to God some important characteristics of both forms of parenthood. Calling God "he" designates God as a person, not a thing; it does not designate God as male rather than female. Of course in a particular cultural context (e.g., that of the West in the twenty-first century) such descriptions may have other resonances, and we may need to be careful about how we use them in order to avoid giving the wrong impression. 39
Back to the sovereignty question, and this time with the issue of change:
In what sense do the Scriptures suggest that God is all-powerful or omnipotent or sovereign? 42

When challenged, Yahweh responds by ' saying. "Sorry (except that he doesn't say 'Sorry'), but the world doesn't revolve around you. You just have to live with what's happened in light of the evidence that on the whole I'm not doing too bad a job of running the world" (Job 38-41). At the same time, for people who love God, he "makes all things work together for good" (Rom 8:28).84 The test of God's sovereignty lies not in things that happen but in what he does with things after they happen. 43

God's sovereignty means that God alone initiated the project that brought the world into existence and that God alone will bring it to its consummation. 43

God does not operate like the pilot of a drone. So God's acts may precede or follow human acts, or may mysteriously work along with them. 45

God's sovereignty involves a self-denying willingness for people to disobey. The all-powerful nature of God means that God can make things happen and can stop things happening; he could have stopped Eve taking the fruit from the tree, but he didn't do so. God had the capacity to send legions of angels to rescue Jesus (Mt 26:53), but he didn't do so. 48
What about God as Spirit?
The notion of the spirit as a force field conveys effectively the spirit's nonpersonal nature, though not the spirit's personal nature. The spirit also teaches and guides (Neh 9:20; Jn 14:25-26), meets opposition (Is 63:10; Acts 7:51), inspires prayer, praise and prophecy (Joel 2:28; Acts 2:17-18; Eph 6:18), appoints overseers (Acts 20:28), speaks (Acts 28:25), testifies (Rom 8:16), intercedes (Rom 8:26-27), investigates, knows and teaches (1 Cor 2:10-13), and can be lied to and grieved (Is 63:10; Acts 5:3; Eph 4:30). The spirit's presence needs to be a personal one if there is to be some equivalence between saying "I am with you" and saying "my spirit is with you." 67
And the embodiment of the Son in the incarnation?
God had always been the kind of person who would eventually become incarnate and would give himself to die for the world. In a sense there is nothing new about the gospel message. It goes back to the very Beginning. 69
Back to sovereignty and providence:
The Scriptures do not picture all the events in the world as working out in accordance with a master plan of God's (it would have to have been a very odd plan). They do speak of God making plans from time to time and implementing them, though they portray God doing so in interaction with the human beings who are crucial to the plan. 71
Christology comes into view here:
Jesus is the very embodiment of that rational principle that underlies the universe, the very embodiment of insight. He is also the very embodiment of the message. The New Testament's message is not merely about some truths or even merely about a person. The message is a person; the person is the message. This message/messenger has always lived close to God, lived in close communication with God, channeled God's grace and power. Indeed he shares in God's being. When you meet him, you may eventually realize you have met God. He channels God in person. The messenger-message is divine (this translation may convey better John's point than the translation "he is God," which would imply he is the Father). 72