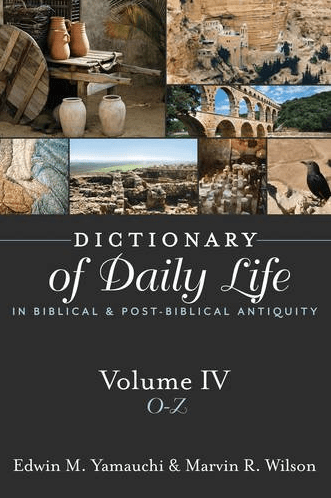 Though I have already sent up the flagpole my selections for the Books of the Year, I want to announce that a dictionary set is now complete, and I cannot emphasize enough how substantial and valuable this set is.
Edwin M. Yamauchi and Marvin R. Wilson have chosen and co-edited the entries of a variety of experts on a variety of themes connected to the intellectual, social, and historical background of daily life in antiquity.
The title: Dictionary of Daily Life in Biblical and Post-Biblical Antiquity (4 vols now complete).
This is a set that should not adorn your shelves so much as be worn out by consultation and use — and if you see how the topics are broad you will see just how valuable the approach of this dictionary can be to pastors, to students, and to professors.
I mentioned this in past years on the Jesus Creed Books of the Year, so I can't nominate it again, but just in case  you are wondering: my favorite set of the past few years is this wonderful dictionary.