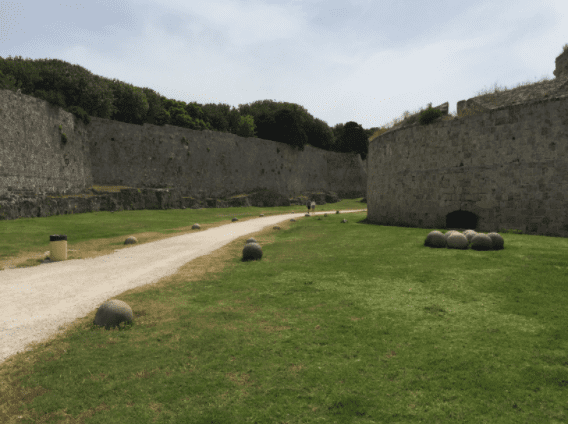 That's one serious moat (Rhodes Greece).
Folks, there is a connection between the shooting of the young Jordan Edwards and what happens in the stands of Major League Baseball stadiums, and I'm glad the Cubs are speaking:
Jason Heyward briefly looked at a television show discussing the racial slurs directed at Orioles center fielder Adam Jones at Fenway Park and shook his head before heading to the batting cage.

"You hear stuff, you hear stuff," Heyward said Tuesday when asked if similar slurs were directed at him during the Cubs' visit to Boston last weekend.

Heyward added later, "Nothing shocks me. … It's not the only park. I'm not too surprised."

Heyward said he received taunts after making a spectacular catch in San Francisco while lying on the ground for several minutes. He suffered injuries to his right torso and abdomen.
Think your 18-year-old who has just picked their college is some kind of brainiac?

Then consider Indiana's Raven Osborne.

Osborne, who has been taking college classes part-time, is about to graduate from college — before she gets her high school diploma.

And now she is going to be a teacher at the same high school.

Osborne, a senior at the 895-student 21st Century Charter School in Gary, will earn a bachelor's degree in sociology with a minor in early childhood education from Purdue University Northwest on May 5, then graduate from high school on May 22.

"Yeah, they think I'm lying," Raven told CBS News.

It's true. According to the Big Ten Network (BTN), Osborne began taking classes at a local community college as a freshman and soon earned an associate's degree in general studies. Then, encouraged by her mother, Hazel Osborne, and 21st Century's president and superintendent, Kevin Teasley, she decided to become the first in the school's history to earn a bachelor's degree while still enrolled.

"When I was a younger, I was labeled with a learning disability," Osborne told the Northwest Indiana Post-Tribune in 2016.

Osborne told the Post-Tribune it was tough taking both high school and college classes and that there were times when she wanted to quit, but her mother constantly encouraged her.

"My mother always told me I could do whatever I wanted to do in life," she told the paper.
Hiring in the United States rebounded in April as employers added a brisk 211,000 jobs, a sign that the economy's slump in the first three months of the year could prove temporary.

The unemployment rate dipped to 4.4 percent — its lowest point in a decade — from 4.5 percent in March.

The figures suggest that businesses expect consumer demand to rebound after a lackluster first quarter, when Americans increased spending at the slowest pace in seven years, and will need more employees.

Still, average paychecks grew more slowly in April, increasing 2.5 percent over the past 12 months, below March's year-over-year gain. Typically, employers are forced to pay more as they compete for a smaller pool of unemployed workers. Hourly pay gains are usually closer to 3.5 percent in a strong economy.

Some evidence suggests that economic growth is rebounding in the current April-June quarter, with some economists forecasting that it could top a 3 percent annual rate, compared with the first quarter's 0.7 rate. Last quarter, consumers spent less in part because of low utility bills during an unseasonably warm winter. That's likely to prove a temporary restraint.

And the housing market is reaching new heights as home sales and construction march upward even though a limited number of properties are for sale. Sales of existing homes jumped in March to their highest level in more than a decade.

Still, average hourly pay has remained well below the roughly 3.5 percent annual pay gains typical of a healthy economy. Inflation has also picked up, eroding even that limited income growth. With the unemployment rate low, companies may eventually have to pay more to attract and keep employees.
You know our culture's tech obsession has gone too far, when even the man who created the modern computer industry says we should get our kids offline.

Bill Gates has spoken out in an interview saying he doesn't think children should be allowed to own a smartphone until they're 14.

The move has been lauded by technology and parenting experts, who have argued that parents should resist the urge to indulge children in tech for as long as possible.

The world's richest man for the fourth year running has said he and wife Melinda banned their three children from owning phones until they were 14.

Bill and Melinda also set limits on screen time, so as to allow more time talking with family.

Speaking to a British newspaper, the billionaire touched on their set of rules and the discipline enforced.

"We don't have cell phones at the table when we are having a meal, we didn't give our kids cell phones until they were 14, and they complained other kids got them earlier," he said.

"We often set a time after which there is no screen time and, in their case, that helps them get to sleep at a reasonable hour.

"You're always looking at how it can be used in a great way – homework and staying in touch with friends – and also where it has gotten to excess."
If you had my knees you wouldn't say this! 😉
They're the perpetual complainer.

For the sake of this article, we'll call our friend negative Nunny. (*feels androgynous enough, right?).

Most of us are able to adjust to Nunny. We've become accustomed to our role as the sounding board, and often overextend ourselves to work with their schedule so as to not be the cause of new negativity / stress. After all, we love and understand Nunny.

Unfortunately, this relationship begins to wear on you over time, sucking your energy and leaving you feeling empty. There are a couple different types of draining energies but all of them stream from one core value: Negativity.

Drain Types

The Venter:  This person is always displeased, but doesn't welcome solutions to remedy the issue at hand.
The Chronic Complainer: These folks "ruminate Instead of feeling a release after complaining, this sort of complaining can actually make things worse. It can cause even more worry and anxiety.
The Sympathy Seeker: The "woe is me" drain type may be the worst of all. No one has it as bad as they do.

According to Clemson University Professor of Psychology, Dr. Robin Kowalski, everyone complains from time to time, but should try to minimize it as much as possible. Bouts of negativity are normal and encouraged to reset our systems. But what you want to be mindful of, is if you are being excessively negative. Remember this: negativity breeds negativity.

Most of us unintentionally reinforce the nasty habit of complaining, by virtue of… complaining.

Negativity Rewires Your Brain

Donald Hebb, a Neuropsychologist, hypothesized that neurons which fire together, wire together. Meaning groups of neurons connect in our brain as a result of particular life experiences.

Whenever we think a thought or have a feeling or physical sensation, thousands of neurons are triggered and form an internal neural network. The brain learns to trigger the same neurons with repetitive thinking.

That said, we become what we think and say. If you focus on feelings / thoughts of criticism, worry, and victimization, it is much easier for your brain to call those things to the surface. This can lead to serious depression and anxiety.
We all have that one person in our lives. The one that is spews negativity, regardless of circumstance. The one that everyone tiptoes around in social settings so as to not be the cause of their momentary disdain. They're the eternal pessimist. They're impossible to please.
The Archdiocese of Kansas City says it is severing its years-long relationship with Girl Scouts in nearly two dozen Kansas counties because the organization promotes materials "reflective of many of the troubling trends in our secular culture."

"The decision to end our relationship with Girl Scouting was not an easy one," Archbishop Joseph F. Naumann said in a statement released Monday. He asked pastors to "begin the process of transitioning away from the hosting of parish Girl Scout troops."

Instead, he calls for chartering American Heritage Girls troops, which he describes as "based on Christian values." According to its website, the organization was formed in 1995 by a former Girl Scouts volunteer who was "uneasy with the way her troop was asked to handle matters of faith."

Now, local pastors will choose whether to end Girl Scout programs immediately or "over the next several years, 'graduate' the Scouts currently in the program."

Girl Scouts of the USA identifies as a secular organization with ties to faith, and the national organization and the Catholic Church have had a relationship that dates back a century

"A few within the Church, instead of aligning with the Church Hierarchy's positive position on Girl Scouts, have chosen to propagate misinformation that the Catholic Church has acknowledged to be false," the Girl Scouts national organization said in a statement following the archdiocese's announcement. "Girl Scouts is always willing to work with any and every person or organization in order to fulfill our mission of building girls of courage, confidence and character, who make the world a better place."
Quadruplets from Ohio will attend Yale University together this fall.

The Wade brothers had their pick of top schools including Harvard and Stanford, but chose Yale because they were offered sizable financial aid packages and had great visits at the school, AP reported. The brothers attend Lakota East High School in Liberty Township, Ohio.

Nick, Nigel, Zachary and Aaron Wade unveiled their decision on the Today show Monday morning. The foursome removed their jackets to display T-shirts with Yale on the front.

And while it might seem like an unusual circumstance, this isn't the first time Yale has had quadruplets choose its campus over other schools.

In 2010, quadruplets from Connecticut chose to attend Yale, after also receiving offers from other desirable schools, the New York Times reported. 

Congrats!
CINCINNATI — As they waited for their adoptions to be finalized Thursday, the six siblings sat on a courtroom bench.

All six were smiling.

When Hamilton County (Ohio) Probate Judge Ralph "Ted" Winkler offered them a chance to speak, several of the oldest did.

"I'm happy that I'm here because everything is wonderful," said 12-year-old Cayley, one of the two girls. "This is just what I wanted."

Related: Adoption proves no less exhausting for couple who tried it all

Her brother Caleb, 13, said: "I would not know where I'd be right now if it wasn't for the Sanders. We (were) having a rough life, before."

The Sanders are Christina and Christopher Sanders — a Forest Park, Ohio, couple who in 2014 took in the four boys and two girls as foster parents. All six adoptions were finalized in a courtroom packed with family members, Hamilton County Job and Family Services workers as well as teachers and officials from the schools the children attend.

The children were the Sanders' first placements as foster parents.

"We just made the agreement — whoever we get, we will keep 'em," said Christina Sanders, 41, a nurse for TriHealth. "It was rough but we did it. And we are happy we did."
Parents, do you know about Amazon Student Prime?