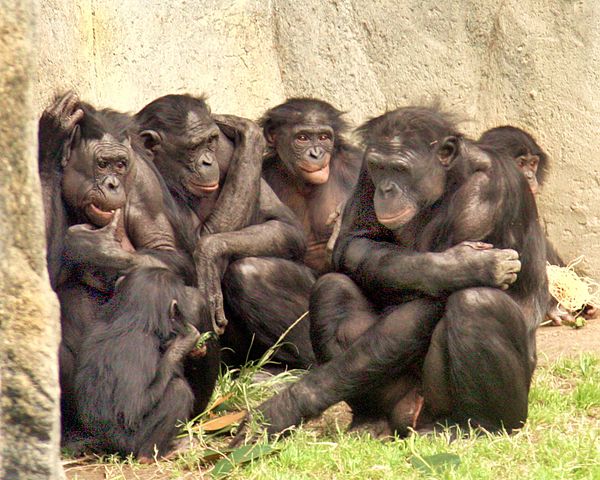 I am saddened to hear that my friend Michael Cromartie has died of cancer. A noble life.
Michael Cromartie, a Washington networker who helped rebrand America's image of Christian political engagement, has died of cancer at age 67.

The news of his death was reported Monday on Twitter and confirmed by colleagues at the Ethics and Public Policy Center (EPPC), the DC-based conservative think tank where he served for more than 30 years.

Cromartie brought Christian thought leaders and secular journalists under the same roof at the Faith Angle Forum, held every year since 1999. Through his work as EPPC vice president, he evoked theologians and philosophers as he advocated for thoughtful engagement in public policy and civil discourse.

In a political arena often dominated by competition, power grabs, and culture war debates, Cromartie stuck out by offering a friendlier, humbler approach. It's this attitude that his colleagues remember most and cite as his greatest legacy.

"It can't be said of many people, but everyone Mike touched was influenced for the better," said Michael Gerson, a Washington Post columnist and former speechwriter for President George W. Bush. "His passing leaves a huge gap in American public life and in the lives of his friends.

"Mike was a man of great knowledge who made it accessible to others," Gerson told CT. "He was a man of great faith, who make it real and attractive to others. And he was a man of exceptional decency, who demonstrated how to live with joy and integrity."

See also here.
(CNN)NFL player J.J. Watt has one message for victims of Hurricane Harvey, "we have your back."

The Houston Texans defensive end said Thursday he has raised more than $13 million for

Houston flood relief

.

He started raising funds on Sunday with a goal of $200,000 and met that target within just two hours.

"The initial night, we broke the site, we couldn't figure out how to get it back up and we somehow found the CEO's phone number and called him at his house and got him out of bed," Watt told CNN's Anderson Cooper on "AC360." "He helped us fix the site and it got rolling."

The four-time Pro Bowler continues to surpass and raise his targets. After

Watt reached $10 million

, he told Cooper that he set a new goal of $15 million and then will see how much more he could raise.
Mark Yarhouse and a Nashville Statement Alert.
When I wrote Understanding Gender Dysphoria, which was published in 2015, I noted that transgender presentations were a wave that was going to crest on evangelicals and that the church was not prepared for it. I noted that we needed to think deeply and well about gender identity and to engage with some humility what we know and do not know from the best of science, as well as learn from mistakes made in how evangelicals engaged the topic of sexual identity and especially how evangelicals treated the actual people who were navigating sexual identity and faith. I was suggesting we could learn from that experience and make some adjustments as we encounter the topic of gender identity.

I'm afraid the Nashville Statement, perhaps out of a desire to establish the parameters for orthodoxy on gender identity concerns, gets ahead of evangelicals because it doesn't reflect the careful, nuanced reflection needed to guide Christians toward critical engagement of gender theory, while also aiding in the development of more flexible postures needed in pastoral care.

The statement evangelicals need today is one that guides the church toward a flexible posture, grounded in Scripture, that allows for a range of gestures based on the needs associated with ministry and cultural engagement.
There's little debate about the fact that a plant-based diet is the healthiest around, both in terms of physical health and brain health. But a new studysuggests that a vegetarian diet may, counterintuitively, be linked to depression. Though there are some limitations to the new research (namely, that it was in men only), there's one reason that it may be right on: Vegetarians and vegans may be low on the vitamins, minerals and fatty acids that are essential to neurological function. So the study may at least be a good reminder to add back what you may be lacking, either with food or with supplement.

The authors, from the University of Bristol and the NIH, looked at data from 9,700 men in Britain—all were the husbands of pregnant women taking part in a long-term study on parent and child health. The men indicated whether they were vegetarian and vegan, and filled out questionnaires about the specific makeup of their typical diets.

Men who were vegetarian/vegan, of which there were only 350 total (the team lumped the two groups together, since there weren't many vegans), were more likely to have depression than non-vegetarians, and more likely to have a higher depression score. Even after adjustment for potential confounding variables (like family history, number of children, job status, and so on), the connection still held. There was also a slight connection between the number of years one had been vegetarian and the severity of one's depression, but that link wasn't statistically significant.

Despite the obvious health benefits of vegetarianism, there are some good reasons that vegetarians and vegans might be prone to depression. Their intake of omega-3 fatty acids, vitamin B12 and folate may be lower than meat eaters', the authors write, and deficiencies of these have all been associated with depression. The same may be true for iron and zinc. Additionally, the authors suggest that vegetarians may have a higher intake of omega-6 fatty acids, which have been shown to increase inflammation and have also been linked to depression. Vegetarians and vegans may also consume more plant estrogens, particularly if they eat a lot of soy products. Finally, the authors suggest that vegetarians and vegans may take in higher levels of pesticides, assuming their intake of plant-based foods is higher than average.
"We're out on the field getting the Tigers ready for another successful run at a state title," chirps the voicemail for the Katy High School athletics department.

Before being asked to leave your "growl" and "pawprint," you'll learn what the school's marching band sounds like, the number of national (three) and state (eight) football championships the Tigers have won and that Gary Joseph serves as both the head of the athletic department and the head football coach—all without anyone answering the phone.

It's an understatement to say football is important to the Houston suburb, and if the impressive voicemail greeting doesn't convince you, consider the $72 million the district just spent on a new stadium. Yes, for high schoolers.

Legacy Stadium is the most expensive stadium in Texas (and thus, U.S.) high school history. It's the latest entrant in what the local media refers to as a stadium "arms race."

The 12,000-seat stadium, complete with luxury boxes and a giant video replay board (which alone cost $2 million), was built alongside the district's old stadium (est. 1981) to provide for its eight high schools, each of which have around 3,000 students.

"Everybody in this community agreed that another stadium was needed—there was just a difference of agreement, maybe, on the cost and the size of the stadium," Katy Independent School District Superintendent Dr. Lance Hindt told press before the stadium's opening, alluding to the possibility that the end cost was higher than the $58 million bond approved by taxpayers in 2014.

Katy is making headlines now, but bank-breaking stadiums are becoming the norm around Texas, turning the Friday night games many non-Texans imagine as a charming, pastoral tradition into big business. Most stadiums due to open in the next couple of years have $45 to $70 million price tags, and that's before inevitable construction overages.
Since 2005, the Washington Monthly has released an annual College Guide and rankings, where we rate schools based on what they are doing for the country. It's our answer to U.S News & World Report, which relies on crude and easily manipulated measures of wealth, exclusivity, and prestige to evaluate schools.

We rate schools based on their contribution to the public good in three broad categories: Social Mobility (recruiting and graduating low-income students), Research (producing cutting-edge scholarship and PhDs), and Service (encouraging students to give something back to their country). We also offer our "Best Bang for the Buck" rankings — our exclusive list of schools that help non-wealthy students attain marketable degrees at affordable prices. For the second year in a row, we rank the best colleges for adult learners, the first-ever ranking of its kind. More rankings information, including methodologies, can be found here.
The remarkable journey of the Wade quadruplets begins a new chapter as they start their freshman year at Yale University.

TODAY got an exclusive look Wednesday as Zach, Aaron, Nick and Nigel Wade settled into life in the Ivy League after all deciding to attend the same prestigious university.

"Although we are a support group for each other if we need to be, we also came to Yale to kind of find our own personalities, our own group," Nigel told NBC's Thomas Roberts.

The quadruplets from Liberty Township, Ohio, appeared on TODAY in April when it was revealed that they all had the impressive distinction of being accepted to Harvard and Yale, not to mention other top schools like Stanford, Johns Hopkins, Vanderbilt, Duke, Cornell and Georgetown.

Born four minutes apart from one another, the brothers decided to stick together when it came to college, announcing in May that they would all be future Bulldogs and make New Haven, Connecticut, their home for the next four years.

There were 32,900 applicants for the Yale Class of 2021, and the Wades were four of 2,272 accepted, according to the Yale website. The 1,550 incoming students make it the largest freshman class in Yale history.
HOUSTON – A Houston furniture store owner is being praised after he decided to open his doors to those displaced by Tropical Storm Harvey.

Jim "Mattress Mack" McIngvale opened up two of his showrooms to shelter some of the tens of thousands of people whose homes are now under water.

"We've got lots of beds, we've got lots of food, we've got water and you can even bring your animals," McIngvale said in a Facebook video Sunday. He even gave out his personal cellphone number and told people, "If you need something, call and we'll try to get you whatever help we can."

Mattress Mack's Twitter photos show dozens of people resting on the display furniture with the message, "If you can safely join us, we invite you for shelter and food. God Bless."

On Sunday, the furniture chain posted on Facebook that they were using their biggest trucks to rescue people stranded by the floods.