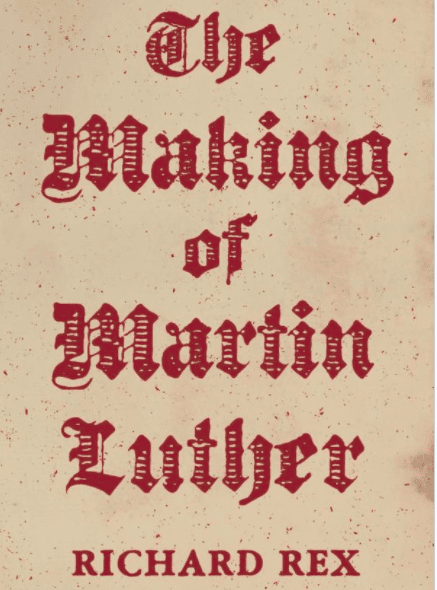 In Richard Rex's new book, The Making of Martin Luther, we are treated to an accessible opening study of the best scholarship on the claim (and myth) that Martin Luther nailed (or used wax, as a friend mentioned to me) his 95 theses to the door of the church in Wittenberg to establish a public disputation about them. Rex says, "Hold on, folks, that story symbolizes Luther's significance but it almost certainly didn't happen."
You might well be asking, Does it even matter? I'll get to that.
Here are some lines from Rex's argument, which is hardly innovative in Luther scholarship:
On 31 October 1517, Halloween, the eve or vigil of the Feast of All Saints, as everyone knows, a young German friar purposefully made his way to the Castle Church in the Saxon university town of Wittenberg and nailed to the door one of the most famous protests of all time—the "Ninety-Five Theses." Within weeks, Martin Luther and his bold challenge to the authority of the Catholic Church were the talk of Germany; before long, the talk of Europe. The Ninety-Five Theses themselves, ninety-five pointed and often witty barbs poked into the religious practice of the "indulgence," were originally composed in Latin as the basis of a formal public disputation or debate in the university, but they were soon translated into German ' and put into print, the medium that enabled them to spread like wildfire.

Bizarrely, there is almost no reliable evidence for this wellknown story—though there were ninety-five theses. T i. There is no credible evidence that Luther actually went and nailed them to the church door that day, and every reason to believe that he did not. … Luther himself never refers to such an episode, and there is simply no mention of this story anywhere until after his death. It has all the hallmarks of myth.

Luther was indeed a rebel, or became one: a quiet conformist could never have achieved what he did. Yet he was a reluctant rebel, who was drawn from cover only gradually, as circumstances brought him to acknowledge the initially unthinkable idea that the teachings he was deriving from the scriptures were utterly incompatible with the teachings and practices of the church structure of which he had imagined himself to be an obedient servant. He showed unusual courage over the ensuing half a dozen years, during which he emerged as the charismatic leader of a mass movement in Germany and shattered, forever as it turned out, the medieval Christian unity of Europe.

Luther's own recollections of the events surrounding the Ninety-Five Theses suggest a rather different story. When he was in his pomp, in the 1530s and 1540s, holding court in the former house of the Wittenberg Austin Friars, which his sovereign prince, the Elector Duke Frederick of Saxony, had given to him as his family residence once the brethren had all abandoned the communal life, a devoted circle of students and friends gathered daily at his table to catch his words of wisdom. … And there is nothing about church doors or hammers and nails.

Nor is there any indication that Luther sent out his theses in a search for instant publicity and notoriety. His letters were quietly dispatched to the episcopal chanceries, where, like so many unexpected and unaccustomed communications that reach busy offices, they sat for a while, as people fitfully wondered what, if anything, should be done about them.

The earliest appearance of the popular legend is found in the preface contributed by Philip Melanchthon to the second volume of Luther's Complete Works, published in 1546. The second volume appeared after Luther's death, and Melanchthon, his long-serving right-hand man and close friend, wrote a brief life of his mentor to form the preface. It is in this little biography that we first find the story:

Luther, burning with pious zeal, issued the propositions on indulgences (which appear in the first volume of his works). And on the eve of the Feast of All Saints 1517 he publicly posted them up on the church that is next door to the castle in Wittenberg.

The Ninety-Five Theses, then, were mailed to the Archbishop of Mainz, and perhaps also to one or two other bishops, on 31 October 1517, and proceeded to languish in bureaucratic obscurity for a month or so. … In January 1518, then, the theses became known across Germany in weeks. Within months, they were known across much of Europe.
Does it matter? I think not. As a non-specialist in this material the absence in Luther himself is telling, but those lines are Melanchthon are more than a little interesting. Could Melanchthon have been a bit confused on this story? Yes, I think that's quite possible (and Rex explains why).
Tell the story or not tell the story, the facts are clear: Luther had a plan to oppose the Roman Catholic establishment on indulgences and other items; he wrote them out in a way that prepared him for public discussions; he accomplished that. The Door Story tells the deepest reality of Luther's Reformation opening.