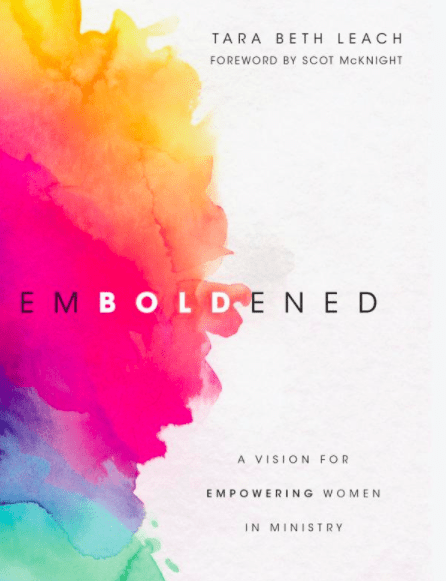 It's worth turning your attention to (Northern Seminary's) Tara Beth Leach's new book, Emboldened. Why? Some women in your church are called and need to be emboldened; those who are called and recognized will need to be emboldened. Tara Beth brings her story and her pastoral calling at Pasadena Nazarene into each of these chapters.
I urge you to purchase and read this book, and I urge you especially to have a copy ready to give away to women who are wondering if they are called into ministry.
In my first term as a professor at Northern Seminary there was a young woman, Tara Beth Leach, in my class. She was clearly engaged in every topic and wrote papers that captured my interest because they not only examined the Bible carefully but saw the implications of her papers for the church. I had Tara Beth in a few more classes and her work was such that I then asked her to be my graduate assistant. Kris (my wife) and I have walked with and prayed for Tara Beth over every one of her moves in the last five years but her recent move to pastor First Church of the Nazarene in Pasadena (PazNaz) revealed the giftedness Tara Beth has. When she preaches and when she leads she is doing what God has called her to do.
Over four years at Northern Seminary we had many conversations about women in ministry and how best to embolden gifted women in their ministries, and one of our discussions led to this: avoid justice, emphasize giftedness. So many have an instinct to turn the discussion about what the Bible teaches about women and ministry into a fight and the first card laid on the table is "justice." For many it expresses something profoundly deep but for church folks it sounds like politics and culture wars. I myself do believe silencing the voice of women is an injustice but not just to women: it is an injustice to what the Bible actually says and so therefore it is an injustice to the women whom God has gifted. But instead of pulling that argument out of the bag, it is far wiser, far less inflammatory and far more compelling for a woman to teach or preach or exercise her gift. Justice will become obvious when the woman's gifting is obvious.
Another of our discussions prompted this observation: males on the platform need to slide over and give women a place. It's a fact today that males are in power – and define that term in positive or even negative ways but power is at work – and for gifted women to exercise their gifts requires the permission of males. Yes, that's exactly what I mean: males are on the platform and the only way for a woman to gain access is for males to move over. Cruciform – a word that tumbles off Tara Beth's tongue often – leadership requires males to surrender their power to anyone gifted, including women. Perhaps this foreword can encourage males in power to consider how they might make room for women on the platform. Power in the hands of a cruciform leader becomes transformative power. Instead of authority over someone or creating hierarchical structures, cruciform power emboldens others.
Once a denominational leader told me he couldn't relate to a chapter I had written because every story in the chapter was about a woman. I gulped, took a deep breath, and tried to avoid blurting out the obvious, but this was the question: How do you think women feel almost every Sunday in most evangelical churches? The stories male pastors tell are far more often about males, and if that denominational leader would be hold up the mirror he might see that stories about women are necessary too. How can young gifted women know there is a place for them on the platform if they don't hear stories about women ministering? Tara Beth tells stories of women and the stories of women will provide for readers of
Emboldened
examples of women exercising their gifts.
Tara Beth and I agree 100% on the most important topic of conversation: What did women do? That is, instead of narrowing our debates to some restricting texts in the New Testament – like 1 Timothy 2:8–15 – and fighting over the meaning of words and the confinement of women, why not turn our attention to texts in the whole Bible to see what women did in the Bible? Surely Paul's words in 1 Timothy will not undercut what women had done, what women were doing in his own mission in his own day, and what women would be gifted to do! What we find is women ruling and judging and leading and prophesying and discerning and announcing and teaching and being apostles and deacons.
Those women did what they did because they were emboldened by the Spirit of God and the church's reception of the Spirit's gifting. Tara Beth has chosen the right word to describe not only women who have gone before us, what God is doing among women today, but also what especially church leaders need to be doing today: embolden the woman as a way of letting the gifts of God be given to the people of God.
As Tara Beth's former teacher and as a representative of Northern Seminary, we are all proud of her. Not because she's gone where few have gone but because she has received the gifts of God and is using them for God's glory.