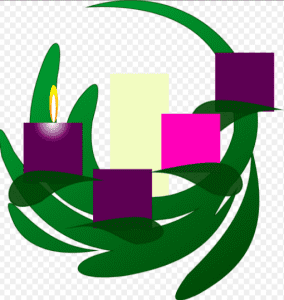 David Ayres is the Associate Minister at Golf Course Road Church of Christ in Midland, Texas. David and his wife, Kristen, have been married 9 years and have three children: Ava (8), Jacob (5), and Matthew (9 months).
The Spirituality of Advent #1
Are You Ready?
This week marks the beginning of Advent, the season when the Church hits the "replay" button on our defining narrative. Despite centuries of re-telling, it's a story that never loses the sharp edge of its urgency. Advent is the Church's yearly wake-up call because Advent, at its best, is a season of confrontation.
Confrontation might not be the first word that jumps into a season typically characterized by a "holy infant so tender and mild," but behind the traditional images of Bethlehem, there is a reality that comes shrieking into human history with ear-piercing provocation. Advent is a God-induced crisis that reveals our true allegiances and forces us to pick sides. Advent is a line in the sand.
The Church has long recognized the confrontational nature of Advent, which is why some of the most important Advent texts aren't part of the Christmas story at all.
We only get the Christmas story in two of the four Gospels. In Matthew, a group of Magi follows a celestial GPS system as they carry extravagant gifts for a newborn king. In Luke, a flash mob of angels convinces a few poor shepherds to look for a baby in a feeding trough. But neither Mark nor John ever mentions the birth of Jesus. John begins with the incredible claim that the Word became flesh, but he avoids any mention of the nitty-gritty details of when or where that took place. Meanwhile, Mark just jumps right into the middle of the story. The narrative of Christmas, memorialized in our nativity scenes, is nowhere to be found in two of the Gospels. But the story of Advent is present in all four Gospels. Because all four Gospels introduce the story of Jesus with the story of Jesus' cousin.
If Advent had a mascot it would be the camel-hair wearing, locust-eating, water-baptizing prophet named John the Baptist. If anyone personifies the spirit of Advent, it's John the Baptist. And the reason for this is simple: his entire preaching ministry can be summed up in two words: Get. Ready.
Like many couples, when my wife and I got married, we each had something engraved on the other person's ring. We wanted it to be a surprise so we agreed that we would not find out what was engraved on our rings until our wedding day. On our big day, my wife found the phrase "I do," on the inside of her ring – I'm sure you are astounded by my creative genius. On the inside of my ring, I found something much more profound. My wife had engraved one word on the inside of my ring: "Ready."
That word was profoundly meaningful because it wasn't entirely clear that we were
,
in fact, ready for this big, lifelong commitment to one another. We got married young. I was just 20-years-old on our wedding day. We had to use sparkling grape juice for the toasts at our reception!
Thankfully, we took our relative immaturity seriously. The months before our wedding were intensely self-reflective and, at times, intentionally confrontational. Although it was sometimes painful, we needed to adopt new attitudes and behaviors that would match our (quickly approaching) new reality. We needed to prepare ourselves for a new kind of life.
And that's exactly where John the Baptist steps into the picture of Advent. His proclamation of God's (quickly approaching) kingdom is wonderful news – God is about to reach into the picture and rescue his people. But this divinely secured future is no excuse for passivity. Rather, it is the impetus for a new level of intense self-reflection – when God changes everything, will I be ready to change too?
In one of his more provocative moments, John the Baptist insults a group of people who have come to him to be baptized by calling them a "brood of vipers" (try that on your next baptism Sunday!) but then he goes on to give them this telling advice:
10 "What should we do then?" the crowd asked.
11 John answered, "Anyone who has two shirts should share with the one who has none, and anyone who has food should do the same."
12 Even tax collectors came to be baptized. "Teacher," they asked, "what should we do?"
13 "Don't collect any more than you are required to," he told them.
14 Then some soldiers asked him, "And what should we do?"
He replied, "Don't extort money and don't accuse people falsely—be content with your pay." (Luke 3:10-14)
As I said, Advent is confrontational! The text doesn't say it but I like to imagine that, after saying all of this, John the Baptist led the crowd in the third verse of O Holy Night…
"Truly He taught us to love one another
His law is love and His gospel is peace
Chains shall He break for the slave is our brother
And in His name all oppression shall cease."
God is about to change everything, and that is amazing news. The question is, are you ready?