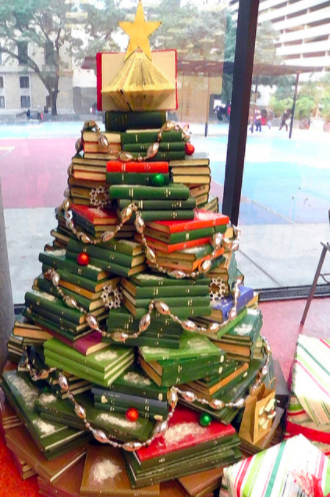 The original St Nicholas… has he been found? In Turkey.
Children look away now! For Turkish archaeologists believe they have found the tomb of the original Santa Claus, otherwise known as Saint Nicholas.

An intact tomb has been found underneath Saint Nicholas Church, in the Demre district of Turkey's south-west province of Antalya.

Demre was built on the ruins of Myra, where St Nicholas was thought to have lived in the 4th Century.

Until now, the bones of St Nicholas were believed to be in Bari, Italy.

It had been thought they were taken by Italian merchants in 1087 when Myra – at the time a Greek town – was invaded by the Seljuk Turks.

By then St Nicholas was already revered among Christians for his generosity, in particular to children, and his humility.

The church of St Nicholas in Demre is a popular destination for pilgrims as the site of St Nicholas's final resting place, and archaeological excavations have been taking place there for 20 years.
Speaking of St Nick, how about this one?
Online scammers with an arsenal of cyberbots are stealing Christmas by buying up the most popular toys of the season and selling them for a hefty markup on third-party sites such as Amazon and eBay.

While the demand for the hottest toys is particularly high this time of year, shoppers are competing against a growing army of bots. For years, scalpers have taken advantage of software robots to scoop up event tickets, but now scammers are employing the same tactics to cheat Christmas shoppers, says MSNBC anchor and economics correspondent Ali Velshi.

"Regular people could never buy them at face value," he tells Here & Now's Robin Young. "The idea that it was bots — scalpers using algorithms — to buy up all the tickets in the first place, and then sell them either via a third-party vendor or independently to people, and this has now moved its way into the hot holiday toy sales industry."

Sen. Chuck Schumer is calling on retailers to crack down on "Grinch bots" that use complex software to identify the product page of a popular toy before it even goes on sale. The program rapidly purchases thousands of products before customers have time to buy them. Oh, the Whomanity!
Mike Adamle's struggle with CTE:
In the kitchen of his Evanston home, he was waving his arms, telling jokes like a late-night host, reciting an old football poem he wrote, "The Ballad of Special Teams," and rattling off phrases in Spanish, Russian and Korean.

Adamle, a retired NBC5 sports anchor and former Bears running back, doesn't seem like someone who's exhibiting the symptoms of chronic traumatic encephalopathy, the crippling brain disease that has affected many football players.

But the Mike Adamle who can command a room is just the surface.

Adamle's neurologist, of Rush University Medical Center, said Adamle has post traumatic epilepsy, which is "caused by sort of a bruising of the brain, and that happens with concussions."

"He has had behavioral changes, he has had mood changes, he has judgment changes. He has had cognitive and memory changes. All that's consistent with CTE," Smith said.

Adamle's wife, Kim, said her husband's life has changed dramatically in the last few years. She relates a story from last winter that illustrates how one loose thread can leave him unraveled.

"Mike's able to be pretty independent, right," she said. "He hasn't been able to drive for a year and a half but he can take the train, go down to the East Bank Club (gym), and use his CTA card to come back.

"Well … he's downtown, he can't get on the train, and he lost his card. So what does he do? He starts walking. … He's telling me this, and he goes, 'I can't get an Uber. … My Uber app won't work, I don't know why.' And he goes, 'Oh, and my phone's going to die'" because he forgot to charge it.
Good read by Ron Bartlett:
Here's something to think about during this holiday season: What is the meaning of life?

Todd Schweisinger can tell you what it's not.

It's not about acquiring wealth or power or fame, or even driving a nice car and living in a fine house.

It's about giving it all away. About living for others.

Schweisinger, a senior lecturer of mechanical engineering at Clemson University, has found a tangible way to do that: by leaving it all to the university.

The 42-year-old California native who came to Clemson as a graduate student in 1997 lives in the same $60,000 house he bought when he was in grad school and gets around in a 1982 Chevy pickup and a 1988 Chevy minivan that he's been driving since he was a teenager.
Frightened by fundamentalist fury, Hollywood executives hired Will Hays, a Presbyterian deacon who had successfully managed Warren Harding's campaign for the presidency, to serve as the president of the Motion Picture Producers and Distributors of America. His task was to rehabilitate the moral image of Hollywood in the wake of the Arbuckle scandal. He did exactly that, demanding that production companies require their actors to sign morals clauses. Hays also issued guidelines called "The Production Code" to regulate film content. He reportedly told one movie director, "When you make a woman cross her legs in the films, maybe you don't need to see how she can cross them and stay within the law; but how low she can cross them and still be interesting."

Similar religious campaigns for "family values" persisted through the twentieth century. This was especially evident in the conservative evangelical activism against Bill Clinton's bad behavior in the 1990s. But the shift a decade earlier from the pious Carter to Reagan, a divorced Hollywood actor who Vice President Mike Pence once called "a vacuous movie star," was a harbinger of things to come, when a more pronounced pragmatism became the methodology of the religious right.

Persistent white evangelical support for Trump—and now for Roy Moore—shows just how much has changed since the 1920s. Indeed, much of this striking transformation has taken place in just the last five years. In 2011, only 30 percent of white evangelicals agreed that "an elected official who commits an immoral act in their personal life can still behave ethically and fulfill their duties." Today, a full 72% do—a shift that shows just how political the term "evangelical" has become. [HT: JS]
Don't try this but it's still funny:
WEST COLUMBIA, S.C. (AP) — When a man found the only worker at an empty South Carolina Waffle House asleep, he took his meal into his own hands.

On Facebook , Alex Bowen chronicled with selfies how he made his own double Texas bacon cheese steak melt at the famous Southern 24-7 diner around 2 a.m. Thursday.

Bowen says on Facebook he waited 10 minutes, then cooked his meal and "even scraped the grill when I was done."

Bowen's photos showed him with the sleeping worker, frying bacon and putting the sandwich together.

After good-natured kidding about stealing the sandwich, Bowen even posted a selfie returning to pay for his meal.

Waffle House said in a statement it was impressed with Bowen's cooking skills but customers should never go behind the counter for safety reasons.
Three pieces of advice for rearing two-year-olds:
For such a wealthy nation, the United States isn't an easy place to raise a child. Employers are not required to provide paid maternity (or paternity) leave. Child care is hard to come by or prohibitively expensive. This week, we've been publishing a slew of stories that outline the exact contours of this problem and provide a convincing argument for why government agencies should provide more support to parents in the years before their kids can go to school, particularly the year when they're 2.

Even if we make rapid strides to address this problem (a big if!), these changes will be slow going. By the time they happen, your 2-year-old could be 12 or 102. But don't despair. Pediatricians and other experts are making advances in toddler science all the time. They're basically bubbling over with practical parenting advice you can easily apply even when you only see your toddler a few hours a day. We rounded up some useful tips that you can try out right now to maximize your influence and make sure your kids are learning what they need to know.

1. Talk to Them!

2. Make Them Do Things on Their Own

3. Let Them Be Kids
You never know what those possums are up to:
FORT WALTON BEACH, Fla. (AP) — An opossum that apparently drank bourbon after breaking into a Florida liquor store sobered up at a wildlife rescue center and was released unharmed.

Emerald Coast Wildlife Refuge officials say the opossum was brought in by a Fort Walton Beach, Florida, police officer on Nov. 24. A liquor store employee found the animal next to a broken and empty bottle of bourbon.

"A worker there found the opossum up on a shelf next to a cracked open bottle of liquor with nothing in it," said Michelle Pettis, a technician at the refuge. "She definitely wasn't fully acting normal."

Pettis told the Northwest Florida Daily News the female opossum appeared disoriented, was excessively salivating and was pale. The staff pumped the marsupial full of fluids and cared for her as she sobered up.

"We loaded her up with fluids to help flush out any alcohol toxins," Pettis said. "She was good a couple of days later."

Pettis says the opossum did not appear to have a hangover.

The store owner, Cash Moore, says he never had an opossum break in before.

"She came in from the outside and was up in the rafters, and when she came through she knocked a bottle of liquor off the shelf," Moore said. "When she got down on the floor she drank the whole damn bottle."

"But it just goes to show that even the animals are impressed with Cash's," he said.

The animal was released on Thursday.