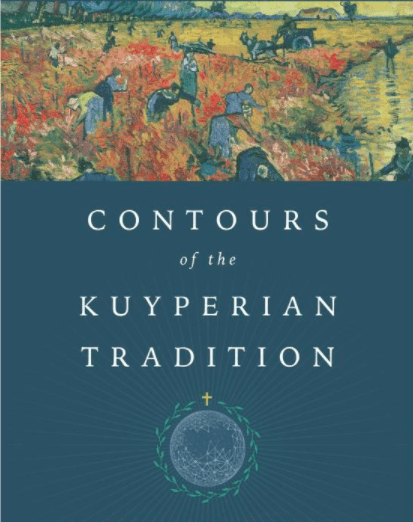 How do Christians relate to their cultures, their communities, their states and their nations? There was a time when many Western nations — northern and southern hemispheres — were "Christian nations" in that they had institutionalized a state church. Think England, think Scotland, think the Republic of Ireland and Northern Ireland, think Denmark, think Italy, think South Africa, think Brazil, think Mexico.
Today's world is not the same. We need to think again.
Which is what Craig Bartholomew is doing in his new book, Contours of the Kuyperian Tradition.
American Christianity, especially the evangelical sort, operates on some kind of spectrum between between Kuyperian and Niebuhrian thinking, and perhaps the Niebuhrian model of "transformation" or "influentialism" (Niebuhr: Christ the transformer of culture) are the simplest ways of expressing this approach. The Christian is to be the "salt and light" in society, influencing the society toward the ways of God (often called the kingdom of God) and even transforming society into a far more Christian society (which quickly starts to veer toward Constantinianism at some level).
At two different periods in my life I decided to read more on the Kuyperian tradition, mostly because those around me were so Kuyperian (or something like it). The first time I simply read Lectures on Calvinism, Kuyper's famous book. The second time I read Bratt's Abraham Kuyper and then I read his collection of essays by Kuyper, and then to get a solid Kuyperian reading of Kuyper, I read some essays by Rich Mouw (in which he engaged Yoder) and then read his little book Abraham Kuyper. I have considered my guide to Kuyper, and I have used his summaries even when I would like to express them in different ways. Kuyper studies are flourishing today with some reprints and new prints of Kuyper's works.
Kuyperianism is a tempting totalism when it comes to Christian and society. Parts of it are undeniably the best thinking we have; terms are used that irritate this Bible professor; the activism advocated by Kuyper is noble. But I have my differences, some of them so major I can't call myself Kuyperian.
But I'm willing to listen, and so to Bartholomew I'm listening (and getting a little irritated already).
Bartholomew is a South African, so he begins with the church (Reformed Christianity) in South Africa, and he notes the ever present temptation to Constantinian alignments (he doesn't use this expression) to align with a party:
Ethically, a political party is simply inadequate as the final authority, and yet when under pressure it is appeal to the party that we hear again and again.
This describes too much of Christianity in the USA and in some nations with church-state relations. His point is important from a South African.
The issue is how. How does the church relate to the society when the church is losing credibility? I like what Bartholomew argues:
Numbers alone will not avail in developing countries if Christians do not attend to (1) plausibility structures and (2) worldviews.
Plausibility is an embodied reality so close to the ground it creates believability.
Plausibility refers to the personal, communal, and social embodiment of the life of the kingdom so that when Christians do speak they are listened to.
Here is where I get nervous about Bartholomew.
Mission is easily reduced to evangelism and church activities, and indispensable as these indeed are, mission is much broader. As David Bosch points out, "Mission is more than and different from recruitment to our brand of religion; it is alerting people to the universal reign of God."
I like David Bosh though I think his "missio Dei" theory has a whole lot more pizzazz in name that in reality, and it has less in Bible and theology than it admits, but it's everybody's lingo or buzz term. (As with the word "missional" or "incarnation.") More importantly, when we speak of church activities as too narrow and is not "recruitment to our brand of religion" who will agree with pejorative language like that? Who doesn't want to "alert" people to the "universal" vision called the "reign of God"? Well, I do because what do we mean by "alert"? Is it different than what the Bible teaches about "evangelism"? And what does "universal" mean here? Sounds good but could wind its way into universalism or water itself down to "common grace." And "reign" of God starts to sound like late 19th Century Germany's decision to move kingdom away from its Jewish and territorial context and start sound like common grace, cultural Christianity, or even like 20th Century evangelicalism's decision to turn "reign" into "personal decision for Jesus."
I know Bartholomew's a sophisticated thinker so I'll be reading him in front of you for awhile and see where he takes us!