It's Lent so it's a good time to repent and to learn how we as Christians are to live, and we are looking at the early Christian letter from Rome to Corinth called 1 Clement.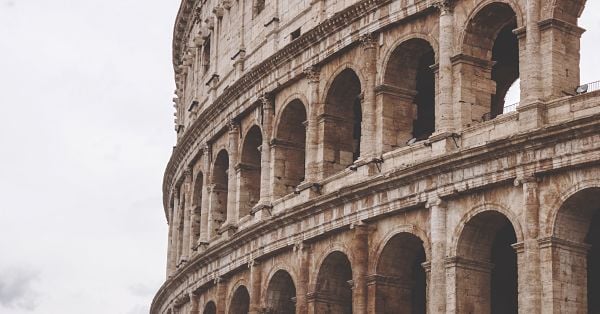 Our series on the Friday With Our Fathers (FWOF), using Michael Holmes, The Apostolic Fathers. We are looking today — and I didn't get this post ready for last Friday (sorry) — at 21:1-23:5.
The theme? "A Call to Good Behavior." What does that look like? Here we go, and remember the issue in Corinth is divisiveness (when is that not the problem in the church?):
The call is to be faithful in light of God's judgment (no once saved, always saved; easy believism; simplistic eternal security here):
1Clem. 21:1    Take care, dear friends, lest his many benefits turn into a judgment upon all of us, as will happen if we fail to live worthily of him and to do harmoniously those things that are good and pleasing in his sight.  2 For it says somewhere, "The Spirit of the Lord is a lamp searching the depths of the heart."  3 Let us realize how near he is, and that nothing escapes him, either of our thoughts or of the plans that we make.  4 It is right, therefore, that we should not be deserters from his will. 
Clement urges them to "offend" fools, the arrogant, and these are schismatics:
5 Let us offend foolish and senseless people, who exalt themselves and boast in the arrogance of their words, rather than God. 
Instead,
6 Let us fear the Lord Jesus Christ, whose blood was given for us.
And not only Jesus but also leaders in the church: leaders and older men [elders] as well as others, and here we get a kind of "household regulation":
Let us respect our leaders; let us honor the older men; let us instruct the young with instruction that leads to the fear of God. Let us guide our women toward that which is good:  7 let them display a disposition to purity worthy of admiration; let them exhibit a sincere desire to be gentle; let them demonstrate by their silence the moderation of their tongue; let them show their love, without partiality and in holiness, equally toward all those who fear God.  8 Let our children receive the instruction that is in Christ: let them learn how strong humility is before God, what pure love is able to accomplish before God, how the fear of him is good and great and saves all those who live in it in holiness with a pure mind. 
Back to God as judge:
9 For he is the searcher of thoughts and desires; his breath is in us, and when he so desires, he will take it away.
At this point Clement turns more general in ethics but he teaches by quoting most of the Spirit-prompted (22:1) Psalm 34:11-17, 18 (italics), a psalm that summons them to turn to faithfulness:
1Clem. 22:1    Now faith in Christ confirms all these things, for he himself through the Holy Spirit thus calls us: "Come, children, listen to me; I will teach you the fear of the Lord.  2 Who is the person who desires life, who loves to see good days?  3 Keep your tongue from evil, and your lips from speaking deceit.  4 Turn aside from evil and do good.  5 Seek peace and pursue it.  6 The eyes of the Lord are upon the righteous, and his ears are turned to their prayers. But the face of the Lord is against those who do evil, to destroy any remembrance of them from the earth.  7 The righteous one cried out, and the Lord heard him, and delivered him from all his troubles. Many are the troubles of the righteous, but the Lord shall deliver him from them all."  8 Furthermore, "many are the afflictions of the sinner, but mercy will surround those who set their hope on the Lord."
So he turns to direct instruction, beginning with accountability before God:
1Clem. 23:1    The Father, who is merciful in all things, and ready to do good, has compassion on those who fear him, and gently and lovingly bestows his favors on those who draw near to him with singleness of mind. 
Then he turns to James (seemingly) and then to a text he quotes that is not known, followed in v. 4b-5a by his own words, and then a quotation from Isaiah 13:22:
2 Therefore, let us not be [sounds like James now:] double-minded, nor let our soul indulge in false ideas about his excellent and glorious gifts.  3 Let this [unknown] scripture be far from us where it says, "Wretched are the double-minded, those who doubt in their soul and say, 'We heard these things even in the days of our fathers, and look, we have grown old, and none of these things have happened to us.'  4 You fools, compare yourselves to a tree, or take a vine: first it sheds its leaves, then a shoot comes, then a leaf, then a flower, and after these a sour grape, and then a full ripe bunch." Notice that in a brief time the fruit of the tree reaches maturity.  5 Truly his purpose will be accomplished quickly and suddenly, just as the scripture also testifies: "He will come quickly and not delay; and the Lord will come suddenly into his temple, even the Holy One whom you expect." 
He never gets too far without emphasizing accountability before God and God's clear and accurate judgment against sin and sinfulness.